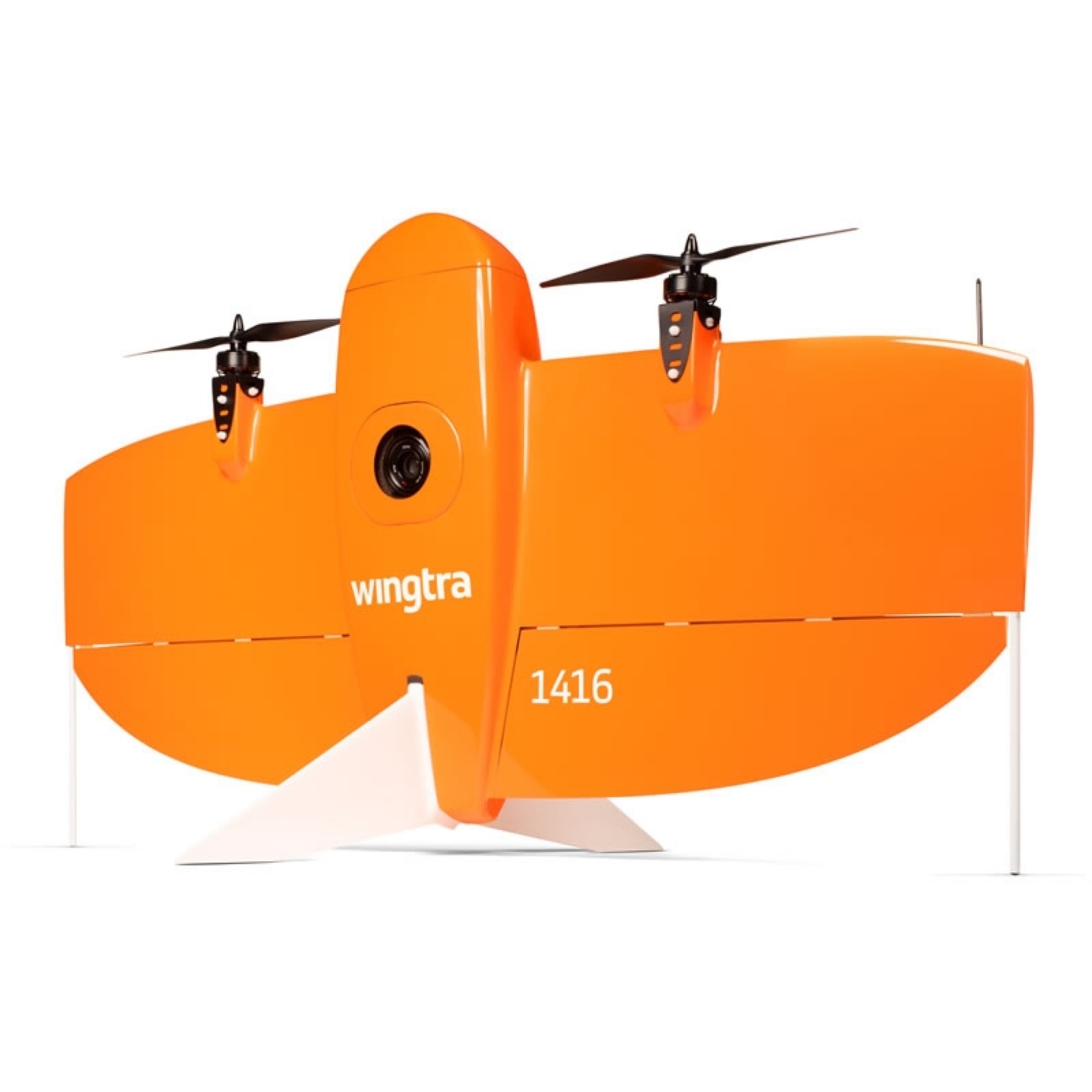 WingtraOne Mapping UAV
Detailed Description
WingtraOne
A fully autonomous fixed-wing VTOL drone designed for long-distance surveying applications.
The WingtraOne is a professional VTOL fixed-wing drone with superb image quality and accuracy. With exceptional data quality, the WingtraOne enables much faster surveys, more reliable map reconstruction and more precise results than other commercial drones.
Features:
Compatible with multiple exchangeable payloads to produce all types of drone data
Engineered in Switzerland
High performance brushless motors
Fully automated vertical take-off – operated by an advanced autopilot
Bi-directional antennas for optimal radio communication range of 8km (5 mi)
Smart battery technology - UN compliant Li-ion cells
Applications:
Surveying & GIS
Mining and Aggregates
Environment and research
Agriculture
Construction
*With a GSD of 3cm/px (1.2in/px)
Features & Benefits
VTOL – Take off and land vertically
The WingtraOne features a vertical take-off designed to make operation safer, easier and more cost effective. This negates the need to hold the UAV in place during take-off to ensure the operator is always a safe distance away. With controlled manual adjustments in hover mode to land, there are no more belly landings and the UAV is easy to pilot. Each landing is safe and doesn't damage your equipment, even on rough terrain. You can now take off and land in confined areas such as on boats and between buildings, enabling mapping that you may not be able to complete with other equipment.
Take-off is automatic, ensuring operator safety
Better obstacle avoidance – you control when the WingtraOne goes into flight mode
No more damage to your equipment
Take-off and land in confined areas
Smooth landing on rough terrain
With a hover and flight mode
Can adapt to a moving environment
Minimise your time in the field
In one flight, WingtraOne can map almost 2x more than a conventional fixed-wing drone and approximately 10 to 15x more than multicopter drones. You can therefore cover the area efficiently at a high altitude without negating your results
Map up to 400+ha (988ac) in a one-hour flight*
Up to 50km (31mi) flight range
Get precise results
Thanks to its professional drone PPK GNSS L1/L2 receiver and highest-quality cameras, like the 42 MP full-frame Sony RX1RII camera, it is possible to reach down to 1 cm (0.4 in) absolute accuracy. These incredibly detailed, high resolution images allow reliable reconstruction of orthomosaic maps and 3D models.
Up to 42mp full-frame camera payload
Down to 0.7 cm/px GSD (0.3 in/px GSD)
L1/L2 PPK GNSS receiver for higher accuracy
Down to 1cm (0.4in) absolute accuracy

To legally fly a small unmanned aerial system in the UK the Operator is legally required to hold a Permission for Commercial Operations (PfCO) from the UK Civil Aviation Authority (CAA). Before a PfCO is issued the Operator must write and have approved an Operations Manual. Also any pilots who are to fly for that Operator must hold a CAA approved NQE issued qualification demonstrating their operating competence and flying capability.
Technical Specification
Max Flight Time (minutes)
55
What's In The Box
Call our Support Team on 0330 1759558 if you require more information on this product.

Need some help?