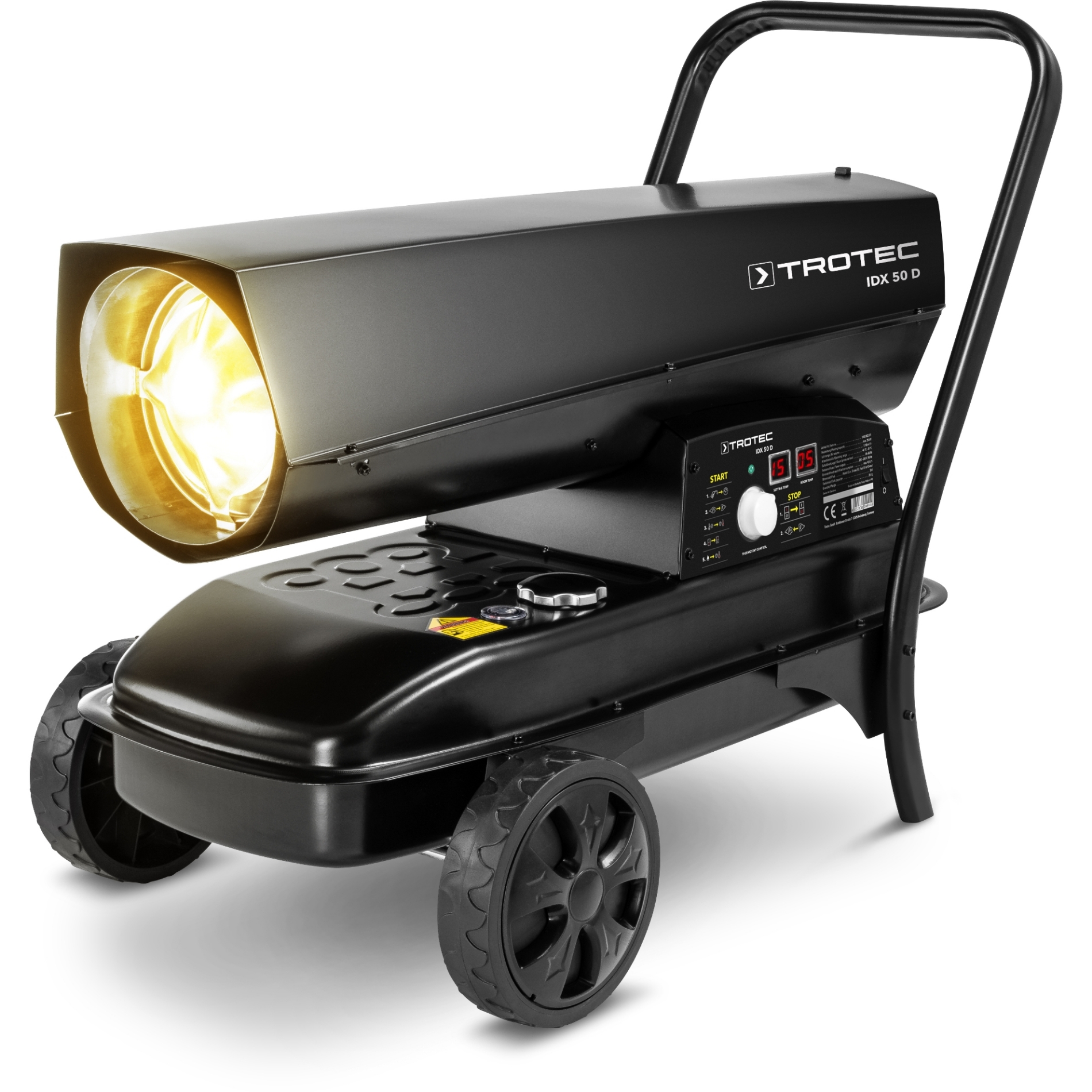 Trotec IDX50D 50kW Direct Oil Fired Heater
£485.00
Detailed Description
Trotec IDX50D 50kW Direct Oil Fired Heater
The Trotec IDX50D direct-fired oil heater is backed by solid technology and offers an ideal solution where the use of direct fired heating is an option. The universal solution for heating construction sites, halls and workshops as well as for drying damp masonry.
With its integrated thermostatic control, the desired temperature can easily be controlled on the Trotec IDX50D by using the integrated controls. For temperature control at a distance of up to 25 metres, an optional external thermostat is available. Thanks to its practical trolley construction with integrated 50L fuel tank with a consumption of 4.8L per hour , the Trotec IDX50D direct oil heater is always ready for a quick change of location. The integral fuel tank allows for accurate fuel level monitoring via its own display.
As with all Direct Fired applications, please ensure that adequate ventilation is available.
Overheating Protection | Electronic Flame Safety Protection | Integrated Fuel Tank | Integrated Thermostat | Wheeles Chassis | Digital Dual Display
If you need assistance, please contact our team on 0333 271 7572 or email orders@sunbeltsales.co.uk. Alternatively, you can use our live chat option.
Features & Benefits
Especially economical solution for standard oil heating systems
Integrated fuel tank with level indicator
Electronic flame safety protection
Overheating protection
Stainless steel combustion chamber
Durable double-walled housing for optimal sound and heat insulation
Integrated thermostat with digital dual display for required and ambient temperature
Wheeled chassis for easy movement
Heating function: Direct fired
Technical Specification
Remote control
Built-in Control
Document Download
Documentation File Format Size
Trotec IDX50D - User Manual
PDF
9 MB
What's In The Box
Trotec IDX50D 50kW Direct Oil Fired Heater
Related products
Integrated thermostat with a dual display for set value and actual value.

In stock
Need some help?