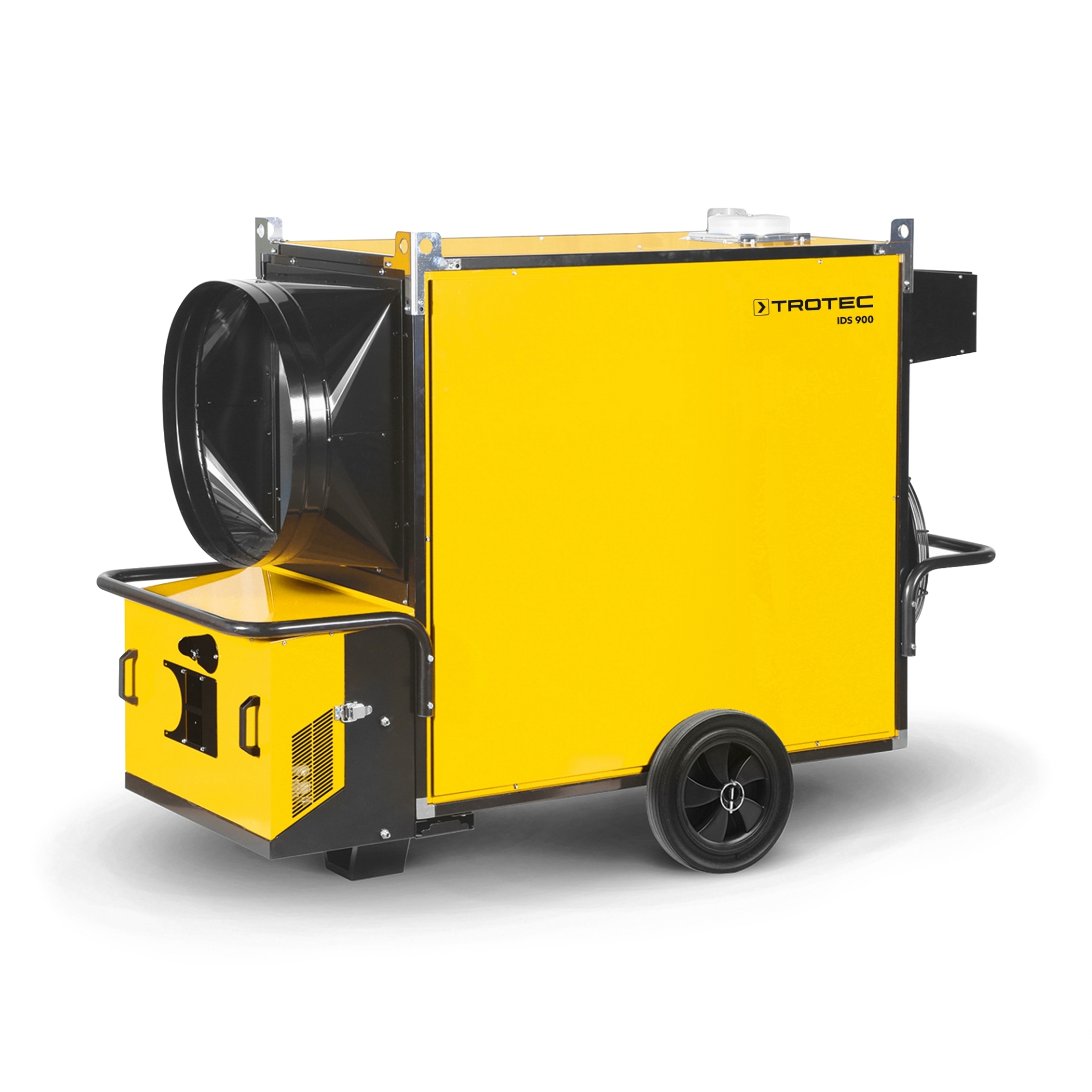 Trotec IDS900 221kW Indirect Oil Fired Heater
£5592.00
Detailed Description
Trotec IDS900 221kW
The Trotec IDS900 is the most powerful model in mobile indirect oil heaters series. Especially designed for heating individual halls or several rooms and comes equipped with a highly efficient stainless-steel combustion chamber and exceptionally powerful axial fan.
The IDS900 is manufactured to the highest European standards and is suitable for applications in construction, agricultural and industrial sectors and the event industry. The Trotec IDS900 is an extremely powerful chimney oil heater for mobile heating on construction sites, in the agricultural sector, or in halls and workshops.The compact construction comprises a robust, epoxy coated steel frame with double-walled housing for optimum soundproofing and insulation.
Please note that the Trotec IDS 900 does not include an integrated fuel container and will therefore require the use of an external tank for automated continuous heating.

Fully Automatic After-Cooling | Stainless Steel Combustion Chamber | Integrated Fuel Tank | Overheating Thermostat | Double-Walled Housing For Optimum Soundproofing And Insulation | Connection Facility For Air Transport Hose
If you need assistance, please contact our experts on 0333 271 7572 or email orders@sunbeltsales.co.uk. Alternatively, you can use our live chat option.
Features & Benefits
Connecting kit for external oil tank (available on request)
Oil preheat kit (available on request)
Hose connection points
2-way or 4-way hose distributor connecting piece (available on request)
External thermostat for fully automatic operation
Fully automatic after-cooling
Overheat thermostat
Electronic flame safety protection
Heating function: indirect fired
Technical Specification
Remote control
Built-in Control
Thermostat
Optional Remote Thermostat
Document Download
Documentation File Format Size
Trotec IDS900 - User Manual
PDF
3 MB
What's In The Box
1x Trotec IDS900 221kW Heater
Related products
Integrated thermostat with a dual display for set value and actual value.

In stock
Need some help?