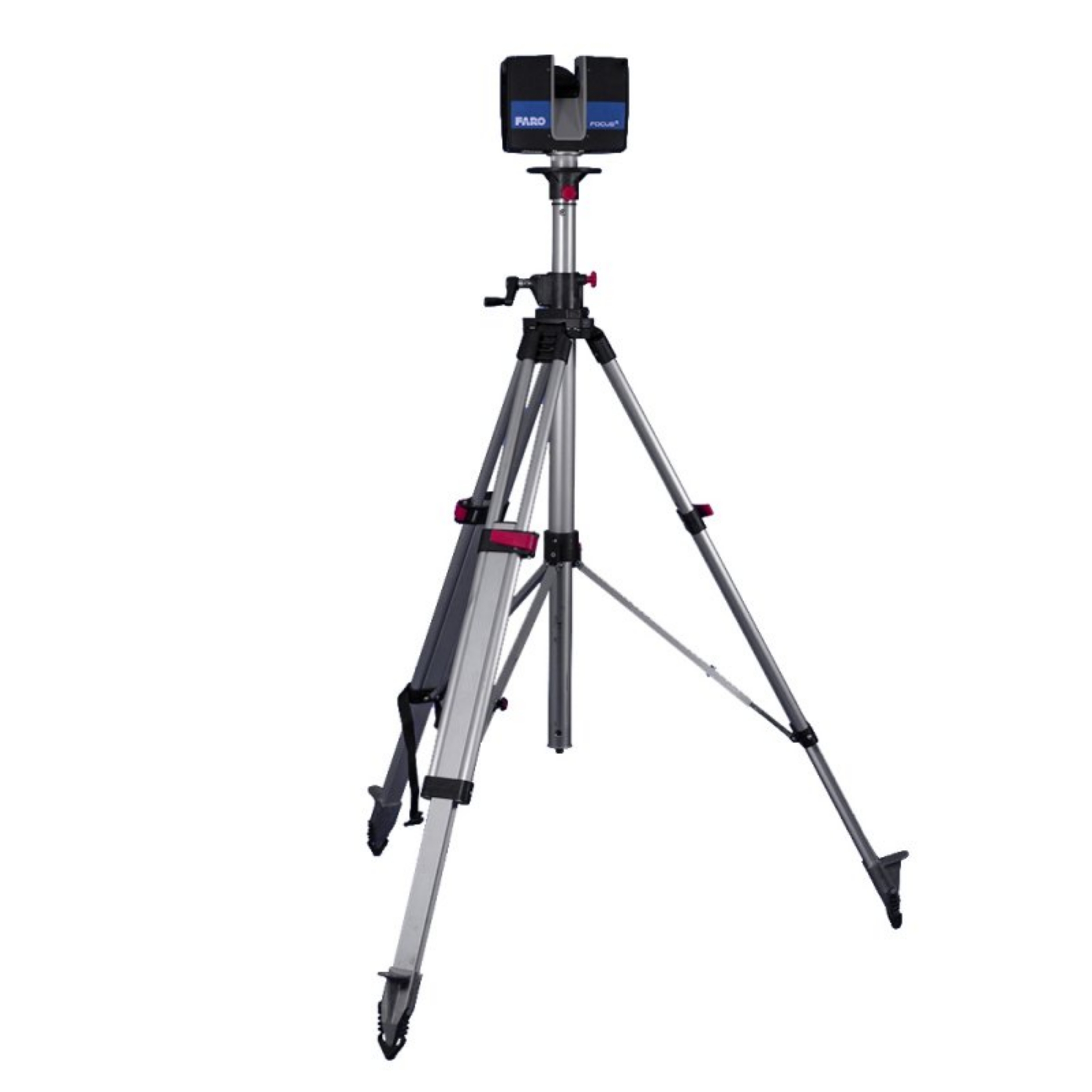 Aluminium Telescopic Tripod with 3D Safety Adapter
£1678.80
Detailed Description
Be flexible with this tripod: Raise your laser scanner into the upward or send it down a hole. The 2-way telescope tripod allows scanning in a height of 4.00m (157.5 in) and safe overhead scanning 4.50 m (177.2 in) below the earth' surface (manhole tripod / chamber tripod).
Depending on your measuring task, the basic tube with the support plate and the 5/8 inch connection can be connected to the tripod upright or head first (e.g. for manhole scanning). The additional prolongation tubes are connected to the previous tube each time. As a result, you get an almost arbitrarily extendable rod.
The 3/8 inch adapter included in the delivery allows using the tripod with FARO Focus3D.
The 3D safety adapter is applied for overhead applications. With this product, you can easily and safely scan overhead with your laser scanner. The special adapter allows an easy assembly and safe support. The best protection of your valuable measuring instruments.
Designated use:
scanner usable over several heights . without assembly, disassembly and modification
enlargement of the possible scanner positions
safe overhead scanning
Compatible laser scanners:
FARO Focus3D 120, FARO Focus3D X 130 and Focus3D X 330
Trimble TX5
Z+F IMAGER 5006 series (5006i, 5006h)
Z+F IMAGER 5010 series (5010C, 5010X)
Z+F IMAGER 5016
Leica HDS 7000
Leica HDS 6200
Leica HDS 6100
Leica HDS 6000
Leica ScanStation P40
Leica ScanStation P30
Leica ScanStation P20
Leica ScanStation P16
Features & Benefits
Product characteristics - 2-way telescope tripod:
tripod: 5/8 inch connection; adapter for 3/8 inch connection is included in the delivery
indirect crank drive with enhanced gear unit
The crank drive can be operated by means of a hand crank or a screwdriver.
anti-twist geared column
additional leg braces for more stability
solid and quick locking mechanism
spirit level
set of shoes for tripod can be used on various surfaces
minimum effective depth: approx. -4.50 m (177.2 in) underground
maximum useful height: approx. 4.00 m (157.5 in)
transport length: approx. 1.30m (51.2 in)
weight: approx. 8,5 kg
flat support plate with ø 110 mm
During long-term usage, the scanner's weight should not be higher than 20kg.
4 prolongation tubes (each 1m (39.4 in)) in a robust transport case included
suited for all scanners with 5/8" and 3/8" connection
Product characteristics - 3D safety adapter:
One part of the 3D safety adapter is screwed on the original base plate of the scanner.
The other part of the adapter is screwed on the tripod with a 5/8 inch connection.
The part of the adapter and the scanner can easily be inserted in the correspondent part fixed at the tripod. Then, it can be secured by means of a safety pin.
weight: 200g
100mm x 105mm x 100mm
Technical Specification
Call our Support Team on 0330 1759558 if you require more information on this product.
Document Download
Call our Support Team on 0330 1759558 if you require more information on this product.
What's In The Box
Aluminum Telescopic Tripod with 5/8" Connection
4x Extension tubes in a robust transport case
Crank for manual operation
1 x Bit for comfortable handling of the tripod by means of a screwdriver
Special screwdriver for securing the single tubes
1 3/8 inch adapter
3D safety adapter for overhead scanning

Need some help?