Toshiba Haori 3.5kW Wall Mounted Split System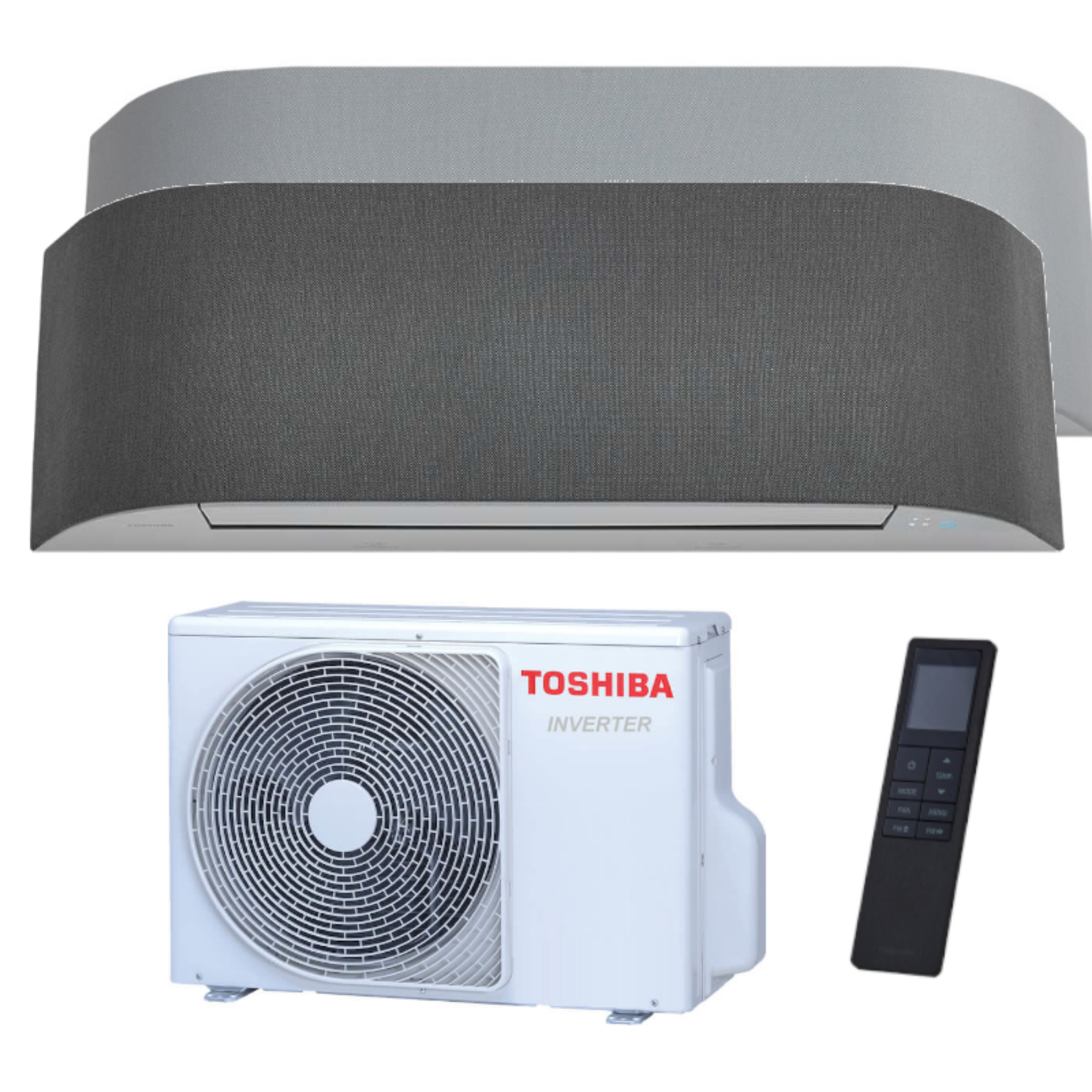 Toshiba Haori 3.5kW Wall Mounted Split System
£1169.00
Detailed Description
Toshiba Haori 3.5kW Wall Mounted Split System
An innovation in residential design, comfort and high energy performance (A++ / A+++). The all new Haori R32 range of residential air conditioners incorporates a new fresh design and smooth blended lines, which will fit seamlessly into any interior.
HAORI brings stunning aesthetics, first-class efficiency, silent output and leading air quality with IAQ and Ag + Plasma Purifier air filtration to residential air conditioning systems. This innovative AC unit features a highly attractive textile cover that is not only available in a range of standard and optional colours, but offers infinite customisation possibilities.
TRULY ELEGANT DESIGN
HAORI is featuring a stylish textile fabric cover
Fabrics with infinite possibilities, let your style be your guide
Easy to dress, just peel and stick
OUTSTANDING PERFORMANCES
A+++ in cooling and heating modes
Ultra quiet system less than 19 dB(A)
Outdoor unit silent operation down to 39 dB(A)
HIGH INDOOR AIR QUALITY
Toshiba Ultra Pure Filter captures up to 94% of PM 2.5
Toshiba Plasma Ionizer catches and neutralizes the contaminated particles
Toshiba Magic Coil always as clean as new
SOLUTION WELL-BEING
A luxury, stylish black and brushed texture façade remote control mounted on a magnetic holder
Power select and ECO modes to reduce energy bills, Hi-power for rapid cooling or heating
Factory-integrated Wi-Fi to control your air conditioner via the Toshiba Home AC Control app
Newly introduced features including energy monitoring and full voice control thanks to compatibility with Google Home assistant and Amazon Alexa smart speakers.
The split system air conditioning units consist of an indoor and outdoor unit, connected via copper piping. The outdoor unit contains the condenser and removes heat and condensation from the room, dissipating it outside.
Installation
Our residential customers are looking to save money on sourcing the equipment with intentions to install the hardware, either themselves or by the builder. You will need an F-GAS registered engineer on standby to come and commission the unit once it is in place.
Alternatively, you could have your engineer completely fit the unit from start to finish, having saved a small fortune by sourcing the system from us.
We will ensure you are buying the correct unit for your space. If you need assistance please contact our team on 0330 175 9558 or email orders@sunbeltsales.co.uk. Alternatively, you can use our live chat option.
Features & Benefits
Elegant and slim-line flat-panel design with optional fabric cover
Energy Class A+++/A+++ cooling and heating modes ensure exceptional energy savings
Extremely quiet operation down to as low as 19dB(A) in silent mode
Dustless coil (special coated aluminium fin) for improved efficiency
Self-cleaning function to prevent mould formation on the heat exchanger coil
2D airflow control with horizontal motorised Louvre's : pre-set directions or automatic sweeping
High quality air circulation
Wi-Fi Included inside unit
On demand defrost
Silent CDU operation
User friendly wireless remote control
ECO Logic button to reduce energy consumption by 25%
Capacity booster to reach comfort set point very fast
Programmable automatic stop
Auto-diagnosis function
Elegant white LED's
Power supply to indoor or outdoor unit
Optional wireless remote control with weekly timer
Slim construction
Auto re-start after power interruption
Modern flat-panel design
Fault diagnosis
Technical Specification
Function
Cooling + Heating
Controls
Electronic control
Plug
13amp 3 pin with a 1.8m cord
What's In The Box
1 x Haori RAS-B13N4KVRG-E A+++ R32 Wall mounted Indoor Unit with Wi-Fi module
1 x RAS-13J2AVSG-E1 R32 Outdoor Unit A+++ 220-240V~50Hz
1 x Advanced Controller IR WH-UA01UE
Need some help?