Spectra GL622IR Automatic Grade Laser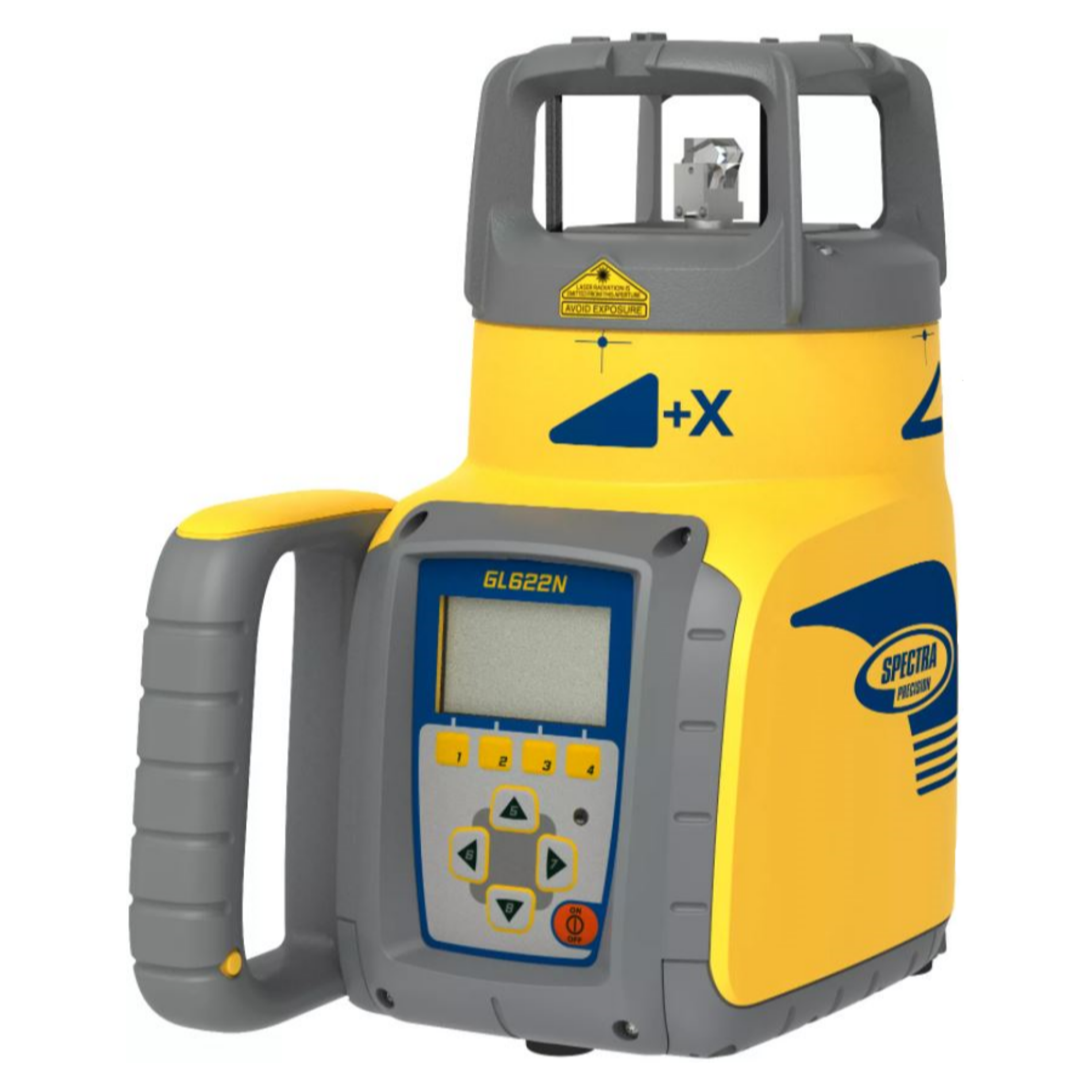 Spectra GL622IR Automatic Grade Laser
Detailed Description
This dual grade laser is an automatic, self-levelling laser made for general construction use, including dual slope grading and steep slope excavating, vertical alignment and levelin conrete forms and footers.
Key features include:
Long operating range: 800m
Includes radio remote control with 150m range
Fully automatic up to +/-25% grade of X/Y axe
One person elevation and grade control
Automatic axis features including high precision axis alignment, automatic locking on the laser beam and simplified grade match
Fingerprint function that detects only the laser beam of the paired transmitter
Alignment range for both axes is +/-40 degrees
Intuitive keypad and graphic display
Password secured
Automatic temperature compensation
Electronic leveling vibration filter
Mask mode
Class 1 laser
Features & Benefits
Specifications:
Leveling accuracy1,3: ± 0.5 mm/10 m, 1/16" @ 100 ft, 10 arc seconds
Grade accuracy1,3: ± 1.0 mm/10 m, 1/8" @ 100 ft, 20 arc seconds
Grade temperature drift sensitivity: ± 0,3 mm / 10 m / 1°C; 1/16" @ 310 ft. @ 1°F
Operating diameter1,2: appr. 800 m (2600 feet) with detector
Grade range (Y, X): ± 25% both axes (not simultaneously)
Rotation: 300, 600, 750 rpm
Laser type: 639 nm (GL622IR: typ.830 nm)
Laser class : Class 2 (GL622IR: class 1)
Self-leveling range: appr. ± 14°
Leveling indicators: LCD indications and LED flashes
Radio range (HL760)1,2,4: up to 150 m (490 ft)
Power source: NiMH battery pack
Battery life: 40 hours NiMH
Operating temp.: -20°C to 50°C (-4°F to 122°F)
Storage temp.: -20°C to 70°C (-4°F to 158°F)
Tripod attachments: 5/8 x 11 horizontally and vertically
Dust and waterproof: Yes - IP67
Weight: 3.1 kg (6.8 lbs)
Low voltage indication: LCD battery indicator
Technical Specification
Horizontal Application
Yes
Need some help?