Sealey VEN250 Ø250mm Portable Ventilator with 5m Ducting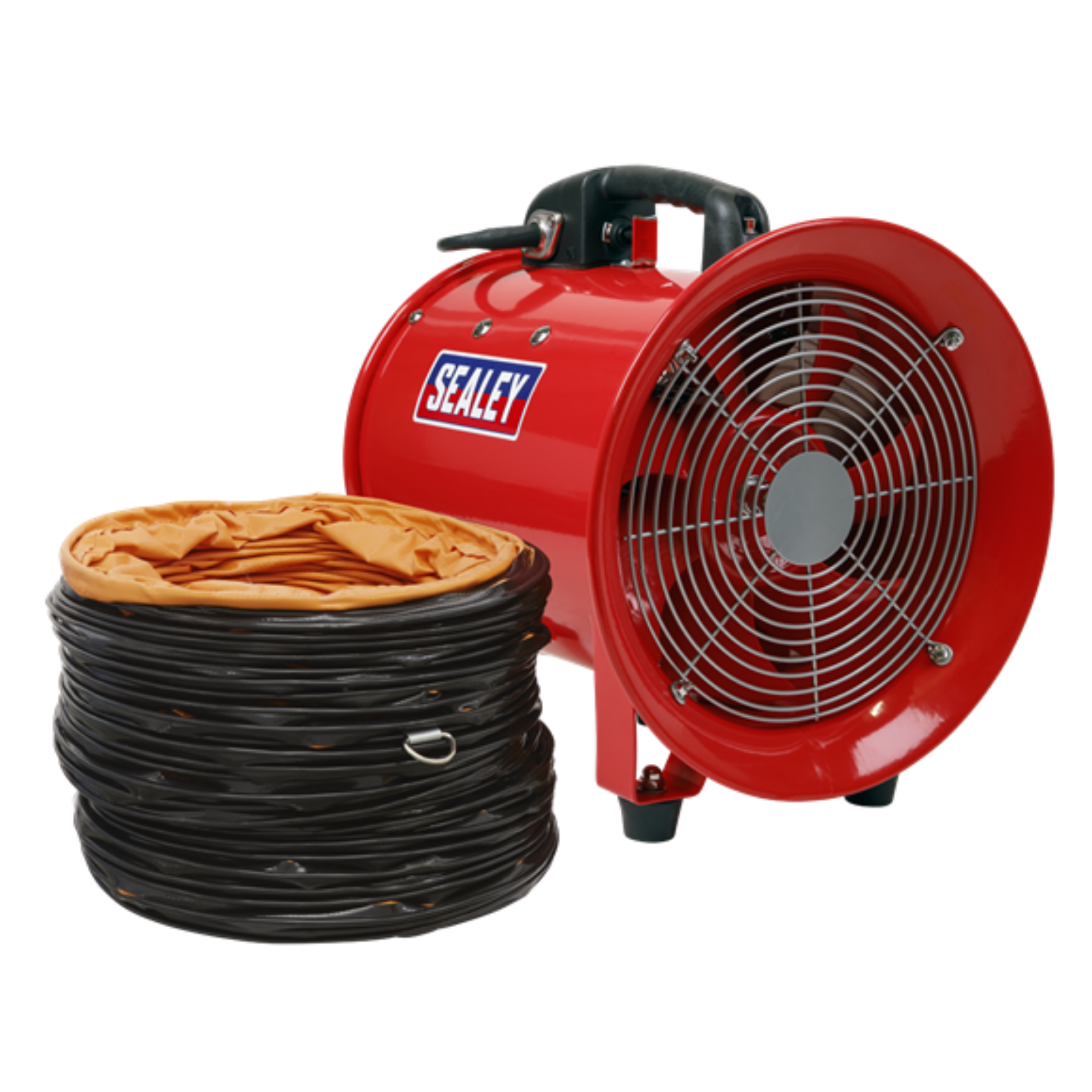 Sealey VEN250 Ø250mm Portable Ventilator with 5m Ducting
£249.00
Detailed Description
Sealey VEN250 Ø250mm Portable Ventilator with 5m Ducting
The Sealey VEN250 Portable Ventilator Fan provides the perfect solution for high-volume ventilation needs. With a maximum airflow of 2,700m³/h, it efficiently ventilates hot or fume-laden workspaces, improving air quality and enhancing overall comfort for workers. This versatile air mover/ventilator is suitable for a diverse range of applications, including marine, workshops, cable/pipe ducts, roof spaces and construction sites. Its adaptability makes it an ideal choice for any environment where high-volume clean air delivery is required.
The VEN250 is designed with portability in mind, featuring a lightweight construction and a large, easy-grip handle for effortless transportation. With a weight of 14.9kg, it can be effortlessly moved to direct the airflow as required. The unit also comes equipped with a 2-metre cable, offering flexibility in placement and reducing the risk of electrical accidents. Furthermore, the VEN250 operates at a reasonable noise level of 66dB, making it suitable for use in various working environments without causing any distractions for the staff.
The ventilator fan is supplied with a 5-metre duct, which is crucial for the delivery of fresh air or removal of fumes from the work site. The supplied ducting is compatible with products from other leading manufacturers that feature a diameter of 250mm. The fan also features a 3-pin plug, which can be used with any standard electrical outlet.
If you need assistance, please contact our team on 0330 175 9558 or email orders@sunbeltsales.co.uk. Alternatively, you can use our live chat option.
Features & Benefits
Ideal for use where high-volume air delivery is required.
Especially suitable for ventilating confined, hot or fume laden work sites, typically as found in boats, cable/pipe ducts, roof spaces etc. creating a cleaner more pleasant working environment.
Lightweight and robust construction give the portability and durability necessary in the workplace.
Fitted with carry handle, 2m cable and 3-pin plug.
Supplied with 5m ducting, optional 10m length available.
Document Download
Documentation File Format Size
Sealey Ven250 Operating Instructions
PDF
0.4 MB
What's In The Box
1 x Sealey VEN250 Ø250mm Portable Ventilator
1 x 2m Power Cable with plug
1 x 5m Ducting
Need some help?