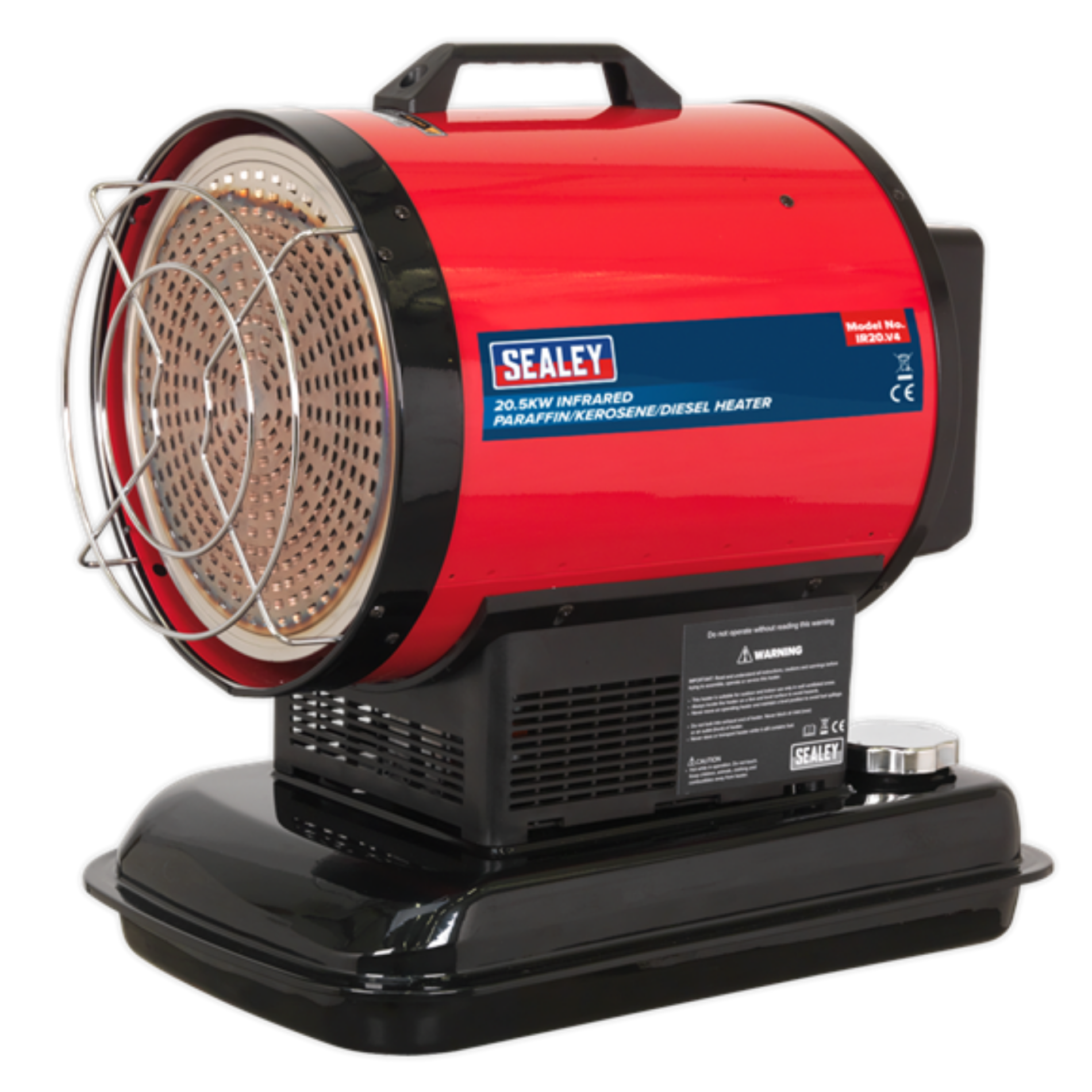 Sealey IR20 20.5kW 230V Paraffin/Kerosene/Diesel Heater Space Heater
£463.33
Detailed Description
Sealey IR20 20.5kW 230V Paraffin/Kerosene/Diesel Heater Space Heater
The Sealey IR20 infrared heater is a compact and portable site heater – ideal for use in workshops, garages, on construction sites and a range of other well-ventilated outdoor areas.
This heater is powered by 230v power supply and runs on either paraffin, kerosene or diesel. As it is an infrared heater, it heats objects, surfaces and people directly, rather than heating the air. This is much more efficient than heating air when heating challenging outdoor areas. The IR20 offers quiet operation, zero airflow and effective performance in areas up to 396m³.
The Sealey IR20 infrared diesel heater features a 15-litre fuel tank, which allows it to run for approximately 8 hours, making this unit very economical. This unit also has an automatic overheat safety shut-off, which shuts down the heater in the event of overheating, to ensure safety on site.
Please note that direct oil fired space heaters like the IR20 must only be used in well ventilated spaces, such as construction sites, yards, and garages and workshops with large open shutter doors. They must not be used in indoor, poorly ventilated areas or enclosed spaces.
If you need assistance, please contact our experts on 0330 175 9558 or email orders@sunbeltsales.co.uk. Alternatively, you can use our live chat option
Features & Benefits
Versatile multi-fuel heater designed to run on paraffin, kerosene or diesel.
Clean burning unit suitable for well-ventilated applications.
Produces an impressive output of 70,000 Btu/hr.
15L Tank allows approximately 8hrs running time, making this unit extremely economical.
Safety features include automatic overheat safety shut-off and quiet operation.
Optional trolley available for easy manoeuvrability, Model No. IR20T.
Document Download
Documentation File Format Size
Sealey IR20 Operating Instructions
PDF
0.9 MB
What's In The Box
1 x Sealey IR20 20.5kW 230V Paraffin/Kerosene/Diesel Heater Space Heater
Related products
Electric controlled ignition
Durable steel casing
Double safety protection
Gas Pressure: 300mBar

In stock
Need some help?