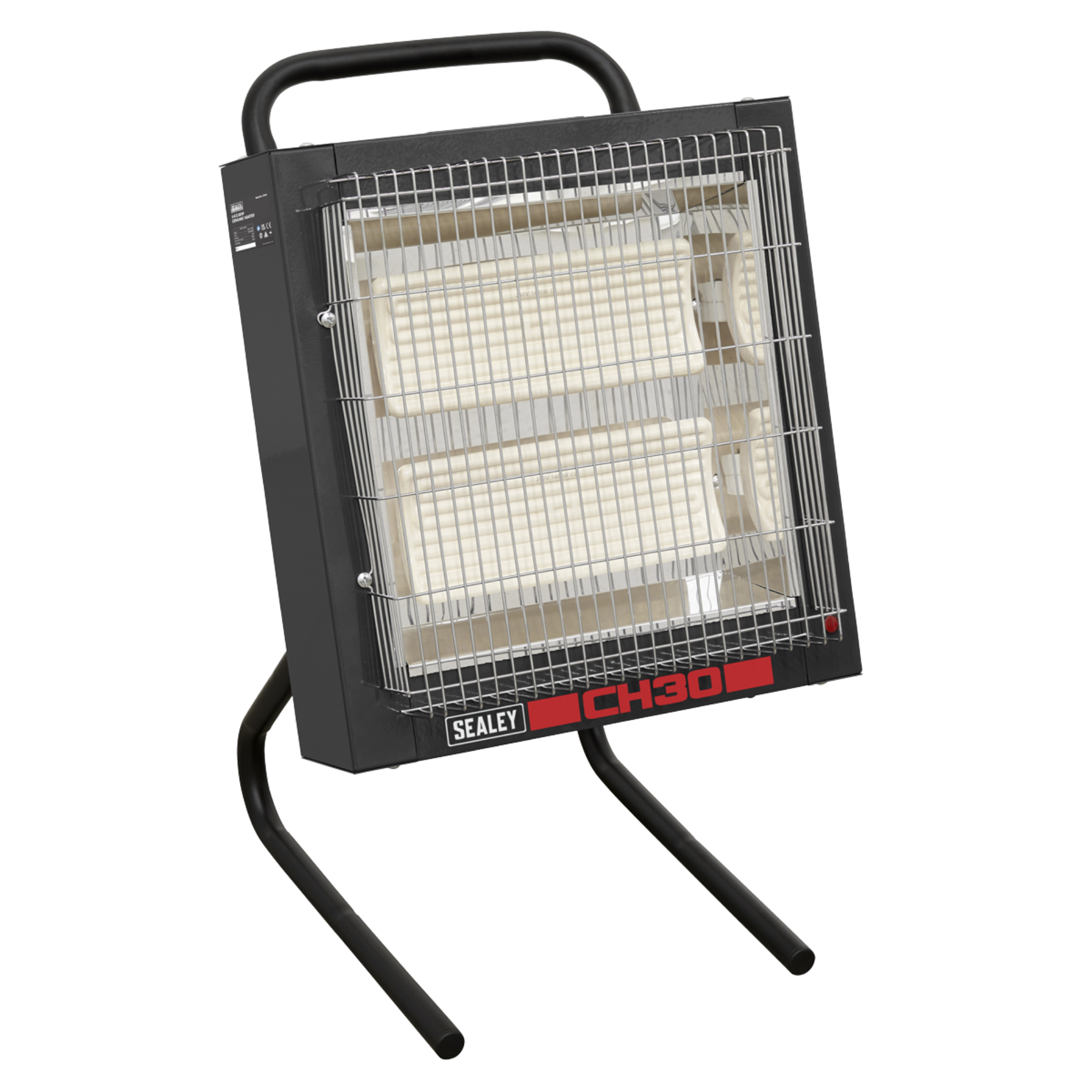 Sealey CH30 Ceramic Heater 230v 2.8kW
£209.00
Detailed Description
Sealey CH30 Ceramic Heater 230v 2.8kW
The Sealey CH30 is a 230v 2.8 kW sturdy and portable heater with digital controls, ideal for use in workshops and garages. The quick heat up time will keeps workers warm on cold days and speed up drying times on site. It has a powder coated metal construction with heating elements which provides instant heat when required.
It features a soft-touch digital control panel with LED display providing ease of use to the adjustable thermostat. It is is also equipped with a tilt cut-out switch for added safety on site.
With its minimal warm up time, the CH30 ceramic heater is an easy and convenient answer to instant heat. Variable heat output means a constant, comfortable room temperature can be easily maintained and this unit is completed with a tough tubular steel frame for added durability.
This model also includes a soft touch lcd panel to show ambient temperature, 24 hour programmable timer, remote control and eco mode.
If you need assistance, please contact our experts on 0330 175 9558 or email orders@sunbeltsales.co.uk. Alternatively, you can use our live chat option
Features & Benefits
Sealey CH30 Ceramic Heater 230v
1.4/2.8kW Heat Capacity
Two Ceramic Heating Settings
Chemically Polished Reflectors
LED Display Control Panel
230v Power Supply
Adjustable Thermostat
Programmable 7 Day Timer
Powder Coated Metal Casing
Fitted With Carry Handle
Ideal For Garages, Workshops & Sites
Document Download
Documentation File Format Size
Product Manual
PDF
3.1 MB
What's In The Box
1 x Sealey CH30 Ceramic Heater 230v 2.8kW
1 x power cable with 3 pin plug
Related products
Programmable timer
Remote control
LCD panel display
Eco mode

In stock

High Quality Infrared Heaters
Anti Tilt Switch
Low glow technology
Fully portable

In stock
Need some help?