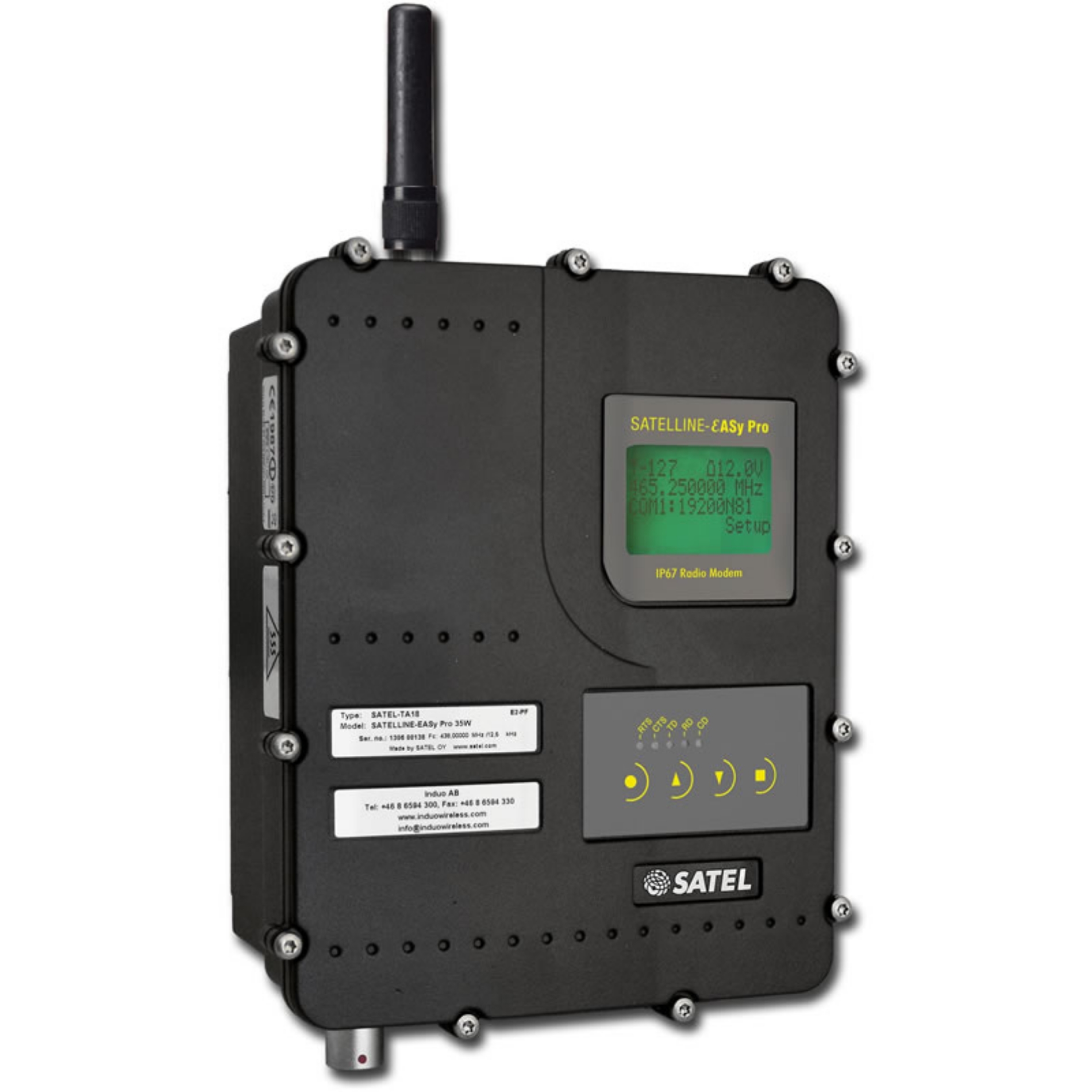 SATELLINE-EASy Pro Radio
£3029.40
Detailed Description
Ideal for long range GPS surveys beyond 5km.
Now compatible with Pacific Crest and TrimTalk.
Wide tuning range 403 - 473 MHz.
Select 10, 20, 25 or 35 Watt power settings (N.B. Subject to OFCOM licence in the UK, or country specific licence regulations).
Can be used as a repeater.

SATELLINE-EASy Pro is an IP67 classified UHF radio modem with a high power transmitter, wide 70 MHz tuning range in one hardware and selectable channel spacing. It is particularly well suited for land surveying under varying weather conditions. Due to the high transmitting power, connection distances of up to 80 kilometers can be covered.

According to the IP67 standard, the casing and connectors of the SATELLINE-EASy Pro are waterproof and secured against dust. The radio modem is equipped with a Liquid Crystal Display (LCD), used to indicate the current operating status (frequency, channel number, power level, voltage level, field strength), as well as for changing the setups of the radio modem.
Features & Benefits
• High 35W output power
• Wide 70 MHz tuning range (403 - 473 MHz)
• Selectable channel spacing 12.5 / 20 / 25 kHz
• IP67 classified housing
Technical Data
Frequency range
403 - 473 MHz
Tuning range
70 MHz
Channel spacing
12.5 / 20 / 25 kHz selectable
Sensitivity/Carrier power
-114 dBm / 25 W or 35 W
Interface
RS-232
Data speed
Radio 19200 / RS 38400 bps
Operating voltage
+9 - +16 VDC (≥ +12 VDC @ 35 W)
Power consumption
RX 1.8 W / TX 120W (with 35W output power)
Size/Weight
189 x 138 x 71mm with connectors / 1420 g
Connectors
8-pin ODU / TNC f / 4-pin ODU
What's In The Box
Call our Support Team on 0330 1759558 if you require more information on this product.

Need some help?