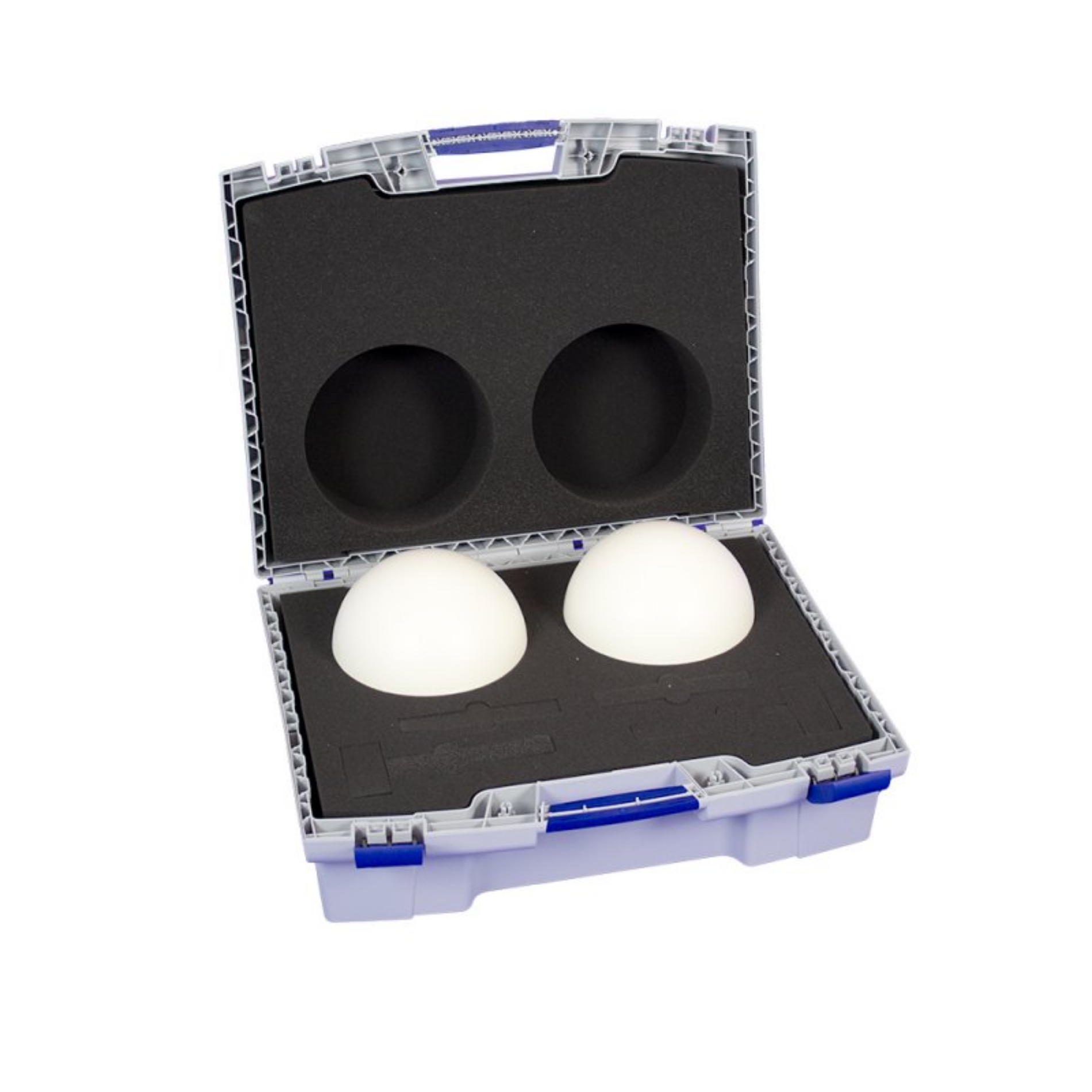 Laser Scanner Reference Sphere Set XXL
£502.80
Detailed Description
Two XXL reference spheres with the appropriate accessories together in one case. Even in long scan distances, the large reference spheres can be registered very well. With the appropriate accessories, you are well equipped for all scanning jobs.
Designated use:
The reference sphere XXL is used for objects with great dimensions. Registration is also possible without any problems in ranges up to 35m
Easy and quick installation on magnetic surfaces due to a centered magnet base
Connection of point cloud with existing fixed points by using reference sphere adapters
Field of application:
Scan object with great target ranges, e.g. for a site plan
Compatible laser scanners:
FARO LS 420
FARO LS 880
FARO Photon LS 20
FARO Photon LS 80
FARO Photon LS 120
FARO Focus 3D 20
FARO Focus 3D 120
FARO Focus3D X 330
Trimble TX5
Leica HDS 6100
Leica HDS 4400
Riegl VZ 1000 Laser scanner
Riegl VZ 400 Laser scanner
Z+F IMAGER 5010
Z+F IMAGER 5006
Z+F IMAGER 5006i
Z+F IMAGER 5006h
Z+F IMAGER 5006EX
Features & Benefits
Reference sphere is a hollow made of plastic with a distinctive surface to achieve excellent reflective properties
Diameter of reference sphere: Ø 200mm
Connection: female thread M8/20mm
Includes strong detachable magnet base M8/20mm)
Magnet base can be replaced by a reference sphere adapter or a prism pole adapter
The adapters are safely and space-savingly placed directly into the provided recesses in the foam insert
Case dimensions: 575 x 470 x 270mm
Case with precut foam insert for safe transport
Technical Specification
Call our Support Team on 0330 1759558 if you require more information on this product.
Document Download
Call our Support Team on 0330 1759558 if you require more information on this product.
What's In The Box
2x Reference spheres XXL, plastic, Ø 200mm, special adapter (female thread M8 / 20mm)
2x Long magnet bases (M8 / 20mm)
1x Plastic case with foam inser

Need some help?