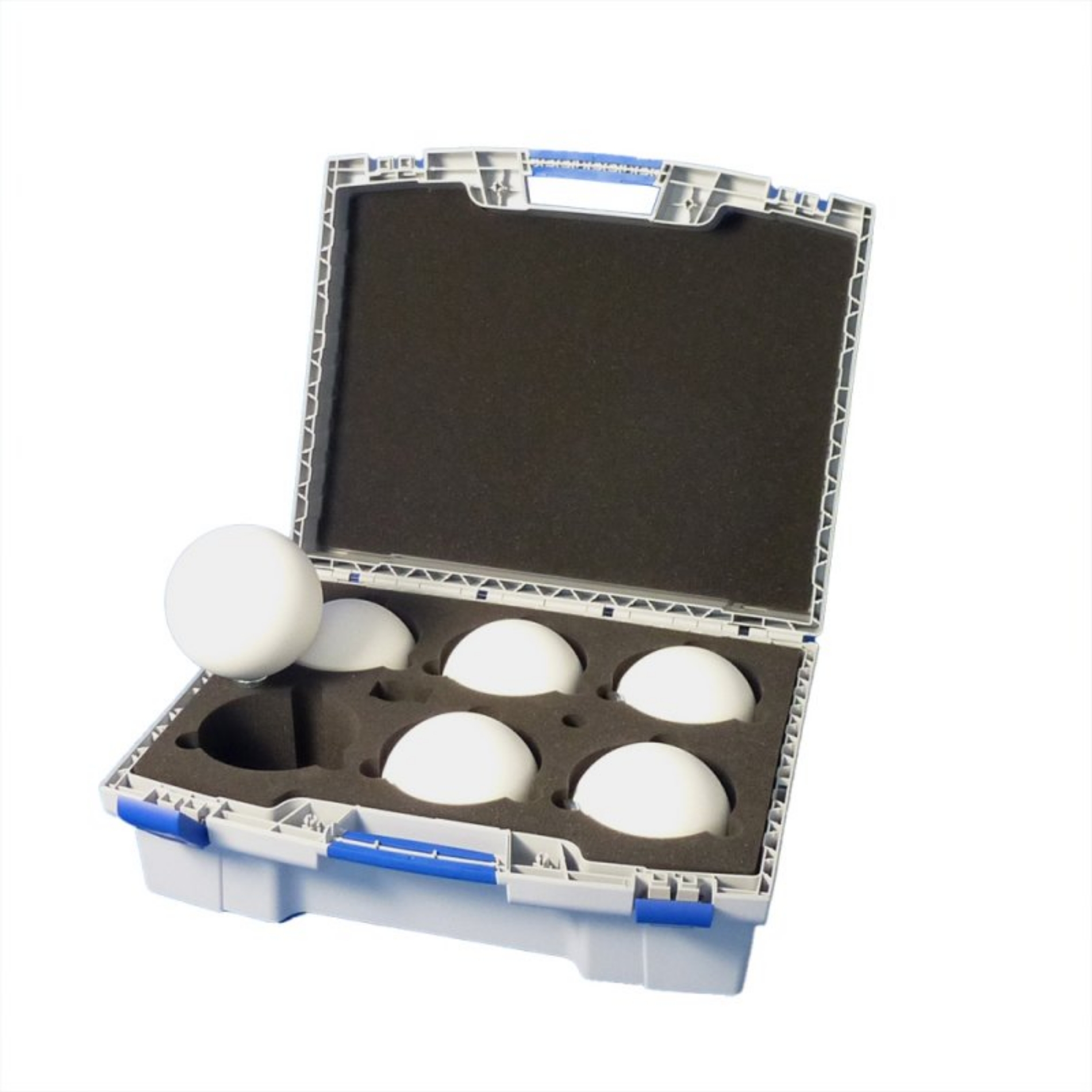 Laser Scanner Reference Sphere Set (Basic)
£718.80
Detailed Description
This Reference Sphere Set is designed for beginners and for occasional use. The surface is coated with a special paint; it resists normal stresses under normal use. The sphere is supplied with a magnetic holder and can, thus, be fixed easily on magnetic surfaces. The reference sphere set is suitable for the registration of projects in situ which are not measured tachymetrically.
Areas of application:
Architecture, construction, and preservation of historic buildings and monuments
Forensic
Compatible laser scanners:
FARO LS 420
FARO LS 880
FARO Photon LS 20
FARO Photon LS 80
FARO Photon LS 120
FARO Focus 3D 20
FARO Focus 3D 120
FARO Focus3D X 330
Trimble TX5
Notes:
The reference sphere (basic) is the perfect measurement sphere for scanning under normal conditions. Only at very low or very high temperatures, the sphere's diameter shows a small variation. We recommend using and storing these spheres only in the range from 0 to +50 degree. If the spheres are used at extremely cold ambient temperatures (< -5 degree), a damage of the painted surface might arise.
Features & Benefits
Diameter Ø 145mm
Spherical shape allows the highest possible scanning efficiency from various directions and it has been proven to be the most efefctive laser scanning target
Reference sphere is a hollow made of plastic with a distinctive surface to achieve excellent reflective properties
Includes detachable magnet base
Case dimensions: 575 x 470 x 205mm
Case with precut foam insert for safe transport
Technical Specification
Call our Support Team on 0330 1759558 if you require more information on this product.
Document Download
Call our Support Team on 0330 1759558 if you require more information on this product.
What's In The Box
Set of 6 laser scanning reference spheres.
Option for 6 pedestals available.

Need some help?