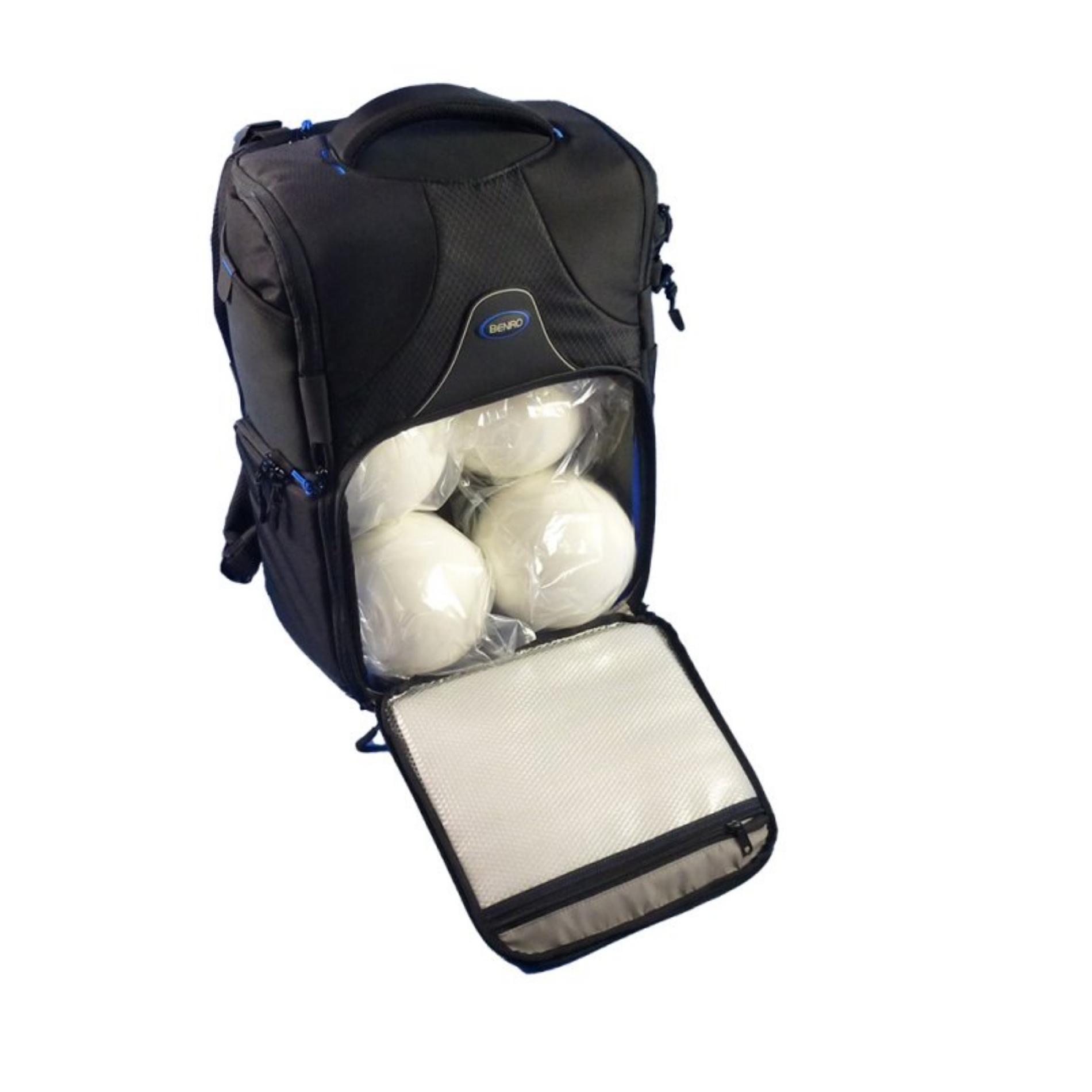 Laser Scanner Reference Sphere Set (Flexi) In Backpack
£1066.80
Detailed Description
Robust and made-to-last reference sphere set (6 spheres) for the daily use of various scanners and magnetic holders delivered in a functional backpack.

The reference sphere set Flexi has all product characteristics of the reference sphere set surveyor and expands this one by the following characteristics:

Precise geometry - highly accurate geometry is unique in this sector and allows the use for highly accurate applications (e.g. stripe-light-scanners) beside the standard usage in the field of laser scanning.

Unique materials - the sphere Flexi which is developed for daily use is made of unique material components.

Integrated shock absorber - the first sphere that can withstand impacts and achive the initial state after a few seconds.

Excellent reflective properties - in contrast to our other reference spheres the surface is not painted; a special surface coating ensures optimum reflectivity and durablitiy.

The backpack is individually adjustable and provides a good wearing comfort due to the back padding and the back ventilation system. It is innately equipped with 6 Flexi spheres because only this measurement sphere withstands abrasion and impacts without any damage.
You can equip the backpack in the separated bottom chamber with 4 and in the upper chamber with 2 reference spheres. The upper chamber is suited for carrying surveying equipment (e.g. mini prism, adapter or spray for antireflection).
Moreover, the backpack has a separated pocket for laptops (dimension: max 15in) and provides the possibility to attach a carbon tripod at the side.
The rain cape stored in the side pocket protects against dirt, dust and humidity.
Field of application:
Architecture, preservation of buildings and monuments
Design and planning of factory buildings and digital factory
Mining industry and tunnel construction
Public service corporations
Aircraft construction and naval architecture
Foundries and steel industry
Chemical and process industry
Forensics
Compatible laser scanners:
FARO LS 420
FARO LS 880
FARO Photon LS 20
FARO Photon LS 80
FARO Photon LS 120
FARO Focus 3D 20
FARO Focus 3D 120
FARO Focus3D X 330
Trimble TX5
Leica HDS 6100
Leica HDS 4400
Riegl VZ 1000 Laserscanner
Riegl VZ 400 Laserscanner
Z+F IMAGER 5010
Z+F IMAGER 5006
Z+F IMAGER 5006i
Z+F IMAGER 5006h
Z+F IMAGER 5006EX
Notes:
The reference sphere Flexi is not only very solid due to the integrated shock absorber but can be used easily at various weather conditions.
Features & Benefits
Diameter of 145mm
Resistant materials allow daily use and ensure durability
Integrated shock absorber assists in withstanding impacts and protects the surface coating (thus, chipping paint is a thing of the past)
Spherical shape allows the highest possible scanning efficiency from various directions and it has been proven to be the most effective laser scanning target
Long special adapter (female thread M8) for Mini Prism (50023)
Reference sphere is a special model made of a combination of difference plastics with special surface coating for optimum reflectivity
Optionally, we offer the tripod adapter for reference spheres (030-50009) for attachment on tripods etc.
Includes detachable magnet base (M8)
Dimensions of the backpack: 350 x 250 x 450mm
Technical Specification
Call our Support Team on 0330 1759558 if you require more information on this product.
Document Download
Call our Support Team on 0330 1759558 if you require more information on this product.
What's In The Box
Set of 6 flexi laser scanning reference spheres
Backpack

Need some help?