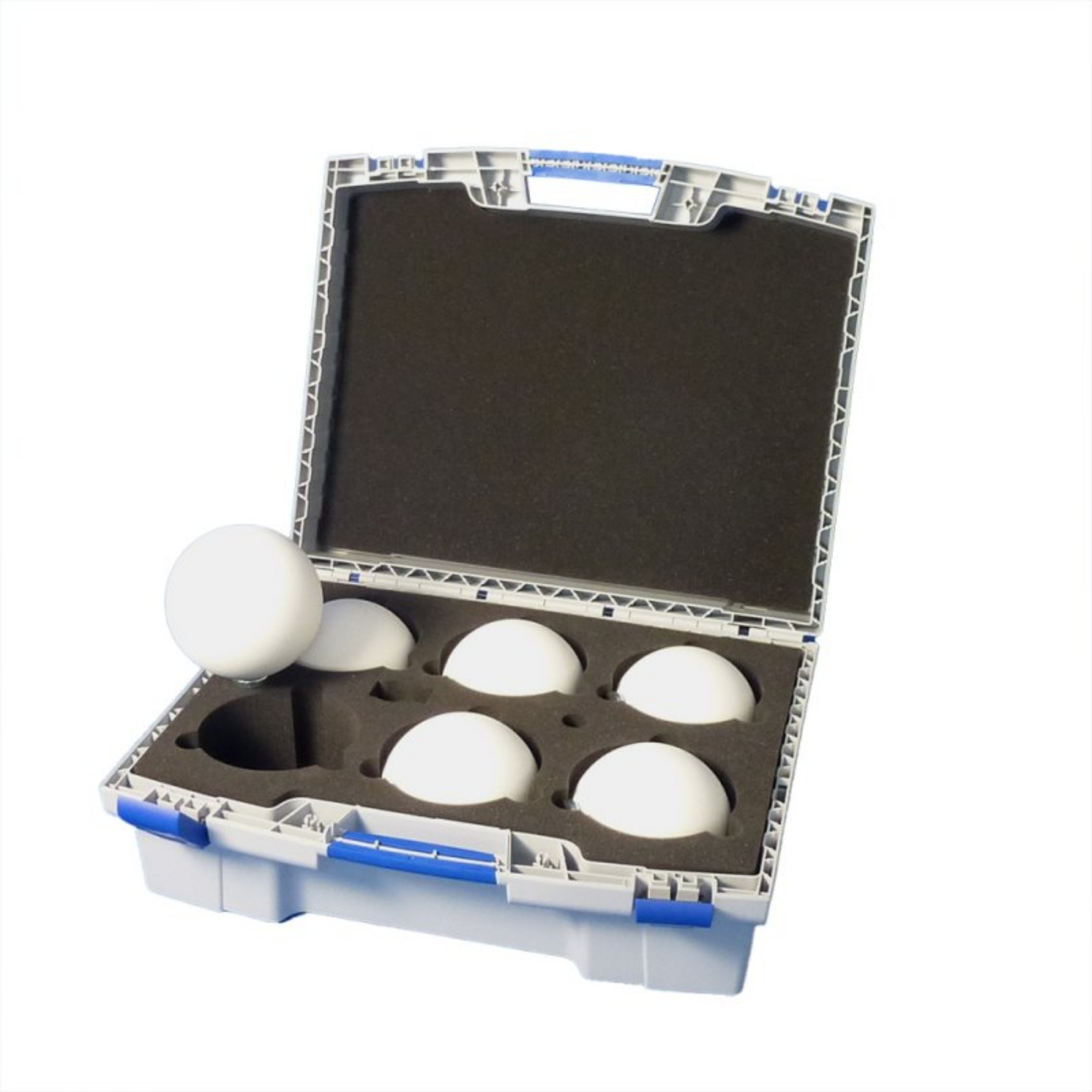 Laser Scanner Reference Sphere Set (Flexi)
£900.19
Detailed Description
These cutting edge sphere combines very high quality and durability
The reference sphere set Flexi has all product characteristics of the reference sphere set surveyor and expands this one by the following characteristics:

Precise geometry - highly accurate geometry is unique in this sector and allows the use for highly accurate applications (e.g. stripe-light-scanners) beside the standard usage in the field of laser scanning.

Unique materials - the sphere Flexi which is developed for daily use is made of unique material components.

Integrated shock absorber - the first sphere that can withstand impacts and achive the initial state after a few seconds.

Excellent reflective properties - in contrast to our other reference spheres the surface is not painted; a special surface coating ensures optimum reflectivity and durablitiy.
Field of application:
Architecture, preservation of buildings and monuments
Design and planning of factory buildings and digital factory
Mining industry and tunnel construction
Public service corporations
Aircraft construction and naval architecture
Foundries and steel industry
Chemical and process industry
Forensics
Compatible laser scanners:
FARO LS 420
FARO LS 880
FARO Photon LS 20
FARO Photon LS 80
FARO Photon LS 120
FARO Focus 3D 20
FARO Focus 3D 120
FARO Focus3D X 330
Trimble TX5
Notes:
The reference sphere Flexi is not only very solid due to the integrated shock absorber but can be used easily at various weather conditions.
Features & Benefits
Diameter of 145mm
Resistant materials allow daily use and ensure durability
Integrated shock absorber assists in withstanding impacts and protects the surface coating (thus, chipping paint is a thing of the past)
Spherical shape allows the highest possible scanning efficiency from various directions and it has been proven to be the most effective laser scanning target
Long special adapter (female thread M8) for Mini Prism (50023)
Reference sphere is a special model made of a combination of difference plastics with special surface coating for optimum reflectivity
Optionally, we offer the tripod adapter for reference spheres (030-50009) for attachment on tripods etc.
Includes detachable magnet base (M8)
Case dimensions: 575 x 470 x 205mm
Case with precut foam insert for safe transport
What's In The Box
Set of 6 flexi laser scanning reference spheres
Optional - Set of 6 reference sphere pedestals.
Need some help?