Radiodetection Tx-5 Transmitter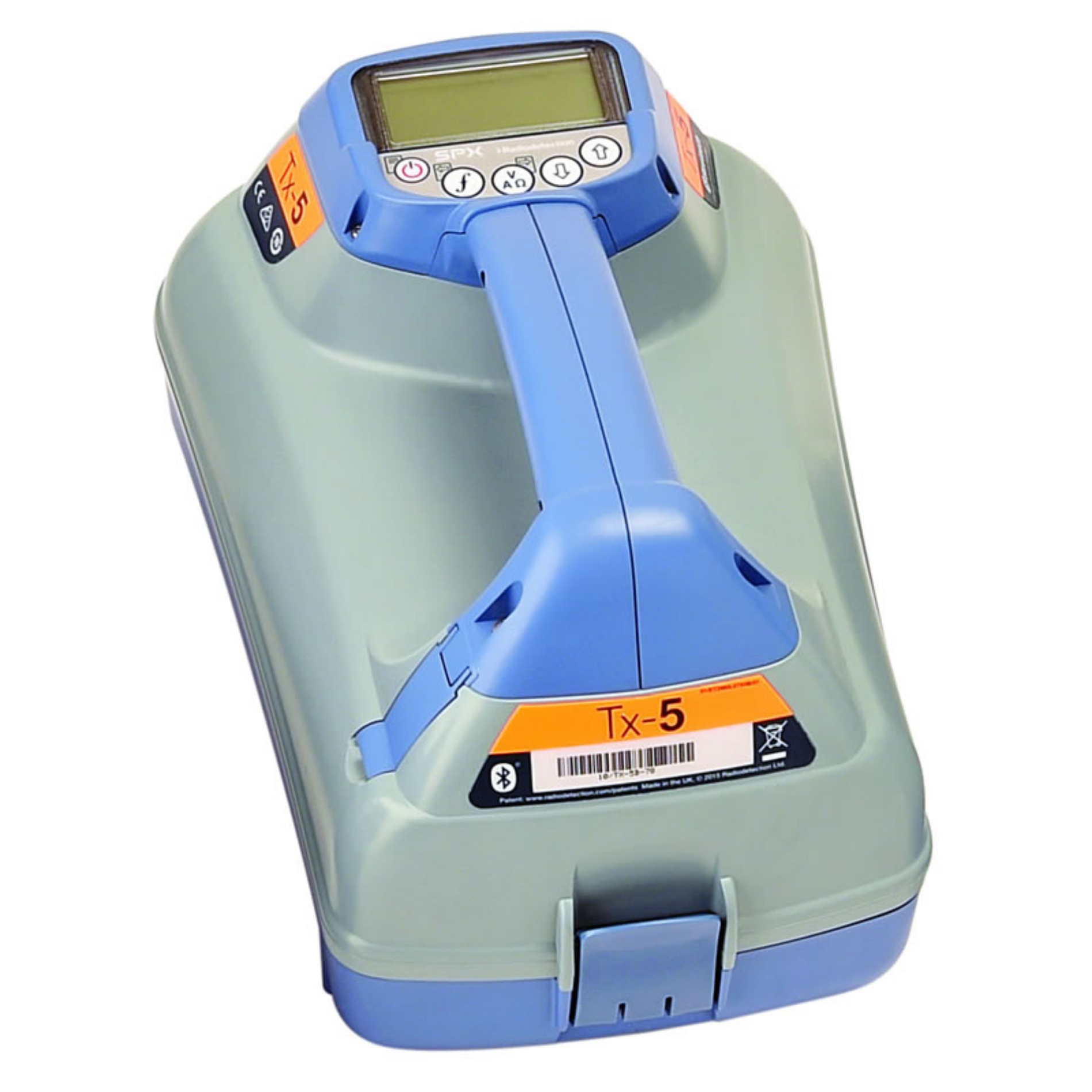 Radiodetection Tx-5 Transmitter
£1235.20
Detailed Description
All models feature constant current across their entire bandwidth in either direct connect, clamp or inductive mode. The transmitters are light-weight (2.9kg), well-balanced and IP54 rated to cope with demanding environmental conditions. Each model has a removable accessory tray and a weatherproof battery compartment. A large, high contrast, backlit LCD screen provides the user with clear information.

90V output capability: All transmitters offer both 30V and 90V output options, resulting in higher signal current delivered on high impedance target lines than typical transmitters that only offer a 50V output. Higher signal levels are more locatable, and travel over longer distances.

SideStepauto™: allows the transmitter to calculate the optimum frequency based on ground impedance. The transmitter uses this information to optimize the active frequency. SideStep auto helps to improve locate accuracy and extends battery life.

To support the extended RD8000 iLOC feature set, the Tx-5B and Tx-10B can be ordered with integrated iLOC remote transmitter control.

The transmitter range features Direct Connect and induction frequencies compatible with locators across the RD8000 range, and can be easily customized to match your locator using the 'model' feature. The Tx-10B transmitter includes the additional 'PTL' model featuring the additional frequencies of the RD8000 PTLM locator.

A multimeter function enables quick measurements of output voltage, line voltage, current, impedance and power.

The transmitters are powered either by 8 standard D-cell batteries (alkaline or rechargeable NiMH) or by the Lithium-Ion rechargeable battery pack (available as an option). Alternatively, the Tx range can be powered from a 12V vehicle source using a Radiodetection approved isolation transformer.

Alkaline battery life can be extended by enabling ECO mode which warns the operator and gradually reduces the power output in low battery conditions (Tx-5 and Tx-10 models only).

Note: The accessory tray includes a ground stake, direct connect leads and earth reel.


Features & Benefits
Transmitter Features:
Three power versions: 1 Watt, 5 Watt and 10 Watt
8kHz Fault Find – locates faults from short circuit up to 2MΩ
Current Direction Fault Find – for long distance fault finding
5 or 13 CD paired frequencies (model dependent)
Current delivered at 30V or high voltage mode (90V for high impedance operation)
256Hz to 200kHz active frequency range
Selectable modes support RD7000+ and RD8000 specific model locator frequency ranges (Tx-10B required for PTLM models)
8 induction frequencies
iLOC (on Tx-5B and Tx-10B only)
SideStepauto
250V Transient overvoltage protection
Multimeter function
8 D-cell battery cassette/rechargeable Lithium-ion battery pack option
Accessory tray (for ground stake, direct connect leads and earth reel)
Plug and play accessories
External 12V DC operation (using Radiodetection isolation transformer)
Click-touch splash-proof sealed keypad
High contrast LCD
What's In The Box
Transmitter
Ground Stake
Direct Connect Leads
Earth Reel
Batteries
Need some help?