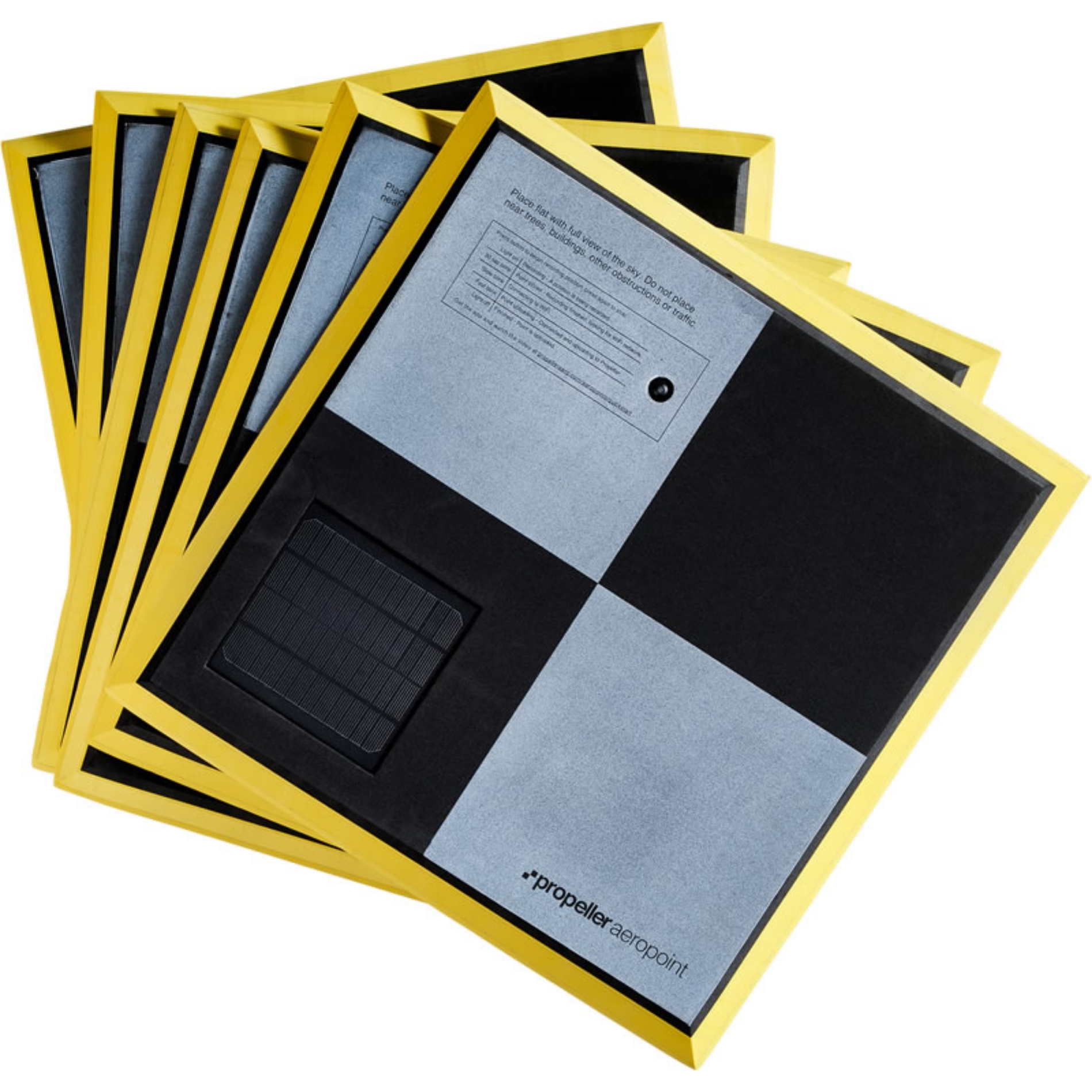 Propeller AeroPoints
£6875.00
Call for stock check
0330 678 0181
Detailed Description
A game-changing technology that makes acquiring survey-grade data from drones simple and inexpensive. Ground Control is an essential component in ensuring accurate maps and models are generated from your drone's images.

AeroPoints are smart ground control points, rugged visual targets with integrated GPS and precision post-processing, designed for use with small drones for fast, highly accurate photogrammetry-based surveying.

A GNSS-enabled ground control point system, capable of recording hours of GNSS data to provide geo-referencing corrections for surveying data with centimetre precision.

The AeroPoints ground control system is designed to operate for long periods in harsh environmental conditions. The chamfered, low profile design and waterproof enclosure ensures each AeroPoint holds its location even in high winds. Solar changing guarantees each AeroPoint remains charged and operational for the duration of the survey, and the fire-safety battery ensures they can record data for weeks in heavy cloud.



Features & Benefits
Wireless Connectivity
One-button activation lets you use a Wi-Fi connection or a mobile hotspot to upload position data
Fully Solar Powered
With a powerful solar panel, AeroPoints will never run out of batteries while capturing position data.
Exceptional Durability
AeroPoints are water, shock and weather resistant. Their LiFePo4 batteries are high temperature, impact puncture and aviation safe.
Incredible Accuracy
Inbuilt PPK gives you global/absolute accuracy down to 2cm.
Visual Ground Control
Our tested checkerboard pattern is visible from the air and won't blow out on overexposed photos.
Integration and Speed
Our processing servers will have precision points ready – usually just minutes after uploading.
What's In The Box
Pack of 10 Propeller AeroPoints
Need some help?