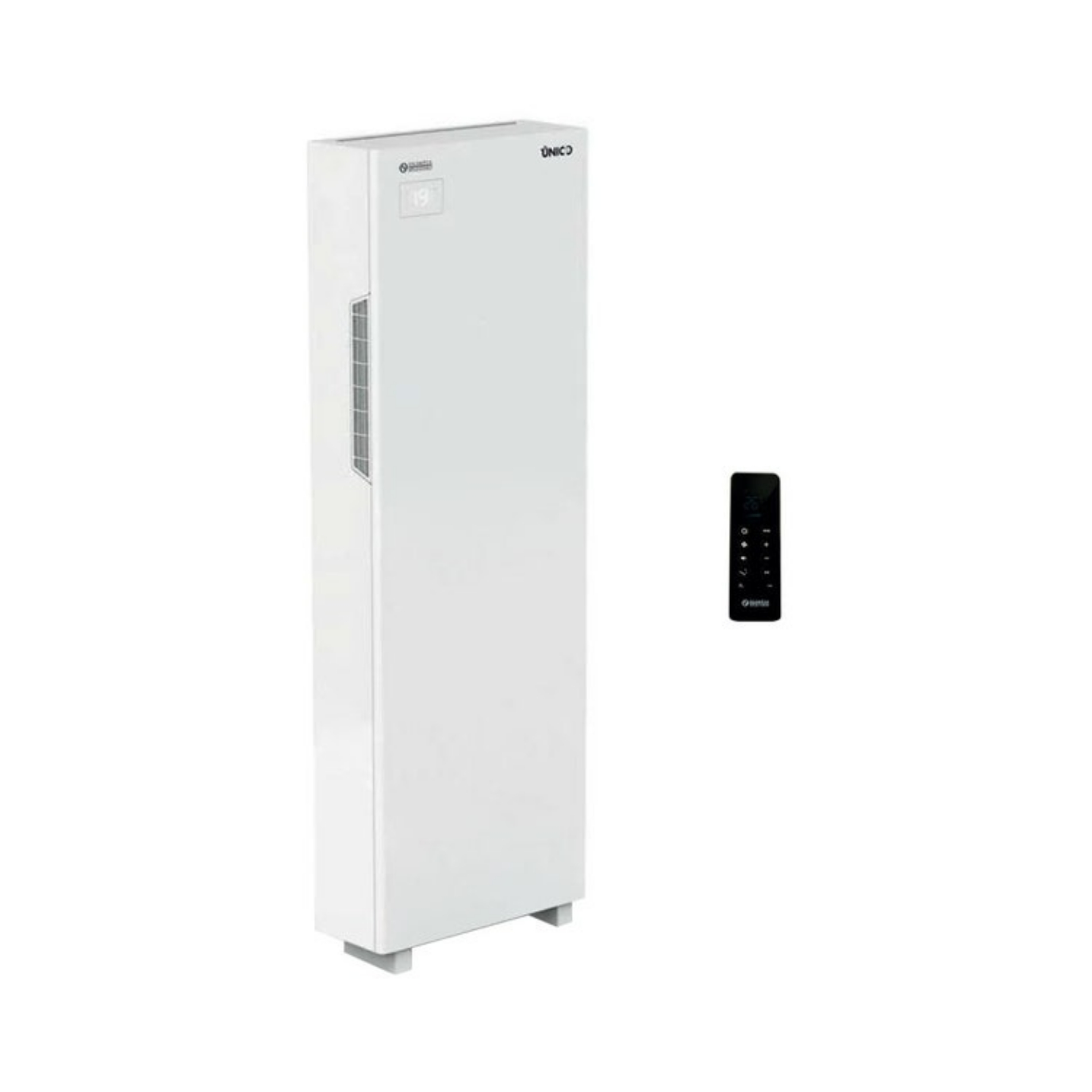 Olimpia Splendid Unico Tower 25HP 2.4kW All-In-One Air Conditioning Unit
£2448.00
Detailed Description
Measuring only 47cm in width, the Unico Air Inverter is designed to fit into confided spaces in both domestic and commercial environments, only requiring two external holes! Offering both an automatic and sleep mode function, the Unico's auto mode adjusts the air conditioner's cooling output in relation to the ambient temperature, while sleep mode ensures a reduced noise level for greater comfort at night.
Cooling, dehumidifying, and heating modes can be easily set with the backlit touch display, the remote control and smartphone application (optional).
VERTICAL DESIGN
All the great Unico technology, contained in an upright sleek italian design.
INVERTER SYSTEM
Thanks to its inverter technology with variable speed compressor, this Unico Inverter range saves up to 30% of energy compare to motors with traditional technology.
HP VERSION
Fitted with a heat pump - thanks to this feature, you can replace or support your traditional heating in intermediate seasons.
Features & Benefits
Max Power: 2.9 kW
Available in HP (Heat Pump) only
Class: A
R410A refrigerant gas
Body entirely in metal
Floor installation
Ease of installation: Unico can be installed from the inside in just a few minutes
Optional wireless wall control
Backlit display with touch controls on the machine
Multifunction remote control with LCD display provided as standard
24hr timer- Economy function: allows energy saving, automatically optimising the performance of the machine
Fan only function
Dehumidification only function
Auto function: modulates the operating parameters in relation to the room temperature.
Sleep function: gradually increases the set temperature and guarantees reduced noise for greater well-being at night.
Silent Mode function: mode that sets the machine to minimum noise. The compressor and fans are set to reduce the sound power down to 13
dB (A).
Please contact us if you require further information or advice.
Technical Specification
Function
Cooling, Heating, Dehumidification
Controls
Electronic control
Power Consumption (W)
1700
Operating Temperatures (degrees centigrade)
35-43
Dehumidification (L/hr)
1.0
What's In The Box
Call our Support Team on 0330 1759558 if you require more information on this product.

Need some help?