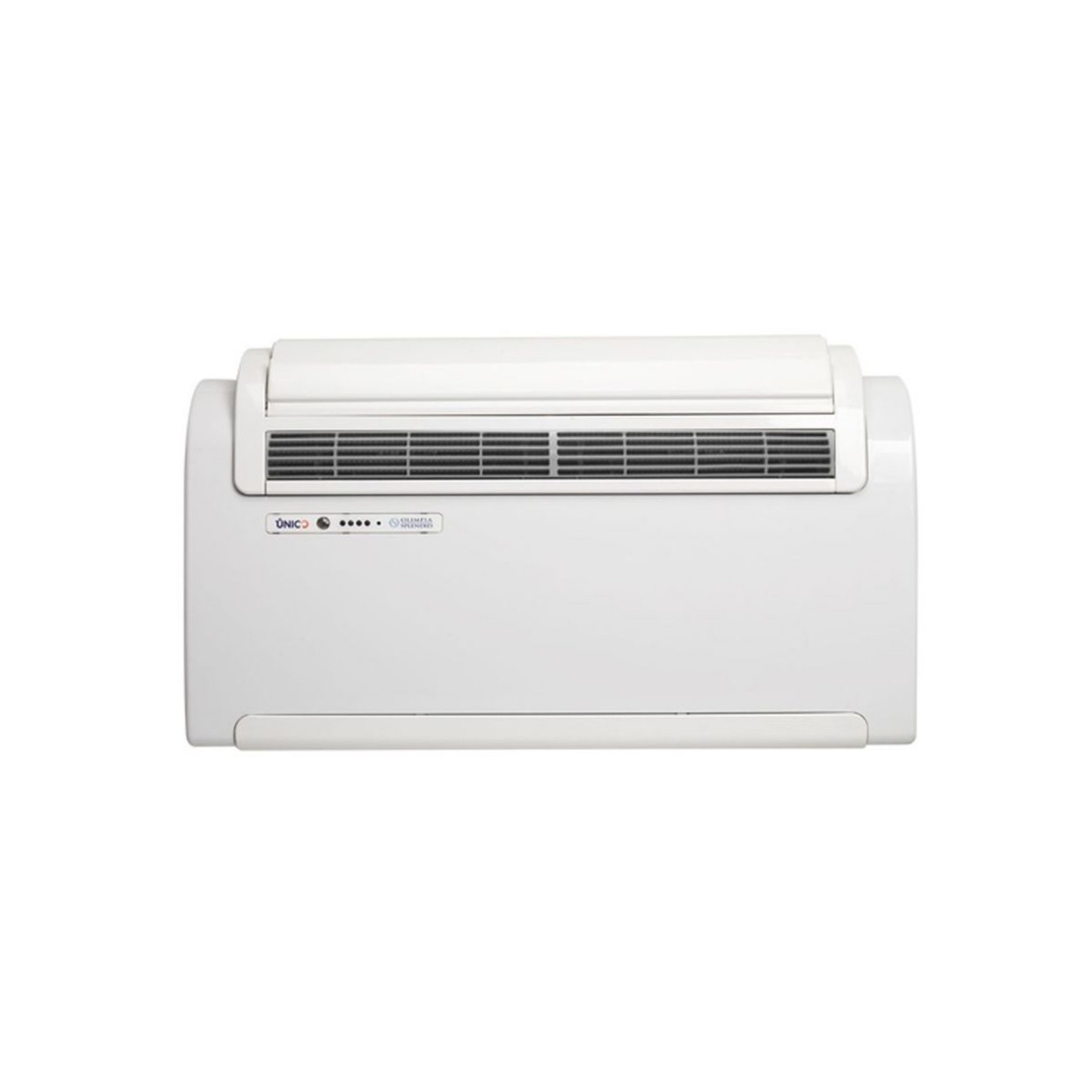 Olimpia Splendid Unico R 12HP 2.7kW All-In-One Air Conditioning Unit
£1069.00
Detailed Description
Olimpia Splendid Unico R 12HP 2.7kW
The Olimpia Splendid Unico R 12HP air conditioning units have been manufactured specifically to eliminate the need of outdoor condensing units, this reduces time and costs as an engineer is not required for installation. The Unico R automatically provides additional heating when the temperature drops below 2°C.
This all year round unit provides cool air in the summer and hot air in the winter, with its sleek modern and slim design this is perfect for any envrioment, whether it be domestic or commercial.
High comfort, excellent flow rate and perfect air distribution | Produces up to 490 m³/h of air that is effectively distributed throughout the room | Cooling power: 2700 W, 2700 watts warm | output | 10,000 BTU cooling capacity | Annual energy consumption when cooling: 500 kWh | The Unico R 12HP is virtually silent and boasts one of the lowest noise levels in its range with operation volume dropping as low as 33 - 43 dB(A)
Unico HP is not only limited to cooling and dehumidification - the supplied heater in the transitional period is the pleasant surprise of this reversible air conditioner really complete.
*This is a stocked item and will be shipped out on a Next Working Day delivery service, if ordered by 3pm.
If you need assistance please contact our experts on 0330 175 9558 or email orders@sunbeltsales.co.uk. Alternatively, you can use our live chat option.
Features & Benefits
Wall mounted without an outdoor unit- only 2 air vents are visible from the outside
Round the year use - provides cool air in summer and warm air in winter
Great for all purposes, can be used in a domestic setting or officies
Sleek and compact design (23cm)
No outdoor condensing unit
Automatically kicks in when temperature drops to 2° C
2.5kW Heat pump + 2kW electric heater
Cosmetically pleasing with a modern look
24 hour timer
3 Year Warranty
Technical Specification
Function
Cooling, Heating, Dehumidification
Controls
Electronic control
Operating Temperatures (degrees centigrade)
35-43
Dehumidification (L/hr)
1.1
Product Type
All-in-one Air Conditioners
What's In The Box
1 x Olimpia Splendid Unico R 12HP 2.7kW All-In-One Air Conditioning Unit
1 x Remote control
1 x Use and maintenance booklets
Related products
NEXT DAY DELIVERY!*
Cooling class: A
Max Power: 2.7kW
R32 refrigerant gas
3 Year Warranty

In stock

NEXT DAY DELIVERY!*
Max Power 2.7kW
R32 refrigerant gas
Heat Pump
Noise level 33 (dB(A)
3 Year Warranty

In stock

NEXT DAY DELIVERY!*
2.7kW heat pump
Noise Level 33 - 43 dB(A)
Cooling class: A
3 Year Warranty

In stock
Need some help?