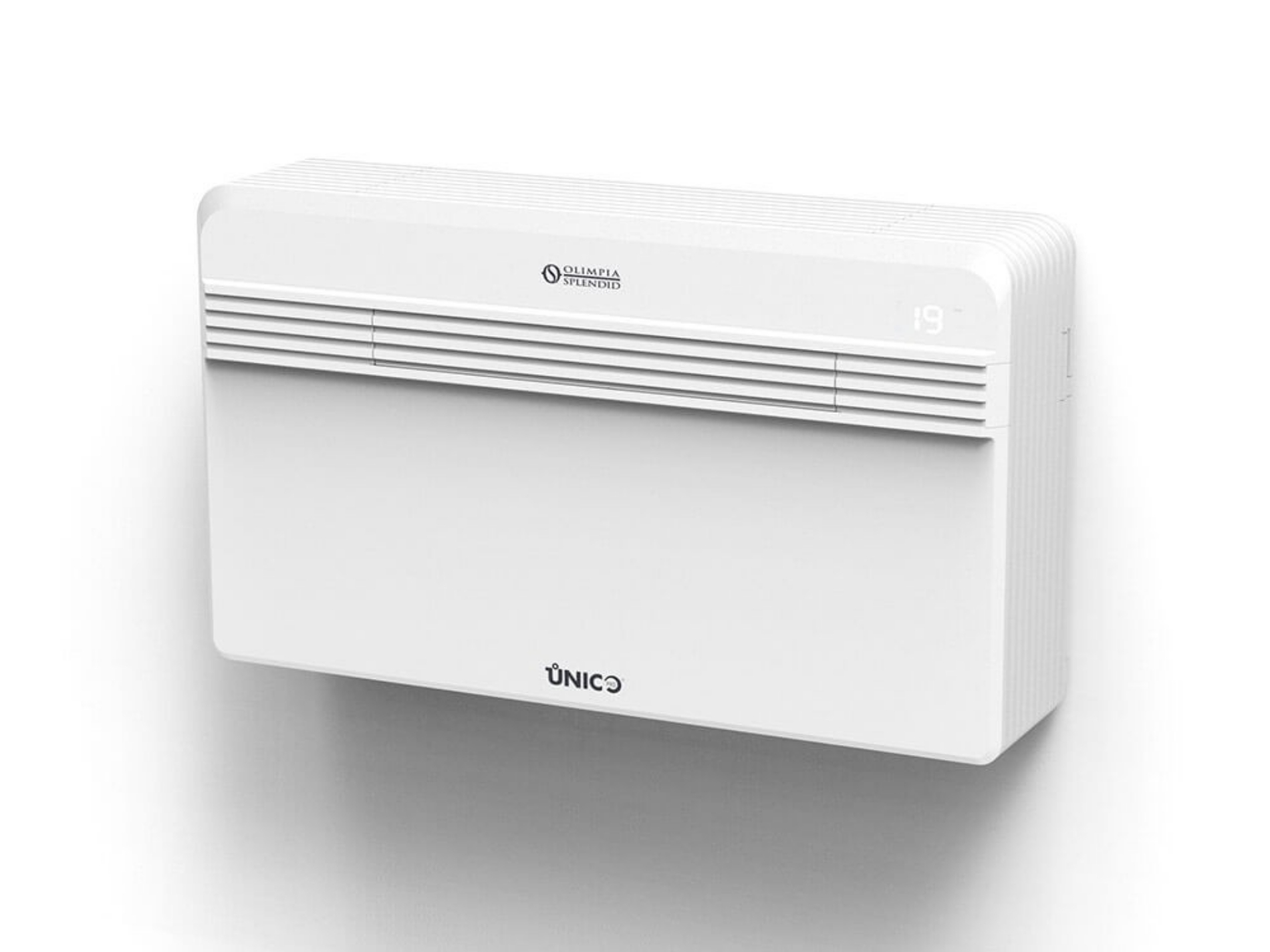 Olimpia Splendid Unico Pro Inverter 35HP 3.1kW All-In-One Air Conditioning Unit
£1798.99
Detailed Description
Designed in Italy by Antonio Rodriguez and Matteo Thun, the Unico Pro is an easy to install, all-in-one air conditioning system, which can be placed high or low on a wall inside the office, home, bar, hotel or more in just a few minutes. The collaboration in artists has resulted in a smooth exquisite design, which blends in beautifully with any interior décor.
The most powerful fixed air conditioner without outdoor unit in the range, with the innovative Pro Power technology that guarantees a cooling power of up to 3.5 kW. Silent mode, touch display and operated by remote control or smartphone, for ultimate comfort.
LOW GWP GAS
Using R32 refrigerant, the machine has a greenhouse effect reduced by almost 70% (compared to R410a).
POWER AND EFFICIENCY
Super cooling power and high efficiency (up to Class A+).
NEW INVERTER SYSTEM
A new generation of invertor motor, with a wider frequency range, DC inverter fans and an electronic management for expansion valve. - saves up to 30% of energy compare to motors with traditional technology.
AWARD WINNING ITALIAN DESIGN
Designed by Matteo Thun ad Antonio Rodriguez, it stands out for its traditional and original lines, winning awards in numerous international competitions.
HP VERSION
Fitted with a heat pump - thanks to this feature, you can replace or support your traditional heating in intermediate seasons.
Features & Benefits
Max power: 3.5 kW
Available in HP (Heat Pump) version only
Class up to: A+
R32 refrigerant gas
High or low wall installation
The internal components are all accessible from the front with the machine already in place
Optional wireless wall control
Large louvre for the homogeneous diffusion of air in the environment
Equipped with a multi-filtering system, consisting of an electrostatic filter (with anti-dust function) and an activated carbon filter (effective against unpleasant odours).
Backlit display with touch controls on the machine
Multifunction remote control with LCD display included as standard
24hr timer
Economy mode: allows energy saving, automatically optimising the performance of the machine
Fan only mode
Dehumidification only mode
Auto mode: regulates the operating parameters in relation to ambient temperature
Sleep mode: gradually increases the set temperature and guarantees reduced noise for greater comfort at night.
Silent mode: sets the machine to minimum noise - the compressor and fans are set to reduce the sound power down to 10 dB(A)
Please contact us if you require further information or advice.
Technical Specification
Function
Cooling, Heating, Dehumidification
Controls
Electronic control
Power Consumption (W)
1500
Operating Temperatures (degrees centigrade)
35-43
Dehumidification (L/hr)
1.3
What's In The Box
Call our Support Team on 0330 1759558 if you require more information on this product.

Need some help?