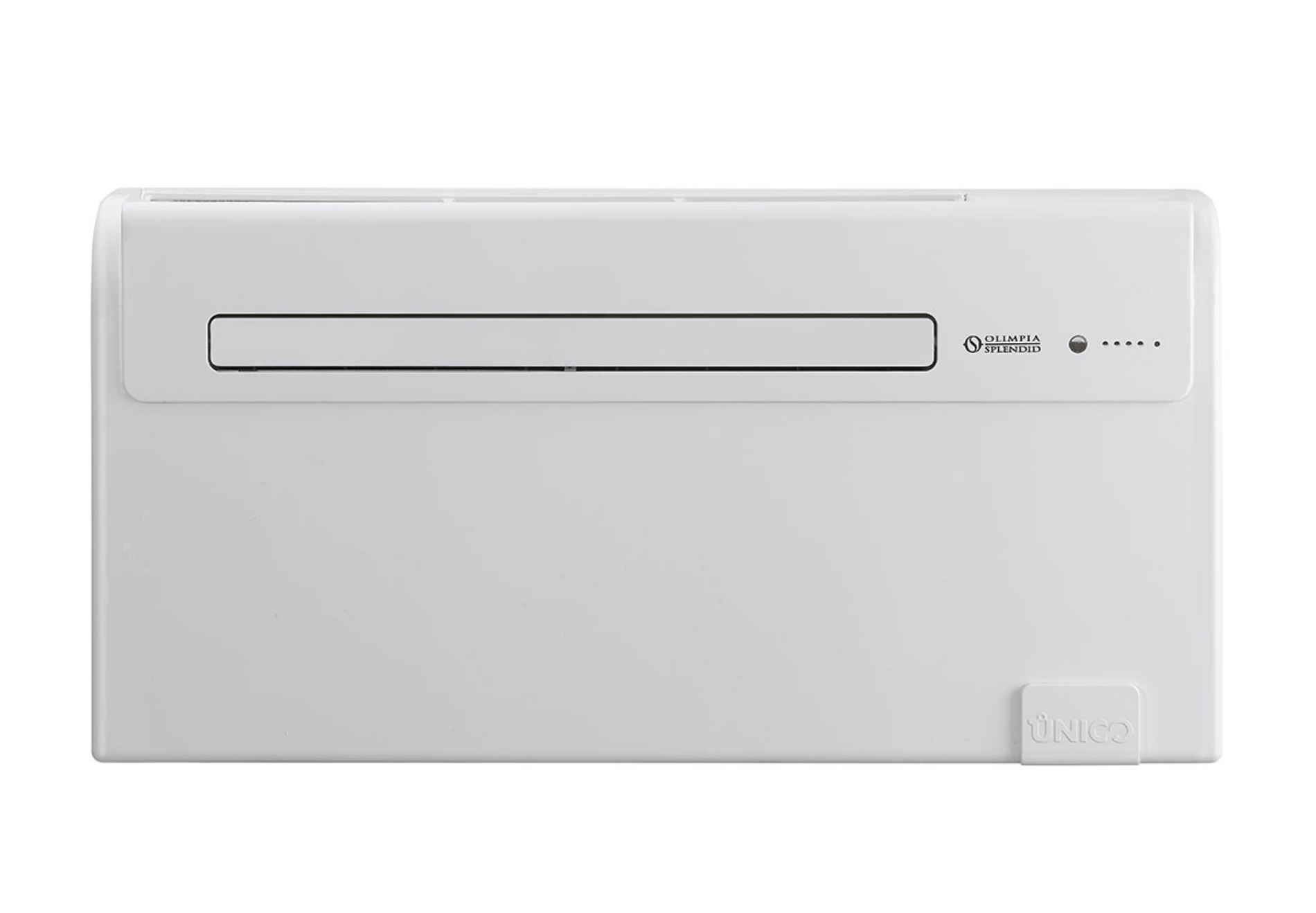 Olimpia Splendid Unico Inverter 12HP 2.7kW All-In-One Air Conditioning Unit
£1199.00
Detailed Description
Unico Inverter 12 HP 2.7kW fixed through wall heating and cooling inverter driven air conditioner that does not require the installation of an outdoor condensing unit.
The Unico Inverter air conditioners are suitable for both domestic and commercial applications. The air-conditioning system can be dual managed using Bluetooth and Wi-Fi connection.
Reclaimed refrigerant - With reclaimed R410a refrigerant for the environmentally conscious, the Air Inverter 8 and 10HP use refrigerant recovered from existing systems.
Inverter system - Thanks to its inverter technology with variable speed compressor, this Unico Inverter range saves up to 30% of energy compare to motors with traditional technology.
Pure system - Multi-filtering system which combines electrostatic filters (to eliminate small particles like duct, pollen, and pet hair) with an activates carbon filter (to eradicate bad odours and harmful gases).
HP version - Fitted with a heat pump - thanks to this feature, you can replace or support your traditional heating in intermediate seasons.
Features & Benefits
Max Power: 3.25 kW.
Available in versions: SF (Cooling only) - HP (Heat Pump).
Double class: A.
Refrigerant gas R410A and R410A reclaimed*.
Installation versatility: high or low wall installation.
Easy installation: Unico can be installed from the inside in a few minutes.
Optional wireless wall control.
Large louvre for even distribution of air in the room.
Multifunction remote control included.
24hr Timer- Economy mode: allows energy saving by automatically optimizing the machine's performance.
Fan only mode.
Dehumidification only mode.
Auto mode: regulates the operating parameters in relation to ambient temperature.
Sleep mode: gradually increases the temperature set and ensures reduced noise for greater wellbeing at night.
12 month warranty.
Please contact us if you require further information or advice.
Technical Specification
Function
Cooling, Heating, Dehumidification
Controls
Electronic control
Rated input (cooling)
580/1000/1400
Operating Temperatures (degrees centigrade)
35-43
Dehumidification (L/hr)
1.1
What's In The Box
Call our Support Team on 0330 1759558 if you require more information on this product.

Need some help?