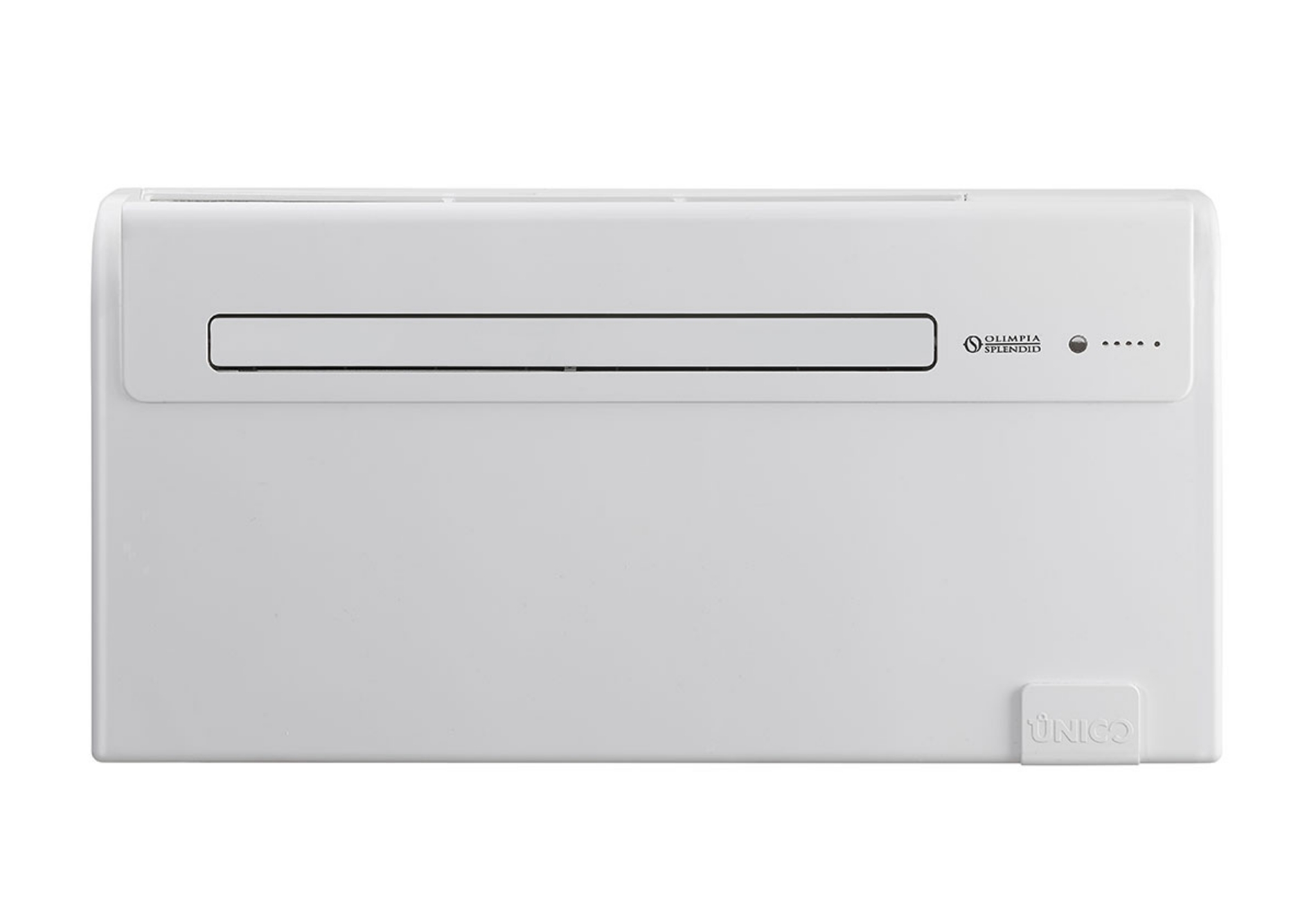 Olimpia Splendid Unico Air 8HP 1.8kW All-In-One Air Conditioning Unit
£981.00
Detailed Description
The Unico Air range offers a stylish solution for heating and cooling in almost any environment. Being the thinnest of the whole Unico range, the Air would fit perfectly into areas where space may be more at a premium.
With incredible flexibilty and ease of use and installation, the Unico range are the ideal solution for those scenarios that do not allow for a conventional split system with the outdoor condensing fan. The range can be installed entirely from the inside in just a few minutes by a competent builder or electrician.
Inverter technology. Extremely quiet and pays for itself in energy savings in around 4 years!
Slim design - Slimmest air conditioner without an outdoor unit, containing all the great Unico technology.
Silent system - Thanks to the sound-absorbing and anti-vibration materials, the Unico Air ensures the lowest noise levels in the range - as low as 27 dB(A)
HP version - Fitted with a heat pump - thanks to this feature, you can replace or support your traditional heating in intermediate seasons.
Features & Benefits
Power: 1.8 kW.
Available in the versions: SF (Cool Only) –HP (Heat Pump).
Cooling class: A.
R410A refrigerant gas.
High or low wall installation.
Ease of installation: Unico can be installed from the inside in just a few minutes.
Optional wireless wall control.
Large flap for the homogeneous diffusion of air in the environment.
Equipped with a multi-filtering system, consisting of an electrostatic filter (with anti-dust function) and activated carbon filter (effective against unpleasant odours).
Multifunction remote control included.
24hr timer.
Ventilation only function.
Dehumidification only function.
Economy mode: allows energy saving by automatically optimizing the machine's performance.
Fan only mode.
Auto function: regulates the operating parameters in relation to ambient temperature.
Sleep function: gradually increases the set temperature and guarantees reduced noise for greater wellbeing at night.
12 month warranty.
Please contact us if you require further information or advice.
Technical Specification
Area Coverage (m³)
220-240 220-240
Heating Capacity (KW)
1.87
Controls
Electronic control
Air Volume m³/h
235/180/150
Operating Temperatures (degrees centigrade)
32-43
Dehumidification (L/hr)
0.6
What's In The Box
Call our Support Team on 0330 1759558 if you require more information on this product.

Need some help?