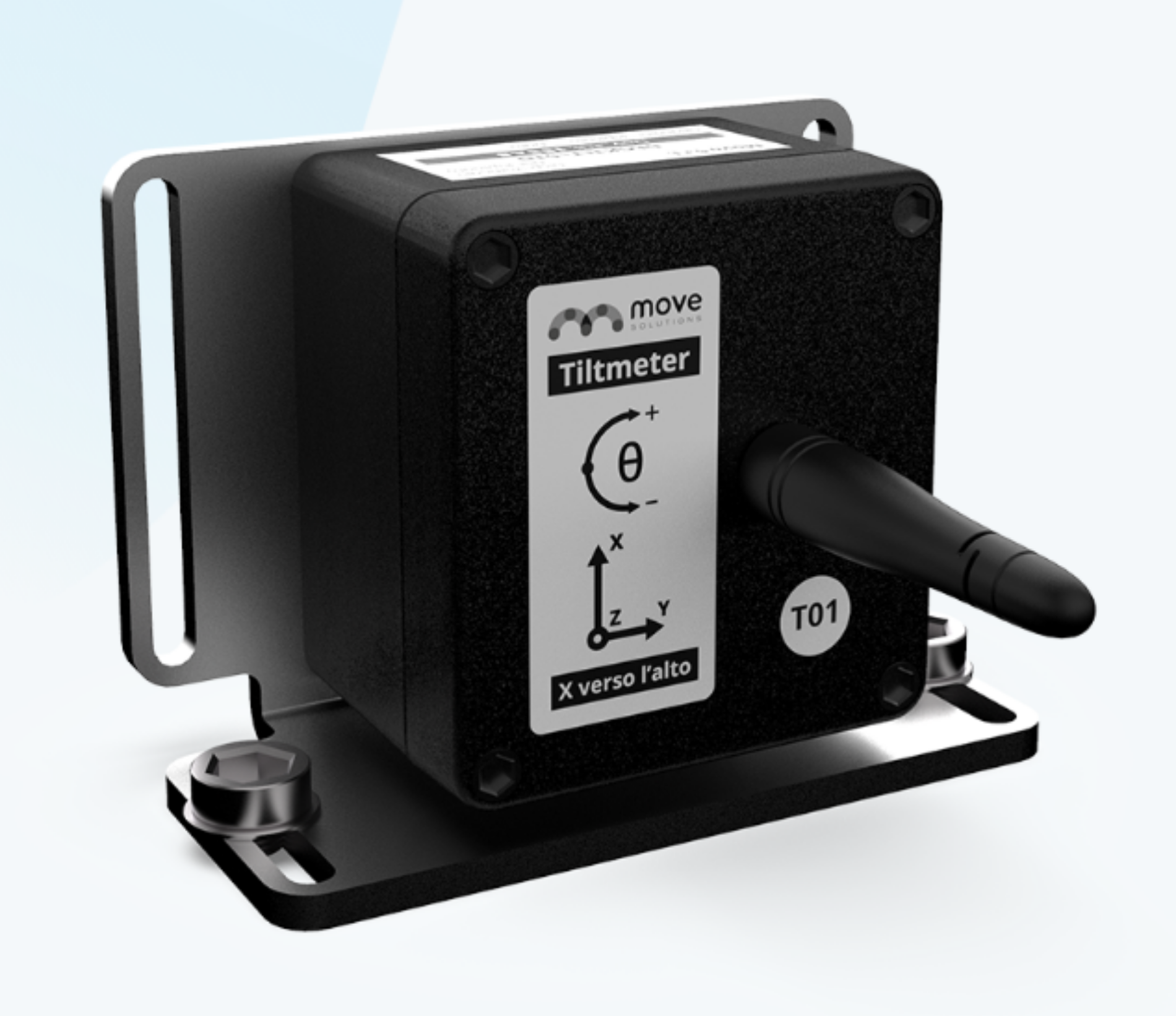 Move Wireless Tiltmeter
Detailed Description
The correction algorithm developed by Move makes it extremely independent of mounting errors. By processing the collected data it is possible to calculate the deflection of the structure with respect to a baseline. It also mounts a temperature sensor in order to relate thermal excursion and static deformation. Ideal for static monitoring of large structures and static load tests.
The Triaxial Tilt Monitoring sensor is a highly accurate and exceptionally stable three-axis wireless Tiltmeter. Variable and remotely configurable sampling rates, a rugged design and a battery life of up to 8 years make this wireless Tiltmeter suitable for many environments and solutions. The wireless Tiltmeters transmit accurate readings from the site via the LoRaWAN wireless communication protocol via a Gateway.
You can view and interact with your data online using the Move Cloud Platform. There are multiple data processing and correlation algorithms developed by Move. It is possible to calculate the deflection of the structure with respect to a baseline.
Building Monitoring
Monitor the rotations of any structure and building with the wireless tiltmeter and tiltbeam.
Bridge Monitoring
Monitor all the static parameters of a bridge as pier rotations or span static deflections.
Railways Monitoring
Monitor the Pitch and Roll angles, the Twist and the Vertical Arrow with high accuracy. These measurements allow obtaining the fundamental parameters for the static monitoring of the tracks.
Geotechnical Monitoring
Monitor all the slow movements for measuring horizontal displacement, lateral displacement, settlement and heave.
Features & Benefits
Triaxial wireless tilt sensor.
Integrated temperature sensor.
Extremely easy installation with versatile mounting options.
Ultra low noise performance.
Possibility to purify the data from the installation offset.
Resolution of 0.000015° (0.00027mm / m), repeatability of ± 0.0005° (± 0.009mm/m) and range ± 90°.
Built-in long-life battery, about 8 years of life.
Waterproof rating IP67.
Firmware is remotely upgradeable over the air via the Gateway, reducing costly site visits.
Easily install the entire system on the structure without the use of wiring.
Configure all wireless sensors quickly and remotely.
View real-time measurement data wherever you are, on any device, 24/7.
Process the data collected through the implemented algorithms.
Constantly monitors the operating status and signal quality of the system remotely.
Customize your alarm notifications and receive overrun notifications by email.
Optionally, you can integrate data on your platform using an MQTT bridge, FTP or through API calls.
Technical Specification
Battery
1 lithium battery type "D" 19Ah 3.6V
Operating Temperature
-40°C/+85°C
Need some help?