Master BC 121 Portable Air Conditioner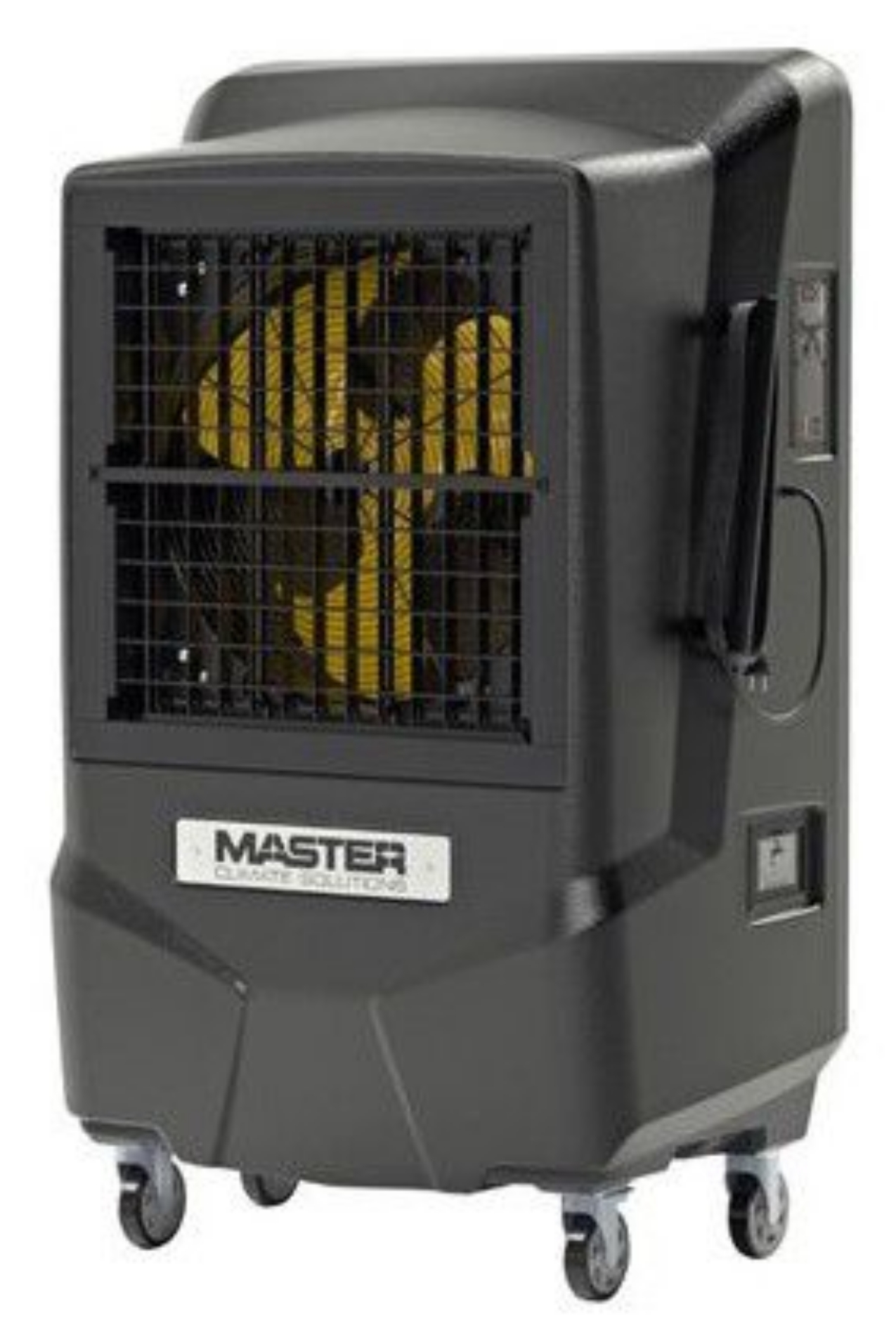 Master BC 121 Portable Air Conditioner
£1619.32
Detailed Description
The Master BC 121 is a fully portable, energy efficient evaporative cooler designed to lower excessive temperatures in large industrial working areas. 8-10 Litres of water per hour are consumed as the water is pumped from the water tank to the top of the unit.
How does it work
The heart of the evaporative cooling system is the cooling pad where the water evaporates and the air passing through the pads is cooled. Evaporative cooling pads are manufactured from fluted cellulose sheets that are glued together. The material is chemically impregnated with special compounds to prevent rot and ensure a long service life and easy maintenance.
Evaporative cooling and humidity
A given volume of air at a certain temperature and pressure is capable of absorbing and holding a certain amount of water vapour. If that volume of air contains 50% of the moisture it is capable of holding, we say it is at 50% relative humidity.
The hotter the day, the drier the air, the more cooling can be done by means of evaporation. In other words, the cooling effect is best when you need it most.
Master evaporative coolers are developed to work well in high-humidity environments too, however, and will remain much more efficient than a simple fan that just circulates warm air.
Master coolers will increase humidity by 2 to 5%, depending on temperature and humidity in the environment you want to cool. The slight increase is not noticeable in ventilated areas where the air produced by the unit is exhausted.
The internal fan features three speeds allowing cool air to be blown to the front of the machine, making it much more comfortable. This unit is simple to operate as it features easy to use controls.
To maximise the cooling effect, water is spread evenly over the cooling pads by the integrated after distribution system, making sure the entire surface is kept wet. The cooling pads are manufactured from fluted cellulose sheets that are glued together.
To prevent rotting and to ensure easy maintenance and a long service life, the material is chemically impregnated with special compounds.
Features & Benefits
Consumes up to 8-10 litres per hour
Electronic control panel
Large cooling pad
4 sturdy castors
Clean cool air
Powerful fan

The use of Master air coolers strongly reduces the CO₂ impact compared to air-conditioners

Clean air that reduces the risk of bacteria and virus

No chemicals or refrigerants

Low energy consumption

Virtually maintenance-free equipment
Need some help?