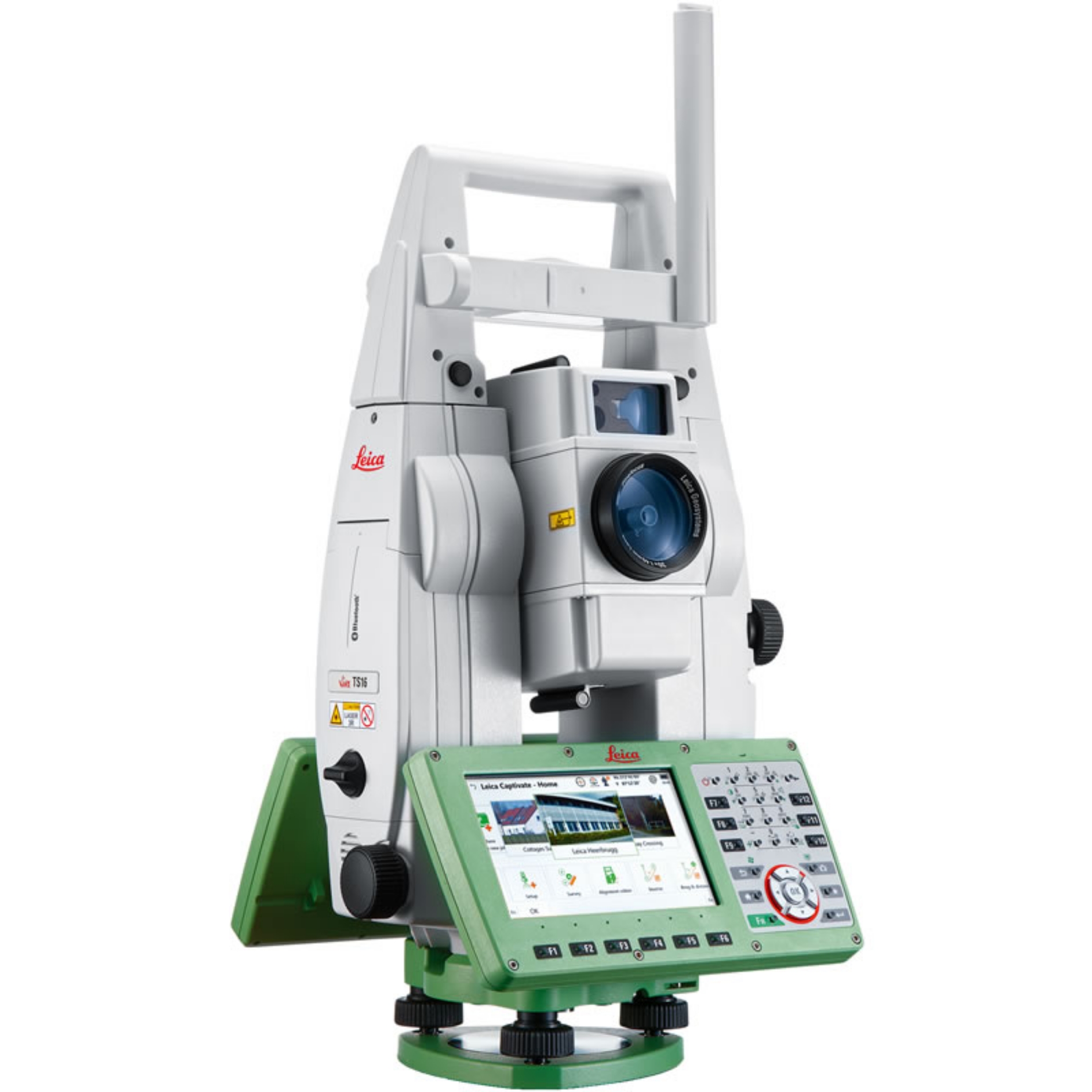 Leica TS16 Total Station
Detailed Description
Meet the most reliable hard worker among all robotic total stations in its class.
Made to face any challenge, task or project, the new Leica TS16 automated total station will reliably support you and deliver accurate data when and where you need it. With the engaging Leica Captivate field software, paired with the self-learning ATRplus for automatic target recognition under any environmental circumstance, the TS16 can tackle every task with ease.
When to use the Leica TS16:
Best-in-class automated total station for the widest variety of measurement tasks and applications: including one-person or two-person instrument operation for surveying and stakeout.
Topographic surveying to create digital reality for mapping: control point measurements, adjustments, computations, and data collection with powerful coding and line work routines.
Highest efficiency and productivity for stakeout and construction measurements: stakeout design data, as-built checks, BIM and clearance checks.
Site preparation and machine guidance in heavy construction projects: site control, surveying, layout of design data, as-built checks, machine guidance, and road, rail and tunnel-focused workflows.
Quick and reliable monitoring of locations, buildings, and objects in real-time in any environment: perfect for campaign monitoring and scaling up to an automated monitoring solution.
Features & Benefits
AutoHeight is a new feature of the TS16 that helps you get your instrument height with a simple press of a button. This way you can reduce human error, forget about using a tape and always trust the instrument height you measured. Focus on your work and be done with the setup of your total station in the blink of an eye.
In order to always know where your instruments are in the field, you might consider adding LOC8. It not only doubles up as an excellent tracking and fleet management tool; it is also an excellent theft deterrence solution. LOC8 gives you the ability to remotely lock and unlock total stations with just a click of a button through your app or web account.
Leica TS16 comes optionally with DynamicLock – you can move and focus on your work and safety without having to stand and wait for the instrument to lock onto the target.
Proven
The TS16 comes with a promise of reliability and lowest downtime, originating from 200 years of research and development. It will find your target, follow it and re-lock to it if needed without interrupting your workflow.
Dynamic
With the DynamicLock feature, you will be able to work continuously, save time, and deliver projects faster – while always trusting your data.
Secure
The TS16 comes with various features that help prevent theft, like PIN/PUK protection, alarm function, mySecurity registration on my world. You can also add LOC8, Leica's theft deterrence and location solution.
Connected
Transfer your data quickly from field to office and vice versa. Your office team can check the data before you leave the site or share design changes with you instantaneously.
Technical Specification
Inst Reflectorless Range
1000m 500m
Total Station Type
Robotic
Angular Accuracy (")
1 2 3 5
Interfaces
RS232 USB Bluetooth WLAN
What's In The Box
Leica TS16 Total Station models available:
Angular Accuracy: 5", 3", 2" or 1"
Reflectorless Range: 500m or 1000m
Imaging (I) or Power Search (P)
Accessories/Options
CALL FOR PRICE - 0330 175 9558

In stock

CALL FOR PRICE - 0330 175 9558

In stock

CALL FOR PRICE - 0330 175 9558

In stock
Need some help?