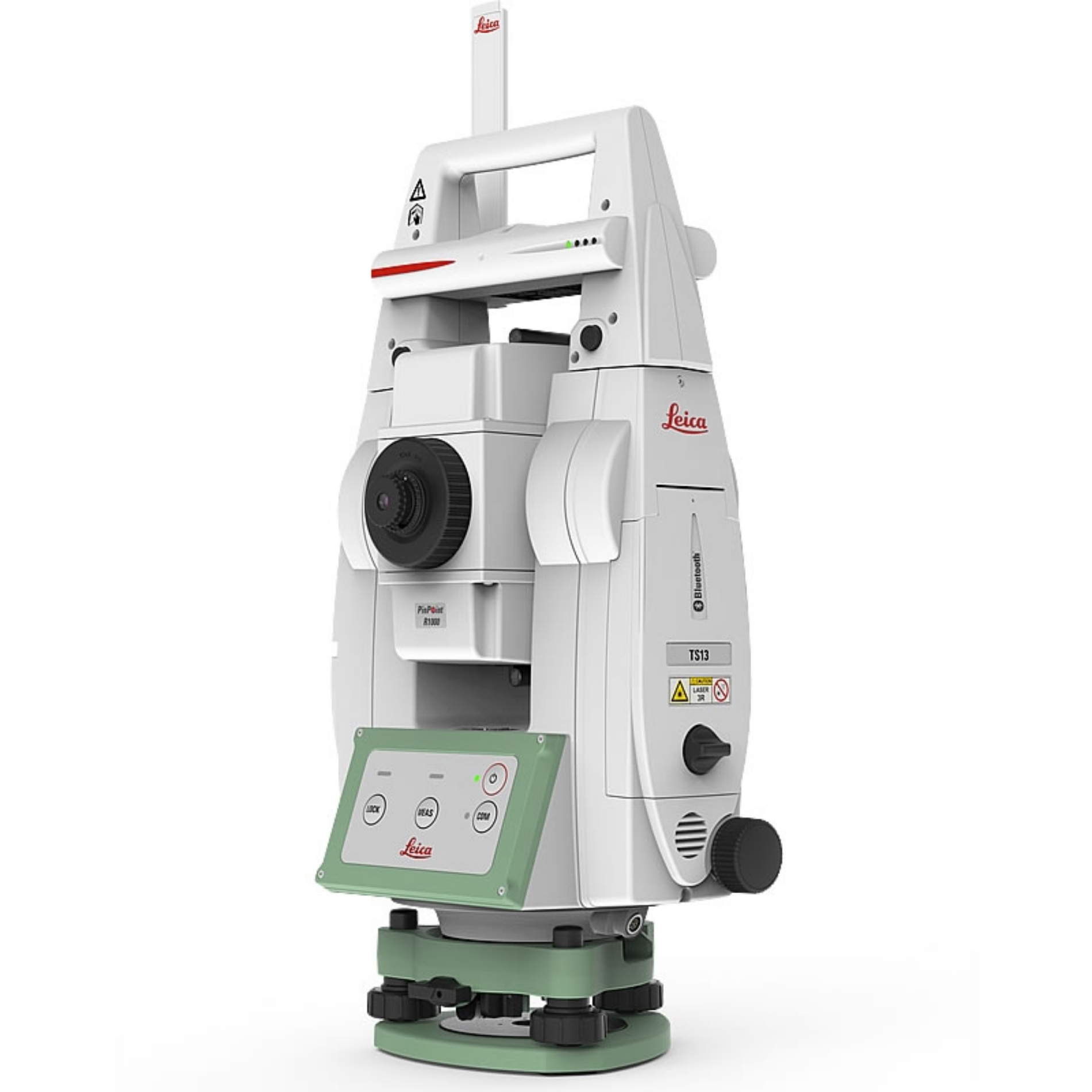 Leica TS13 Robotic Total Station
Detailed Description
A new standard for efficient surveying
The Leica TS13 is a mid-range upgradeable total station, powered by Leica Captivate software and can be connected to the CS20 field controller.

The TS13 provides a fast, reliable and efficient solution tailored to the user's needs to measure and layout points. Equipped with Automatic Target Recognition (ATR) technology and optionally with target lock and SpeedSearch to find and lock onto prisms quickly, it provides accurate measuring to targets. Combined with Leica Captivate field software, the TS13 offers the simplest and productive way of coding and line work.

The TS13 comes with the innovative AutoHeight, a feature that helps you get your instrument height with a simple button press. It reduces human error, you can forget about using a tape and always trust the instrument height you measured. Focus on your work and be done with the setup of your total station in the blink of an eye.

Bridging the field to the office
The TS13 works with the revolutionary Leica Captivate field software, turning complex data into the most realistic and workable 3D models. It spans industries and applications with little more than a simple swipe, regardless of whether you work with GNSS, total stations or both.

A smooth data transfer ensures the project stays on track. Captivate and Leica Infinity office software work in conjunction to join previous survey data and edit projects faster and more efficiently.
Features & Benefits
1.5 to 1300m distance range
1mm +1.5ppm/ typically 2.4s
2mm +2ppm/ typically 3s
1000m target aiming range
5-150m working range, typically 5cm at 100m
Coaxial visible red laser - 8 x 20mm laser dot
4-button keypad with status LEDs
Exchangeable Li-Ion battery lasts 6-8 hours
Uses Leica Captivate Field Software
Compatible with the Leica CS20 Field Controller
2GB internal memory
IP55
Technical Specification
Total Station Type
Robotic
Angular Accuracy (")
1 2 3 5
Interfaces
RS232 USB Bluetooth WLAN
What's In The Box
Call our Support Team on 0330 1759558 if you require more information on this product.
Accessories/Options
In stock

In stock
Need some help?