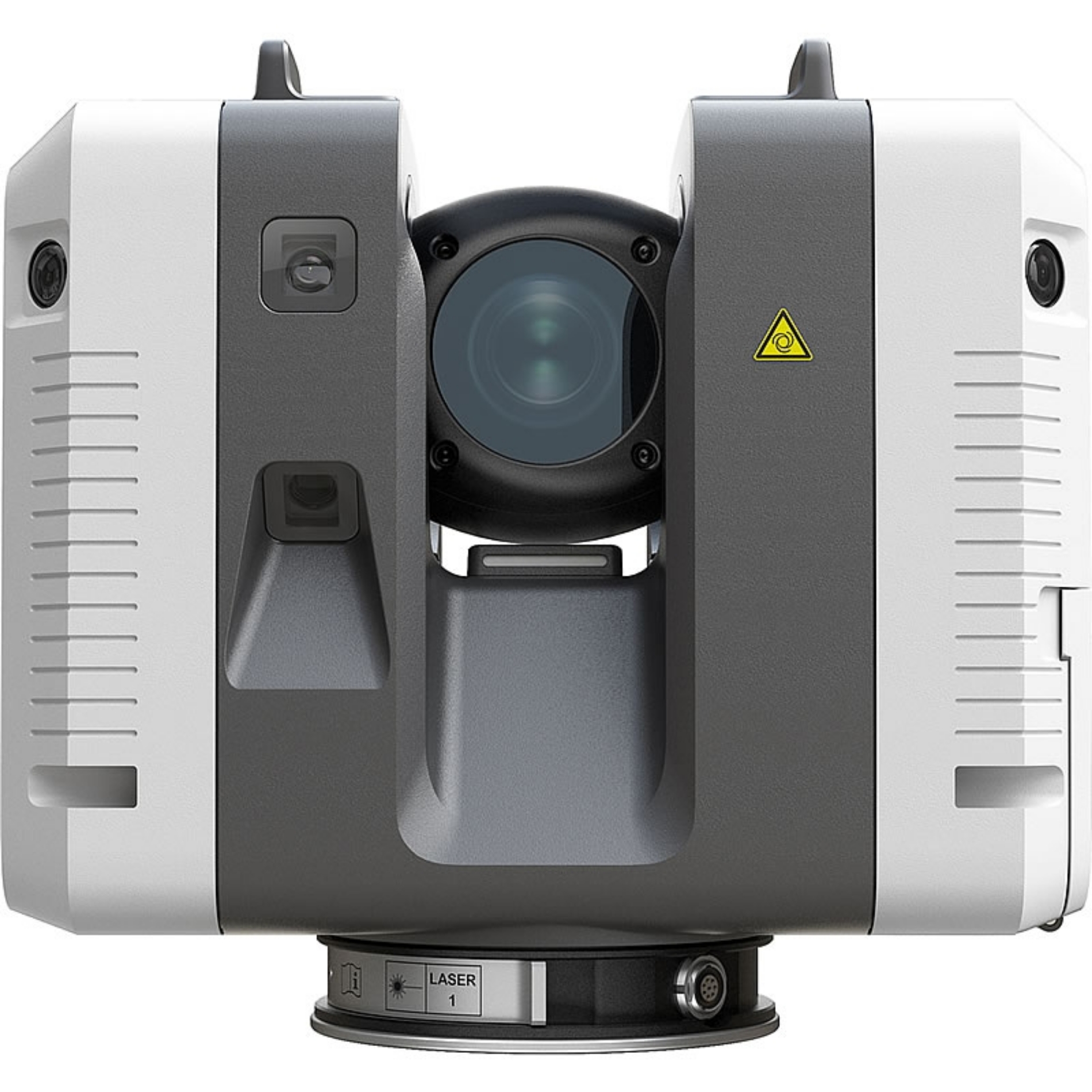 Leica RTC360 3D Laser Scanner
Detailed Description
The new Leica RTC360 Laser Scanner makes 3D reality capture faster than ever before. With a measuring rate of up to 2 million points per second and advanced HDR imaging system, the creation of coloured 3D point clouds can be completed in under two minutes. Plus, automated targetless field registration (based on VIS technology) and the seamless automated transfer of data from site to office reduce time spent in the field and further maximise productivity.

Low noise data allows for better images, resulting in crisp, high-quality scans that are rich in detail and ready for use in a range of applications. Combines with Cyclone FIELD 360 software for automated registration in the field, the Leica RTC360 scanner offers outstanding precision that can be checked on-site.
Features & Benefits
3D Laser Scanner

High-speed 3D laser scanner with integrated HDR spherical imaging system and Visual Inertial System (VIS) for real time registration

Data acquisition

< 2 min for complete full dome scan and spherical HDR image at 6mm @ 10m resolution

Real time registration

Automatic point cloud alignment based on real time tracking of scanner movement between setups based on Visual Inertial System (VIS) by video-enhanced inertial measurement unit

Double scan

Automatic removal of moving objects

Distance measurement

High-speed, high dynamic time of flight enhanced by Waveform Digitizing (WFD) technology

Laser Class

1 (in accordance with IEC 60825-1:2014), 1550nm (invisible)

Field of view

360° (horizontal) / 300° (vertical)

Range

Min. 0.5 - up to 130 m

Speed

Up to 2'000'000 pts / sec

Resolution

3 user selectable settings (3/6/12mm @ 10m)

Accuracy

Angular accuracy 18"
Range accuracy 1.0 mm + 10 ppm
3D point accuracy
1.9 mm @ 10 m
2.9 mm @ 20 m
5.3 mm @ 40 m

Range noise

0.4 mm @ 10 m, 0.5 mm @ 20 m

Camera

36 MP 3-camera system captures
432 MPx raw data for calibrated
360° x 300° spherical image

Speed

1 minute for full spherical HDR image at any light condition

HDR

Automatic, 5 brackets

Visual Inertial System

Video enhanced inertial measuring system to track movement of the scanner position relative to the previous setup in real time

Tilt

IMU based, Accuracy: 3' for any tilt

Additional sensors

Altimeter, Compass, GNSS

On scanner

Touch-screen control with finger touch, full colour WVGA graphic display 480 x 800 pixels

Mobile devices

Leica Cyclone FIELD 360 app for iPad or Android tablets including:
- Remote control of scan functions
- 2D & 3D data viewing
- Tagging
- Automatic alignment of scans

Wireless

Integrated wireless LAN (802.11 b/g/n)

Data storage

Leica MS256, 256GB exchangeable USB 3.0 flash drive

Housing

Aluminium frame and sidecovers

Dimensions

120mm x 240mm x 230mm / 4.7'' x 9.4'' x 9.1

Weight

5.35 kg / 11.7 lbs, nominal (w/o batteries)

Mounting mechanism

Quick mounting on 5/8" stub on lightweight tripod / optional tribrach adapter / survey tribrach adapter available

Internal battery

2 x Leica GEB361 internal, rechargeable Li-Ion batteries.
Duration: Typically up to 4 hours
Weight: 340 g per battery

External

Leica GEV282 AC adapter

Operating temperature

5° to +40° C

Storage temperature

40° to +70° C

Dust/Humidity

Solid particle/liquid ingress protection IP54
Technical Specification
Max. Scan Rate (Million points /s)
2
What's In The Box
LRTC360 Scanner Package, consisting of:
RTC360 Laser Scanner (838300)
RTC360 Transport Container (817063)
GEB361 Lithium-Ion Battery x4 (799191)
GKL341 Multicharger Prof 5000 (799187)
RTC360 USB Flash Drive - 256 GB (842065)
RTC360 Rain Cover (636767)
RTC360 Quick Guide
RTC360 System USB Card

Need some help?