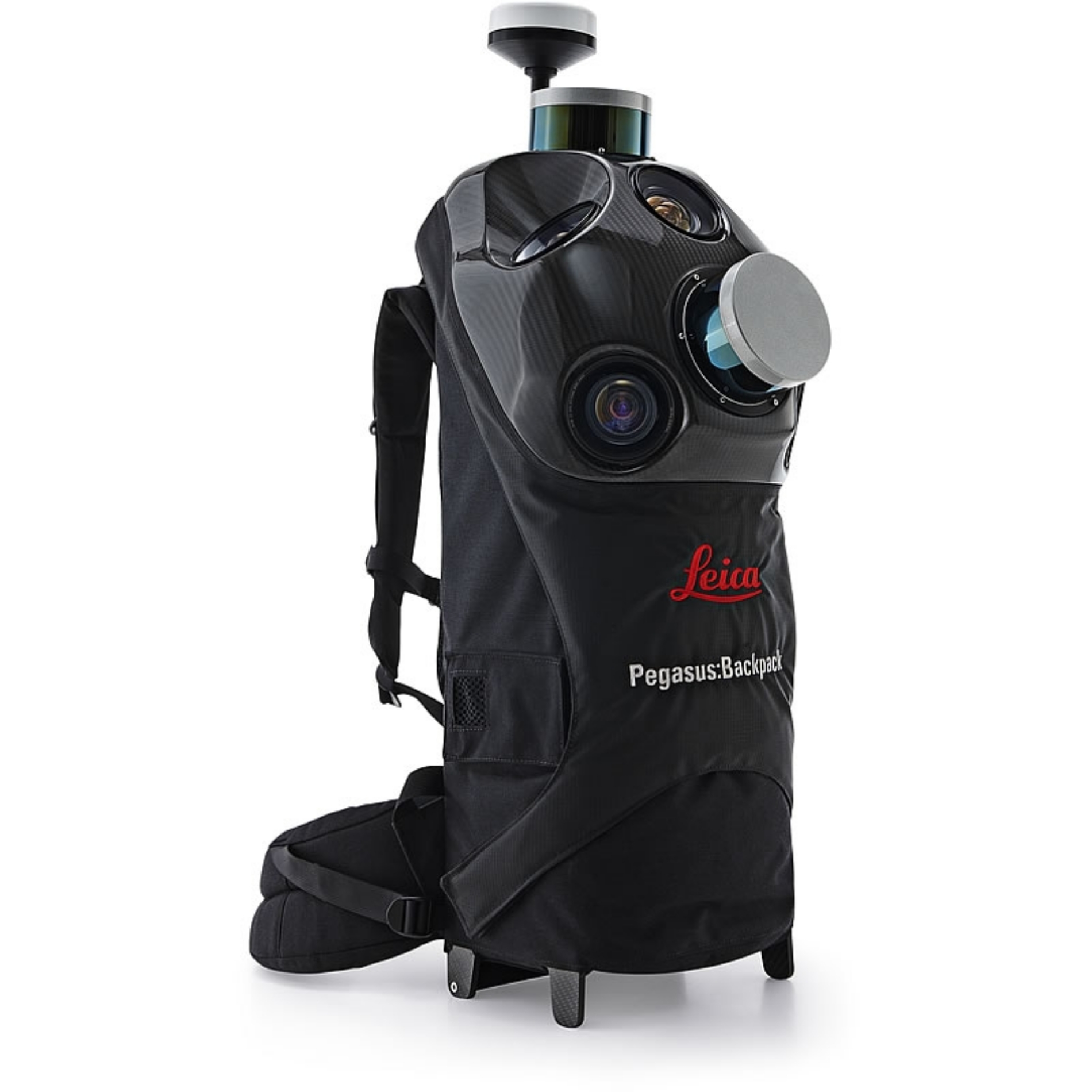 Leica Pegasus Backpack
Detailed Description
An award-winning wearable reality capture platform that allows you to collect data indoors, outdoors and underground.

The Leica Pegasus:Backpack is a wearable mobile mapping solution that combines five cameras for a fully calibrated 360 degree view and two LiDAR profilers. The backpack features an ultra-light carbon fibre chassis for complete portability, with its small size even allowing it to be checked in as luggage. The backpack enables extensive and efficient indoor or outdoor documentation at an extremely high level of accuracy.

This unique mobile mapping solution is designed for rapid and regular reality capture. The Pegasus:Backpack is designed to act a sensor platform with a standard external trigger and sync port outputs.
Features & Benefits
BIM – map indoors, outdoors, underground, anywhere
The Pegasus:Backpack makes progressive professional BIM documentation a reality. It synchronises imagery and point cloud data, assuring a complete documentation of a building for full life cycle management. By using SLAM (Simultaneous Localisation and Mapping) technology and a high precision IMU, it ensures accurate positioning with GNSS outages.

Get high accurate measurements
Knowing and understanding a landscape is beneficial in many circumstances. Combined with Autodesk, Intergraph and other software, reality-based industrial training is enhanced with the most accurate and current data sets.

Designed for safety and security
The Pegasus:Backpack was initially designed to help people to make better and faster decisions in emergency situations due to access to more accurate data. Evacuation plans and route mapping benefit from clear and detailed images and point clouds that alert authorities to any changes. But this highly accurate data is also ideal for many other applications, including when you have access to a space you need to capture for a very short space of time, or when the space can't be scanned easily with your usual equipment, for example, if the area is open to the public and densely populated.
Technical Specification
Max. Scan Rate (Million points /s)
0.6
What's In The Box
Call our Support Team on 0330 1759558 if you require more information on this product.

Need some help?