Leica NA324 Automatic Level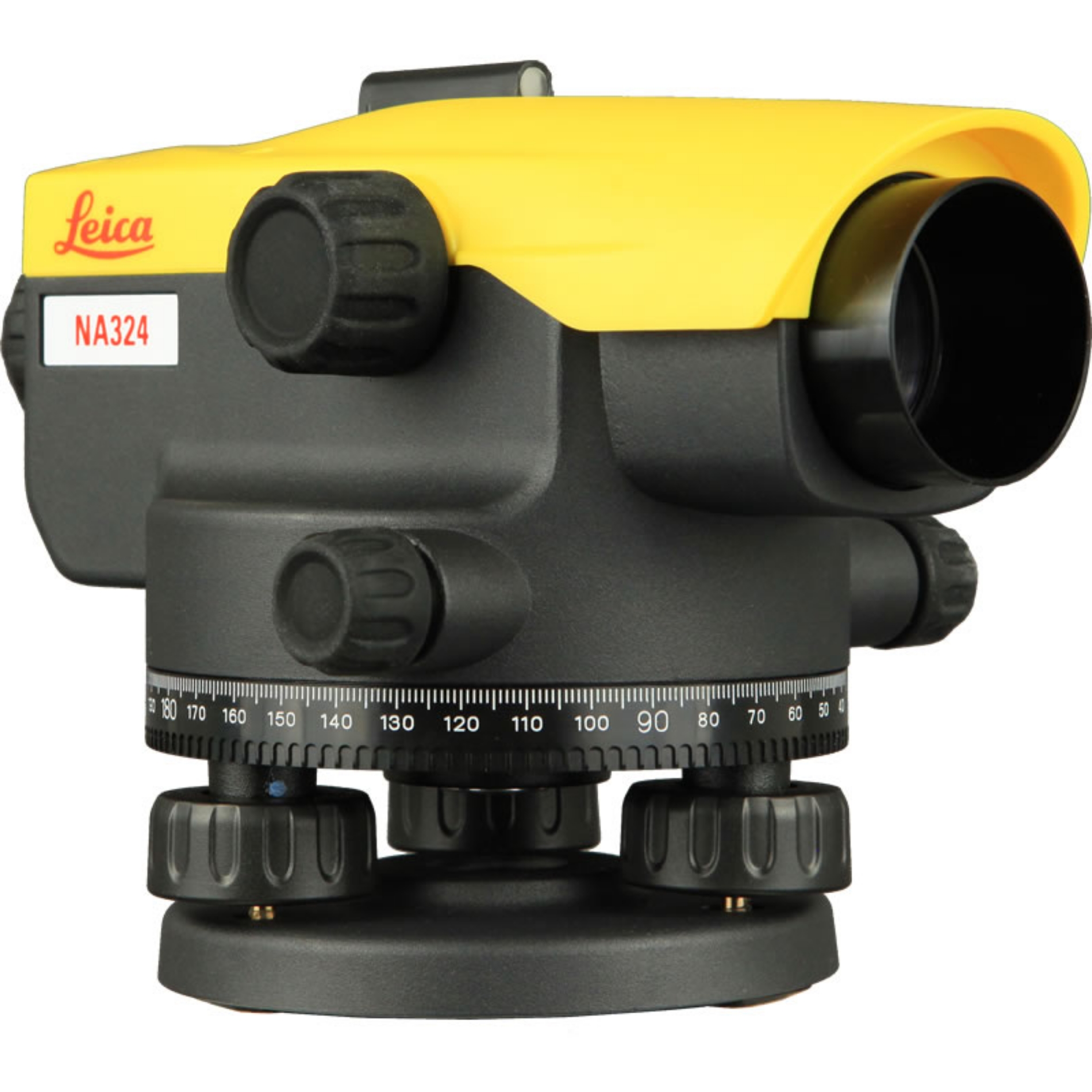 Leica NA324 Automatic Level
£178.80
Detailed Description
Automatic levels for daily levelling tasks

Unique, accurate and simple
Professionals face many obstructions on site. Whatever the leveling challenge, Leica NA324 levels overcome. Rely on the known expertise of Leica Geosystems for the best quality and performance. On your terms, on your site, Leica Geosystems and the Leica NA300 Series are your trusted partners for accurate measurements every time.

Unique
Whether you're facing basic demands or you need more support, the unique design of the Leica NA300 Series of automatic (optical) levels can meet you wherever you are in the building and construction field. With a better protected shape, these rugged levels offer increased ergonomic handling while ensuring you receive the highest quality results at the best price value.
Accurate
Leica NA300 Series levels have been engineered for daily levelling tasks. Whatever the need, these levels measure with the highest precision and accuracy. These automatic (optical) levels provide the highest in both while being ergonomic in their handling and rugged for daily use in the harshest conditions.
Simple
A perfectly designed mirror makes it extremely easy to adjust the horizontal level with the highest possible accuracy and confidence. The Leica NA300 Series levels - along with all our automatic (optical) levels -are made for everyday use for any site.
Protected
More than 270 Leica Geosystems Service Centres worldwide ensure you work with complete peace of mind, wherever a construction site is located on the globe. Leica Geosystems offers unbeaten service with all of its NA Series levels. The IP54 standard ensures the highest quality measurements even in the most challenging environments.
Features & Benefits
Quick and easy measurements
Unique design and highest quality of results for levelling needs
Manufactured for the most rugged sites and the harshest conditions
Expert knowledge of Leica Geosystems with more than 270 service centres worldwide
Unbeaten service offering
Model
NA320
NA324
NA332
Standard deviation for 1 km double levelling (ISO17123-2)
2.5 mm
2.0 mm
1.8 mm
Telescope
Telescope image

upright

Magnification
20 x
24 x
32 x
Objective aperture

36 mm

Shortest target distance from instrument axis

< 1.0 m

Field of view at 100 m

< 2.1 m

Multiplication factor

100

Additive constant 0

0

Compensator
Working range

± 15'

Setting accuracy (standard deviation)

< 0.5''

Sensitivity

8' / 2 mm

Horizontal circle
Graduation

360°

Graduation interval

1°

Weight (net)

1.5 kg

Operating temperature range

–20°C to +40°C
Technical Specification
Telescope Magnification (x)
24
Level Accuracy - Double run per KM (mm)
2
What's In The Box
Leica NA324 Automatic Level
Carry Case
User Manual
Calibration Certificate - 1 Year
Need some help?