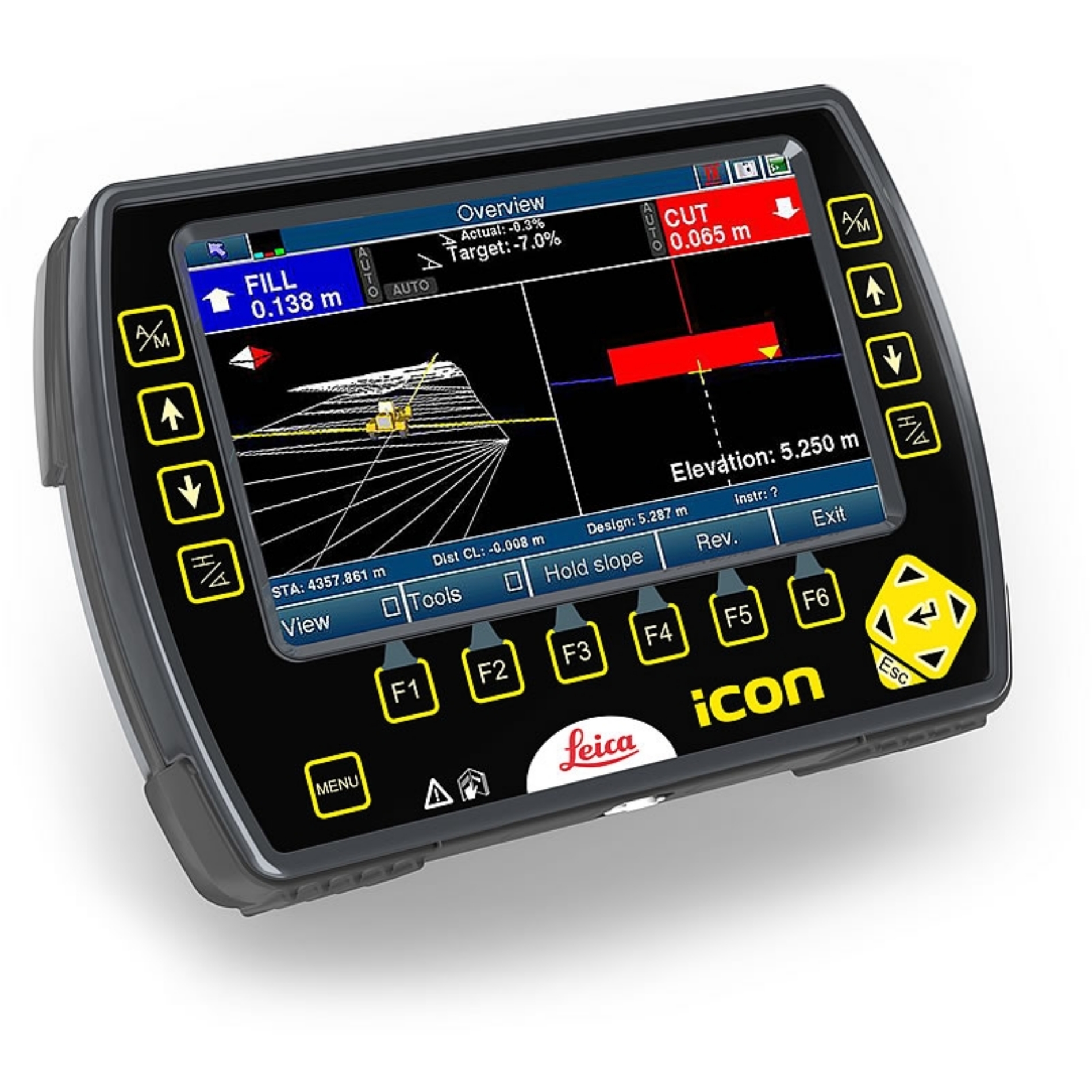 Leica iCON iGD2 - 2D System
Detailed Description
The Leica iCON iGD2 system provides automatic control of both slope and elevation. Adding an extra mast and laser sensor allows for independency on the slope direction. This system can dramatically increase machine utilisation, productivity and optimise material usage on any earthmoving and fine-grading contract.
Automatic control of slope and elevation
The Leica iCON iGD2 system provides automatic control of both slope and elevation. Adding an extra mast and laser sensor even allows you work independently of the slope direction.
Special features
Contact-free, sealed control/display panel – no more connectors or cables
Fully graphic display guiding the operator
Easy installation typically within one day minimizing machine downtime
Fully Waterproof system – designed for the harshest construction environments
The patented Snap-on & Snap-off technology from Leica Geosystems allows machine sensors and control panels to be interchanged for rapid reconfiguration of machine control hardware. Swapping control panels and sensor technology has never been easier and faster - alter machine capabilities as your project needs change.
Features & Benefits
Increased productivity
Maximises your machine utilisation and return-on-investment from day one, by getting right to grade the first time
Save time, setup and go in minutes. iCON iGD2 system remembers all your settings
Increased flexibility
Unique Snap-on & Snap-off capability
Easy removal of key components for overnight security
Fully scaleable from basic 2D entry system to full 3D capability. Laser, slope, sonic, GPS and total station control options
Reduced costs
Faster job cycles reduce operating costs
Reduce labor costs by reducing or eliminating grade checks, and getting to grade faster and uniformly
PowerSnap technology
You want to use your control panel on several machines in your fleet with an easy, quick install? PowerSnap allows simple and fast exchange of the panel between different machines.
The benefits
System is up and running in no time
Rapid interchange of control panels between machines, giving you extra flexibility on site
One Cradle for all iCON excavate and iCON grade panels
Easy removal of core components for overnight security
Contact and cable free connection to control/display panels
Safety shut down feature protects system and data
Cradle stores machine specific settings such as hydraulic tuning
Unique patented Snap on/Snap off capability
Document Download
Documentation File Format Size
Leica iCON Grade Brochure
PDF
3.9 MB
What's In The Box
Call our Support Team on 0330 1759558 if you require more information on this product.

Need some help?