Leica DISTO X4 Laser Distance Meter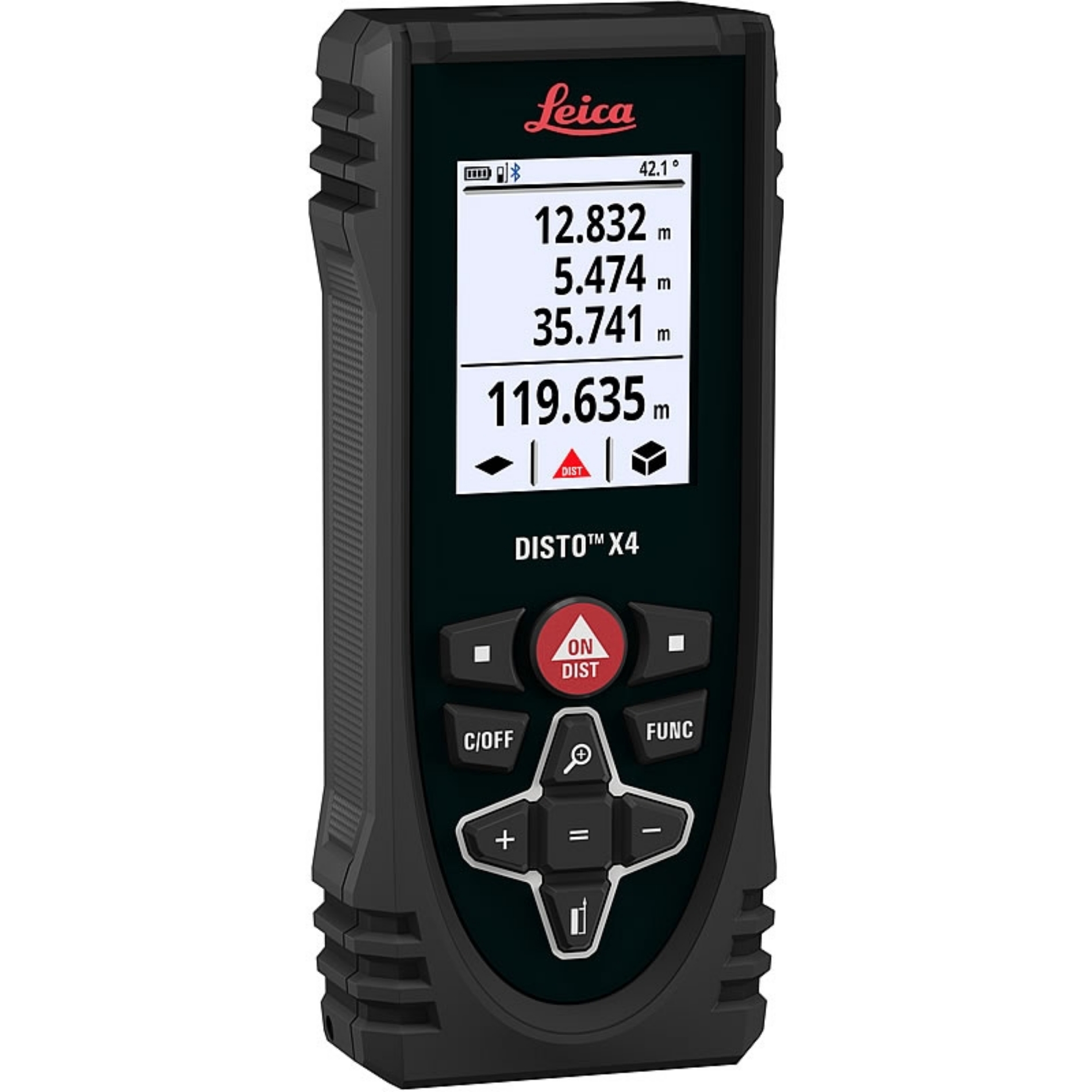 Leica DISTO X4 Laser Distance Meter
£434.28
Detailed Description
Outdoor Measuring
The Pointfinder camera allows you to precisely target and measure distant objects in bright sunlight. The target object shows clearly on the DISTO's high-resolution screen.

Truly Robust
This DISTO is drop-tested up to 2 m in height, water jet and dust protected. Its IP65 rating means you can clean it under running water.

Point to Point Measurement
Transform your DISTO X4 into a real measurement station with the DST 360. It allows you to measure distances between any two points, from one position.

Quality Feel
The all-new DISTO X4 only uses the best quality materials to ensure consistent measurement results in different environments. A precision product you can trust.

Horizontal Measurements
Distance and tilt measurements allow you to determine horizontal distances with absolute precision. Use your laser measurement data to automatically generate realistic and scaled floor plans.

Document and Visualise
The Leica DISTO Plan app allows you to document and visualise your measurements. The Smart Room function makes it possible to create accurate floor plans simply by taking clockwise or counter-clockwise room measurements.

Your DISTO X4
The DISTO X4 is specifically designed to make high-precision outdoor measurements an easy task. It comes with a holster, hand loop and batteries.
Features & Benefits
Specifications:
Typ. distance measuring accuracy (ISO 16331-1 certified)
± 1.0mm
Range (ISO 16331-1 certified)
0.05 up to 150m
Measuring units
m, ft, in
X-Range Power Technology
Yes
Tilt sensor
Yes
Tilt sensor accuracy to the housing
± 0.2°
Smart Base measuring range
Horizontal
Vertical

360° for use with Leica DST 360
-64° to > 90° for use with Leica DST 360
Typ. tolerance of the P2P function for use with Leica DST 360
± 2mm at 2m, 5mm at 5m, 10mm at 10m
Levelling range
5° for use with Leica DST 360
Pointfinder with zoom
4x
Memory of last measurement
20
Free software for Windows
Yes
Free App for iOS and Android
Yes
Smart Room function support
Yes
General data interface
Bluetooth® Smart
Data interface for 3D point data
Bluetooth® Smart
Measurements per set of batteries
up to 4000
(reduced when used with Bluetooth®)
Service life of batteries
up to 8h
(reduced when used with Bluetooth®)
Multifunctional endpiece with automatic reference detection
Yes
Batteries
2x AA Alkaline
Protection class
IP 65
2m drop tested
Yes
Dimensions
132 x 56 x 29mm
Weight with batteries
188g
Technical Specification
Application
Interior Exterior
What's In The Box
DISTO X4
Holster
Hand Loop
User Manual
Batteries (2x AA)
3 Year Warranty

Need some help?