Leica DISTO D2 Laser Distance Meter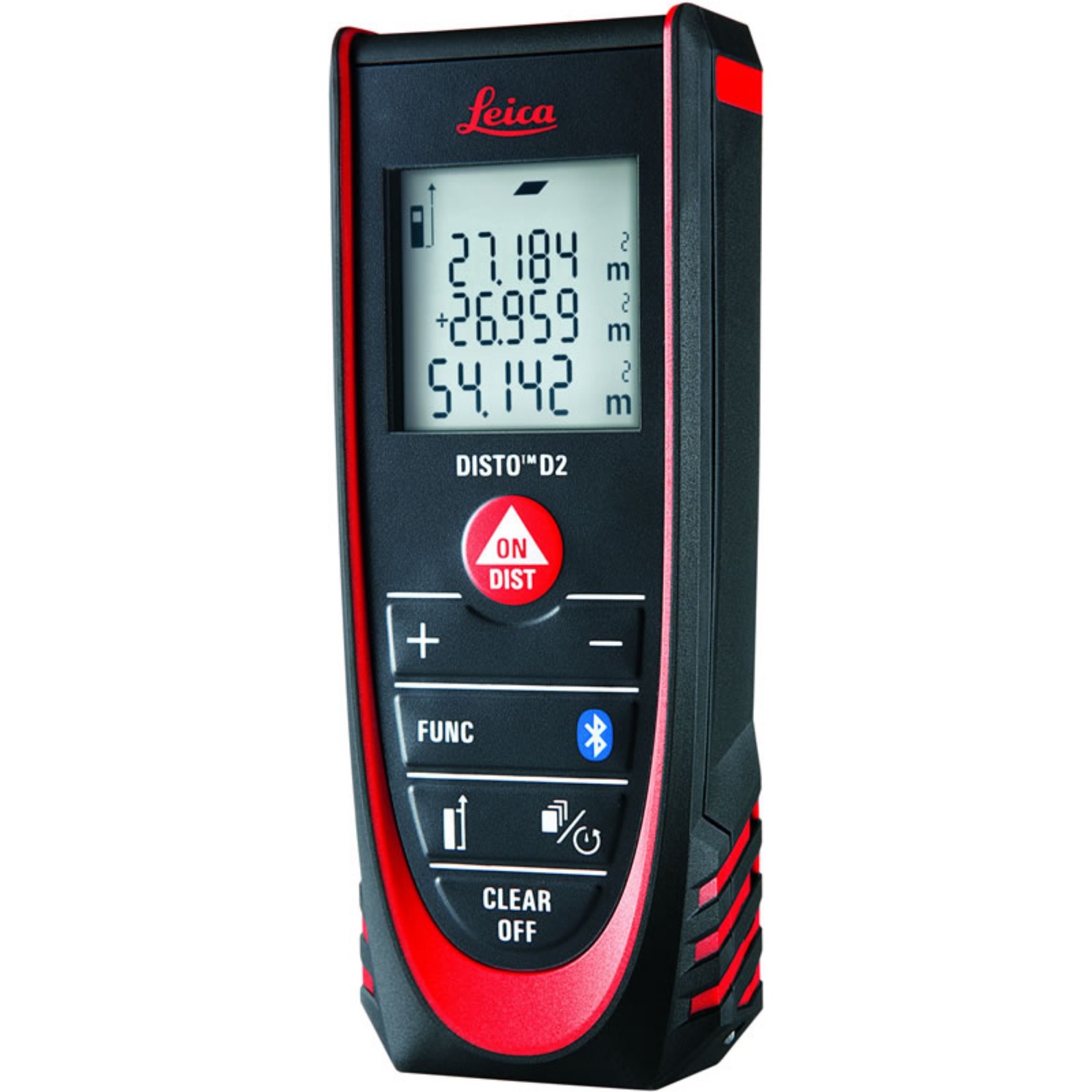 Leica DISTO D2 Laser Distance Meter
£157.08
Detailed Description
Leica's newest take on the classic Leica DISTO™ D2.

Now with Bluetooth®, a fully integrated intelligent endpiece, a bright white display and an ISO certified measuring engine that drives 1.5mm accuracy and 100m measuring range.

The Leica DISTO™ D2 is a 7 measurement mode Laser Distance Measurer (LDM) accurate to 1.5 millimeters. It features an intuitive back-lit LCD display in a 100g package that is small enough to fit in your pocket.

Use Bluetooth® Smart to send measurements into apps running on mobile devices.

The D2 measures from its base by default and can be configured to measure from the front.

Flip out the intelligent endpiece to 90º to hook onto outside corners or extend the endpiece fully for inside corners. The D2 will automatically measure from the end of its flip-out endpiece when fully extended. Combined with the Min/Max function, the endpiece allows you to get the tool all the way into corners for accurate diagonal measurements.

The D2 calculates area and volume, and remembers the last 10 measurements taken. Use the Add/Subtract capability to combine measurements to get a precise reading of the total wall area of a room (aka "the painter function").

The D2 includes a Pythagoras function for indirect height or width measurements. However, in a tool this size that cannot be mounted to a tripod we recommend using the Pythagoras for estimates or rough measurements. If you need precise indirect measurements, an LDM with a tilt sensor is your best bet.
Features & Benefits
Specifications:
Typical measuring accuracy
± 1.5 mm
Range
up to 100 m
Measuring units
0.000 m, 0.00 ft, 0'00'' 1/16, 0 in 1/16
Memory
Last 10 values
Data interface
Bluetooth® Smart V4.0
Multifunctional end-piece
Yes - intelligent recognition
Display
3 line display with illumination
Protection class
IP54 - dust and splash protected
Measurements per set of batteries
up to 10000
Batteries
2x AAA 1.5 V
Dimensions
116 × 44 × 26 mm
Weight with batteries
100 g
Operating temperature range
-10°C to 50°C
Functions:
Min/max measurement
•
Area / volume calculation
•
Pythagoras
• 2 and 3 points
Stake-out
•
Addition/subtraction
•
Painter function
•
Timer function
• variable
Beep
• switchable on/off
What's In The Box
DISTO D2
Holster
Hand Loop
User Manual
Batteries (2x AAA)
3 Year Warranty

Need some help?