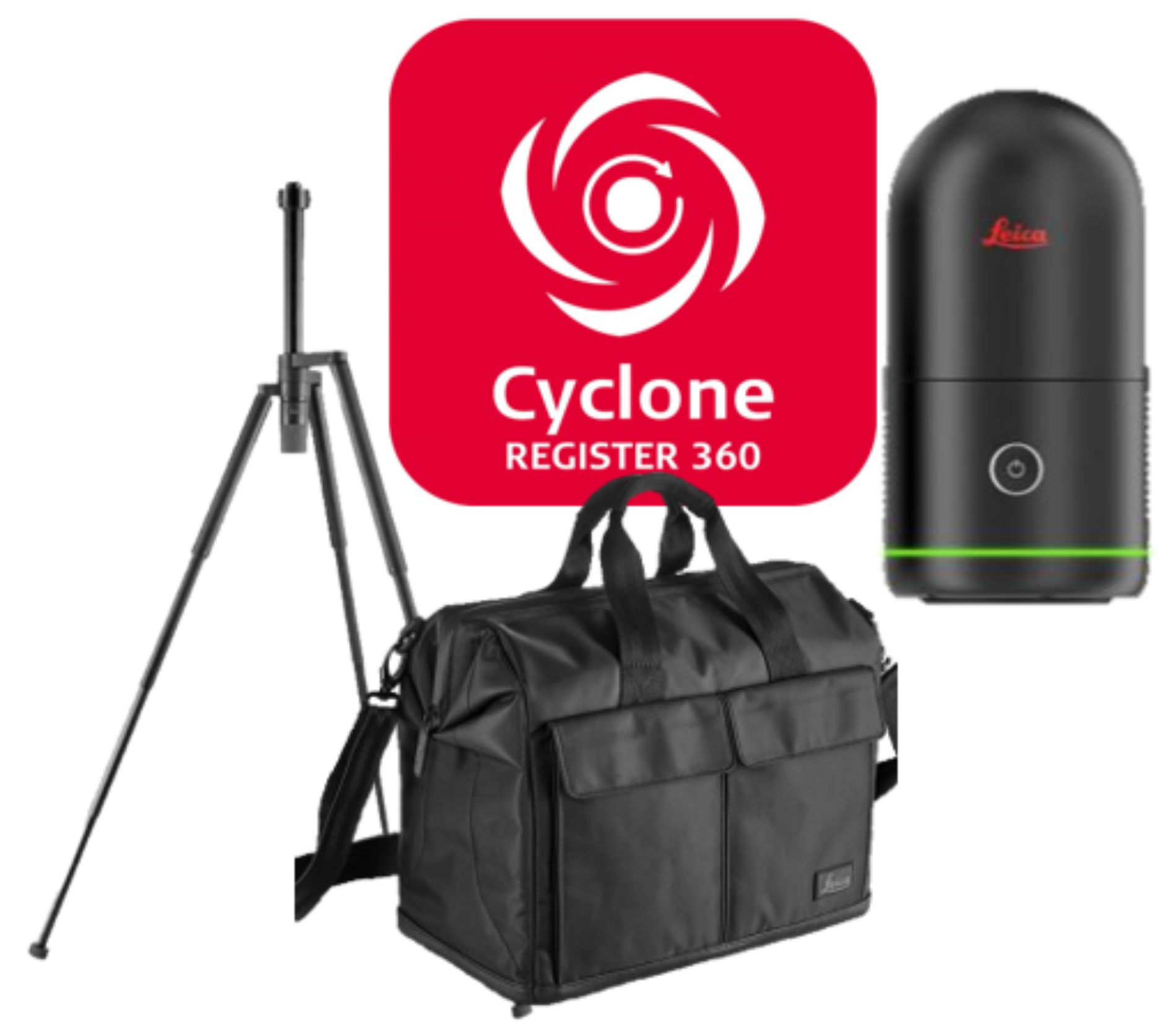 Leica BLK360 Starter Pack Plus
£26371.20
Detailed Description
Leica BLK360 Starter Pack Plus Includes:
1 x Leica BLK360 Laser Scanner. Breaks open the possibilities of reality capture. With unprecedented, best-in-class scanning speed, the BLK360 makes you faster.
With fast and agile in-field workflows, along with live feedback on your mobile device, you can be absolutely sure you've captured everything you need, and even more. And VIS technology automatically combines your scans to speed up your workflow and help you make sure your datasets are complete.
For more details click below link:
Leica BLK360 Imaging Laser Scanner
1 x BLK360 Mission bag. The Mission bag has convenient segments for the BLK360 and accessories, including a sleeve for the iPad Pro. The bag is also bolstered for extra protection.
1x BLK360 Tripod. The flat fold BLK360 tripod includes the quick release adapter.
Cyclone Subscription Base (1 Year Subscription)
Cyclone REGISTER 360 Software (1 Year Subscription). Cyclone REGISTER 360 is the first step in preparing your data for delivery to clients or use downstream in design packages. Accurate registration is a must for any successful reality capture project and this simple and powerful tool allows you to quickly register your scans, clean your point cloud and produce all Leica Geosystems native and industry-standard formats.
Features & Benefits
Leica BLK360 Laser Scanner
20% smaller than BLK360 G1
Full scan and spherical imagery in 20 seconds
4 camera, 5-bracket, 13-megapixel HDR Imaging
VIS Technology combines scans automatically
Single button operation and mobile app control
Captures 680,000 points per second
45 metre range
Sync data across devices
Technical Specification
Dimensions (HxD mm)
155 x 80
Max. Scan Rate (Million points /s)
0.68
Weight (kg)
0.85kg including battery
Battery
Internal, rechargeable Li-Ion battery (Leica GEB825)
Operating Temperature
0° C to + 40° C
Document Download
Documentation File Format Size
Leica BLK360 G2 Specifications
PDF
1.2 MB
What's In The Box
1 x Leica BLK360 Laser Scanner
1 x BLK360 Mission bag
1x BLK360 Tripod
Cyclone Base Subscription (1 Year Subscription)
Cyclone REGISTER 360 Software (1 Year Subscription)
3 Batteries
Multicharger
Transportation Case
USB-C Cable
Microfibre Cloth
Documentations
BLK Live App and e57 single scan export
Related products
The Leica BLK ARC is an autonomous laser scanning module for robots. Users can simply plan a scan path and set BLK ARC off on its own.

In stock

The BLK2GO handheld imaging laser scanner recreates spaces in 3D as you move.

In stock

The Leica BLK2FLY is an autonomous flying laser scanner with advanced obstacle avoidance for easy reality capture from the sky.

In stock
Need some help?