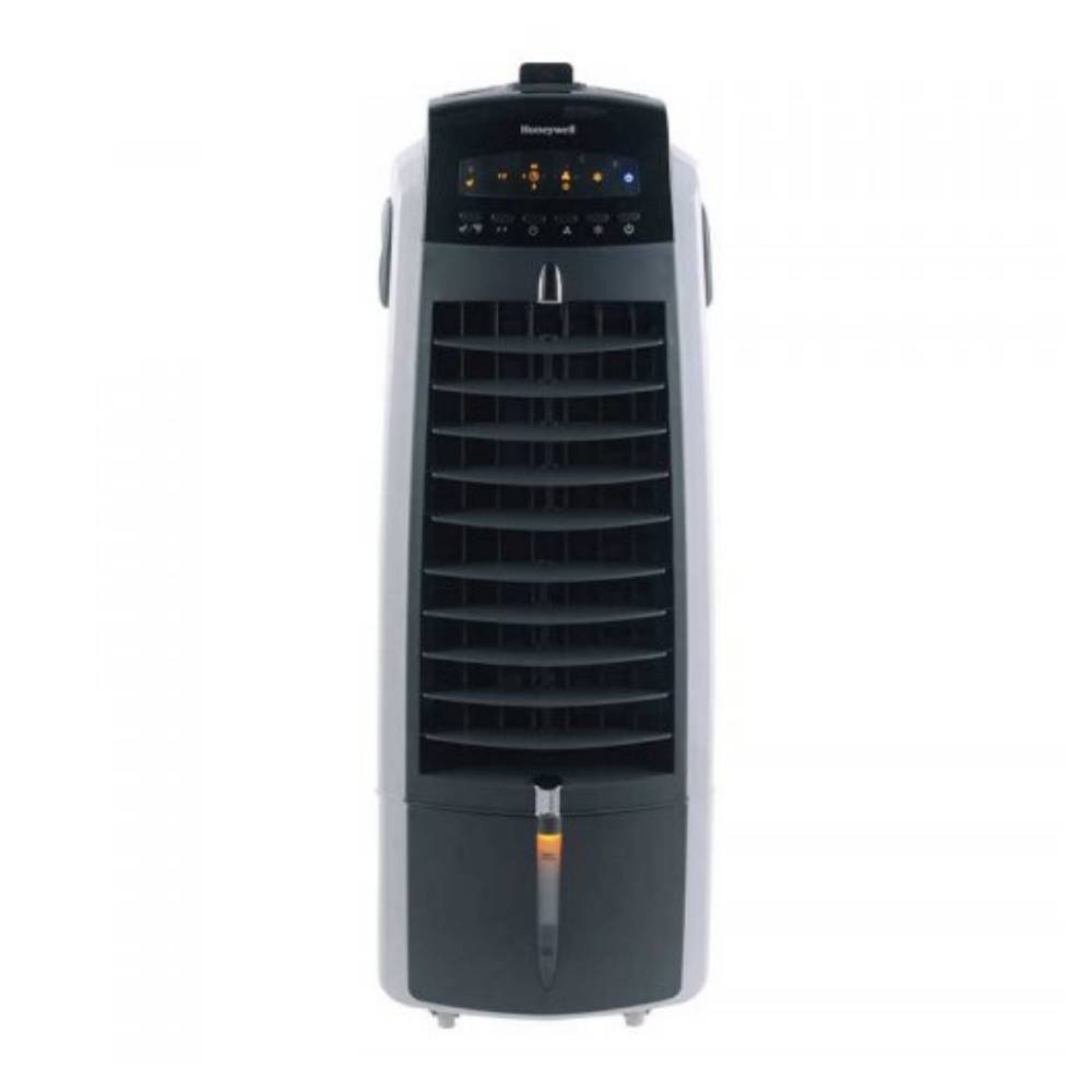 Honeywell ES800 7L Compact Air Cooler
£115.00
Detailed Description
Honeywell ES800 7L Compact Air Cooler
In addition to being compact and elegant with ElectricMiser technology, the Honeywell ES800 7L Compact Air Cooler is also one of the quietest and most powerful air coolers in its category. Operating at a whisper-quiet 25dB in QuietSleep mode and blasting air out at 350m3 per hour in TurboBlast mode, the Honeywell ES800 is incredibly powerful for a compact spot cooler.
Extremely energy efficient, the Honeywell ES800 consumes only 2.7 watts of electricity in QuietSleep mode - or about the equivalent of charging a smartphone. Additional unique features include a patent-pending water tank filter, an innovative water channel design and an elegant glowing water level indicator light. The Honeywell ES800 also boasts gentle water stream sounds, universal voltage compatibility and a detachable power cord for easy storage and maintenance.
Innovate Water Channel Design | 4 speeds - High/Med/Low/Sleep | Turbo Blast Mode | Energy Saving Off-Timer | Power Consumption: 36 Watts | Water Tank Capacity: 7 Litres
*This is a stocked item and will be shipped out on a Next Working Day delivery service, if ordered by 3pm.
If you need assistance please contact our experts on 0330 175 9558 or email orders@sunbeltsales.co.uk. Alternatively, you can use our live chat option.
Features & Benefits
Extremely energy efficient
Consumes only 2.7 watts of electricity in QuietSleep mode
A patent-pending water tank filter
An innovative water channel design
Elegant glowing water level indicator light
Gentle water stream sounds
4 speeds - High/Med/Low/Sleep
Energy saving off-timer
Ice compartment for faster cooling
Quiet sleep mode
Turbo blast mode
Airflow - 359 m3/hr (211 CFM)
Water tank capacity: 7 litres
Power consumption: 36 Watts
Room Size: 12m²
12 month warranty
Technical Specification
Controls
Electronic control
Plug
13amp 3 pin with a 1.8m cord
Colour/Finish
Black & White
Product Type
Portable Air Conditioners
Document Download
Documentation File Format Size
Honeywel ES800 - User Manual
PDF
2.5 MB
What's In The Box
Honeywell ES800 Air Cooler
Need some help?