Fujitsu ARXG09KLLAP 2.5kW Economy Slim Duct split System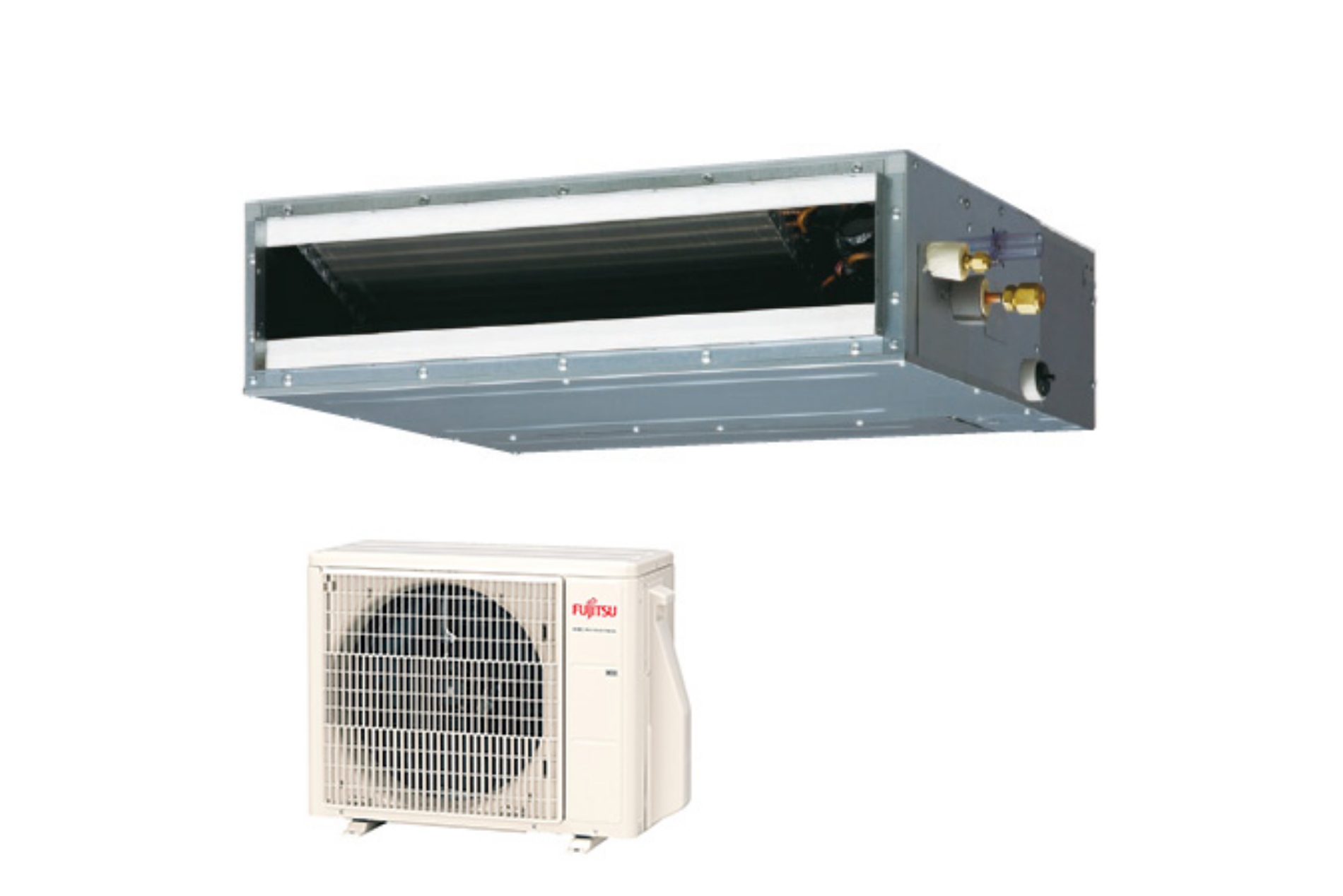 Fujitsu ARXG09KLLAP 2.5kW Economy Slim Duct split System
£965.00
Detailed Description
Fujitsu Economy Series Slim Duct 2.5kW ARXG09KLLAP/AOYG09KATA
The ARXG ducted units are mounted above a ceiling and designed for small homes, offices, restaurants or shops. The ARXG ducted unit operates at low noise levels and is virtually invisible when installed within a suspended ceiling. Its low unit height and lightweight design makes the installation easier and more convenient. Perfect for areas where you want concealed air conditioning
The Fujitsu ARXG09KLLAP is the smallest slim ducted unit in this range, being a 2.5kW unit as it can provide heating and cooling to rooms up to 25 square metres in size.
It's quiet operation is ideal for master bedrooms, living rooms and other single room residential or quiet commercial uses. It can be installed in a bulkhead for a attractive architectural finish, or can be used with duct outlets within the space for total integration with the room. This unit can be used with the Auto-Louver for a professional finish with fully adjustable air flow direction output.
All Fujitsu air conditioner models feature heat pump inverter technology which are highly efficient in operation and conserve electricity usage.
This air conditioning system comes with 5-year manufacturer's parts only warranty.

The split system air conditioning units consist of an indoor and outdoor unit, connected via copper piping. The outdoor unit contains the condenser and removes heat and condensation from the room, dissipating it outside.
Installation
Our residential customers are looking to save money on sourcing the equipment with intentions to install the hardware, either themselves or by the builder. You will need an F-GAS registered engineer on standby to come and commission the unit once it is in place.
Alternatively, you could have your engineer completely fit the unit from start to finish, having saved a small fortune by sourcing the system from us.
We will ensure you are buying the correct unit for your space. If you need assistance please contact our experts on 0330 175 9558 or email orders@sunbeltsales.co.uk. Alternatively, you can use our live chat option.
Perfect for areas where you want concealed air conditioning.
Features & Benefits
Increased static pressure range
Quiet operation
Low ambient operation
Slim design for adaptable installation
Dual concealed type
Optional Auto Louver Grille Kit
Compact and powerful
Touch screen controller
Selectable with a wide range of static pressure






Technical Specification
Function
Cooling + Heating
Controls
Electronic control
Rated input (cooling)
1.31kw
Plug
13amp 3 pin with a 1.8m cord
What's In The Box
This Kit Includes:
1 x Indoor Unit ARXG09KLLAP

1 x Outdoor unit AOYG09KATA

1 x Remote Control

1 x Instruction / Installation manual
Need some help?