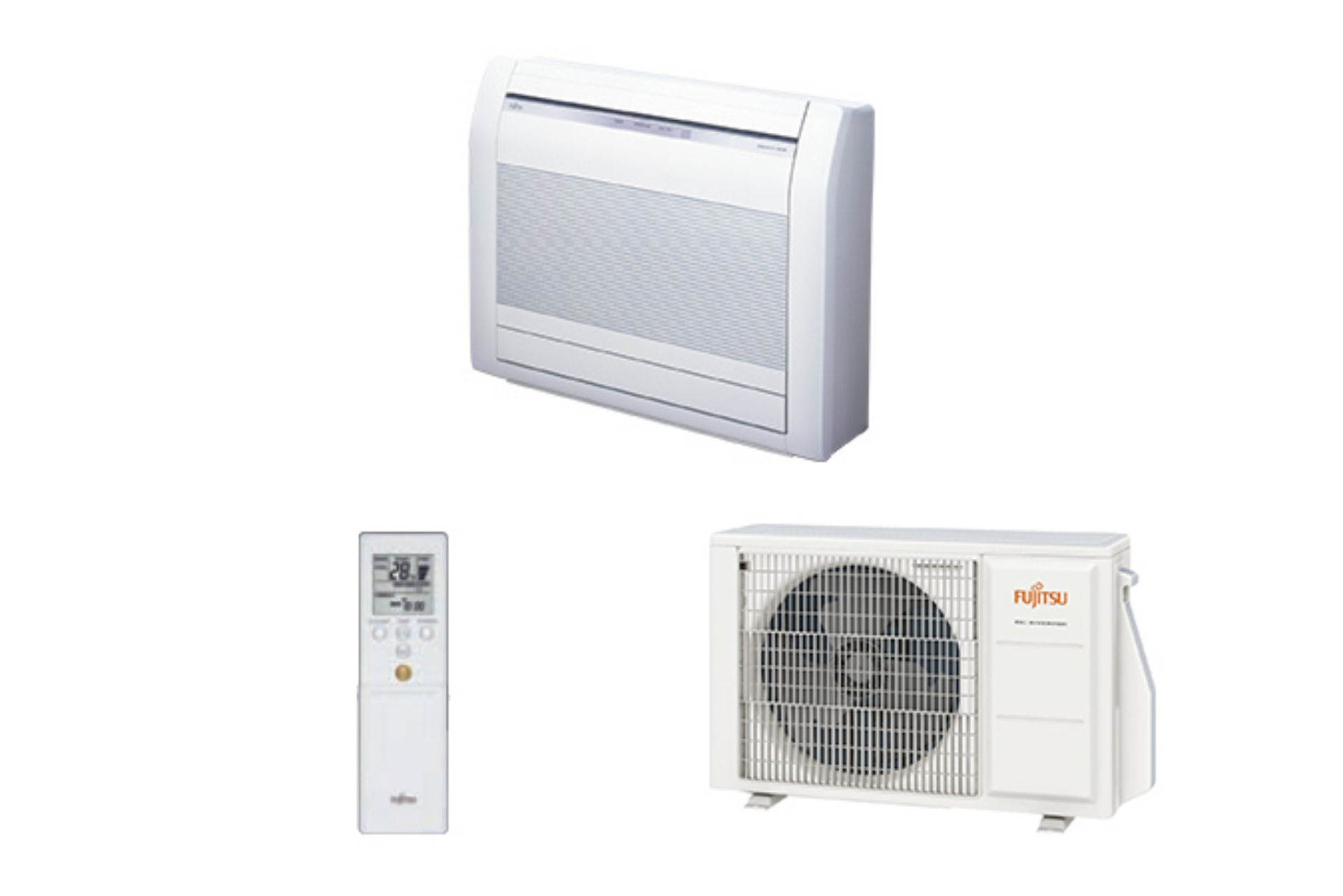 Fujitsu AGYG14KVCA 4.2kW Floor or Ceiling Mounted Split System
£1360.00
Detailed Description
Fujitsu Floor Standing Series 4.2kW AGYG14KVCA/AOYG14KVCA
The Fujitsu AGYG floor mounted units offer a broad range of functions designed for small living spaces, offices, bedrooms and children's rooms. Fujitsu air conditioners make the room being air conditioned more comfortable with automatic operation functions, air cleaning filters and easy control functions. The floor mounted unit is a people-friendly, function packed, environment-friendly range of heating and cooling systems.
The AGYG14KVCA is a 4.2kW model, which is ideal for larger bedrooms or even medium sized offices, as this specific model can provide heating and cooling to rooms up to 42 square metres.. This model includes an Ion deodorization filter, as well as an Apple-Catechin filter to help reduce all traces of fine particles, dust and even odours in the air. As well as plenty of other features.
All Fujitsu air conditioner models feature heat pump inverter technology which are highly efficient in operation and conserve electricity usage.
This air conditioning system comes with 5-year manufacturer's parts only warranty.

The split system air conditioning units consist of an indoor and outdoor unit, connected via copper piping. The outdoor unit contains the condenser and removes heat and condensation from the room, dissipating it outside.
Installation
Our residential customers are looking to save money on sourcing the equipment with intentions to install the hardware, either themselves or by the builder. You will need an F-GAS registered engineer on standby to come and commission the unit once it is in place.
Alternatively, you could have your engineer completely fit the unit from start to finish, having saved a small fortune by sourcing the system from us.
We will ensure you are buying the correct unit for your space. If you need assistance please contact our experts on 0330 175 9558 or email orders@sunbeltsales.co.uk. Alternatively, you can use our live chat option.
Features & Benefits
2-Fan & Wide airflow
High Energy Saving
Flexible and easy installation
Flexible pipe connection enables draining and piping in 6 directions
Smart device control (optional)
10ºC heating operation
Low ambient operation











OPTIONS:


Technical Specification
Function
Cooling + Heating
Controls
Electronic control
Rated input (cooling)
1.31kw
Plug
13amp 3 pin with a 1.8m cord
What's In The Box
1 x Indoor Unit AGYG14KVCA

1 x Outdoor unit AOYG14KVCA

1 x Remote Control

1 x Instruction / Installation manual
Need some help?