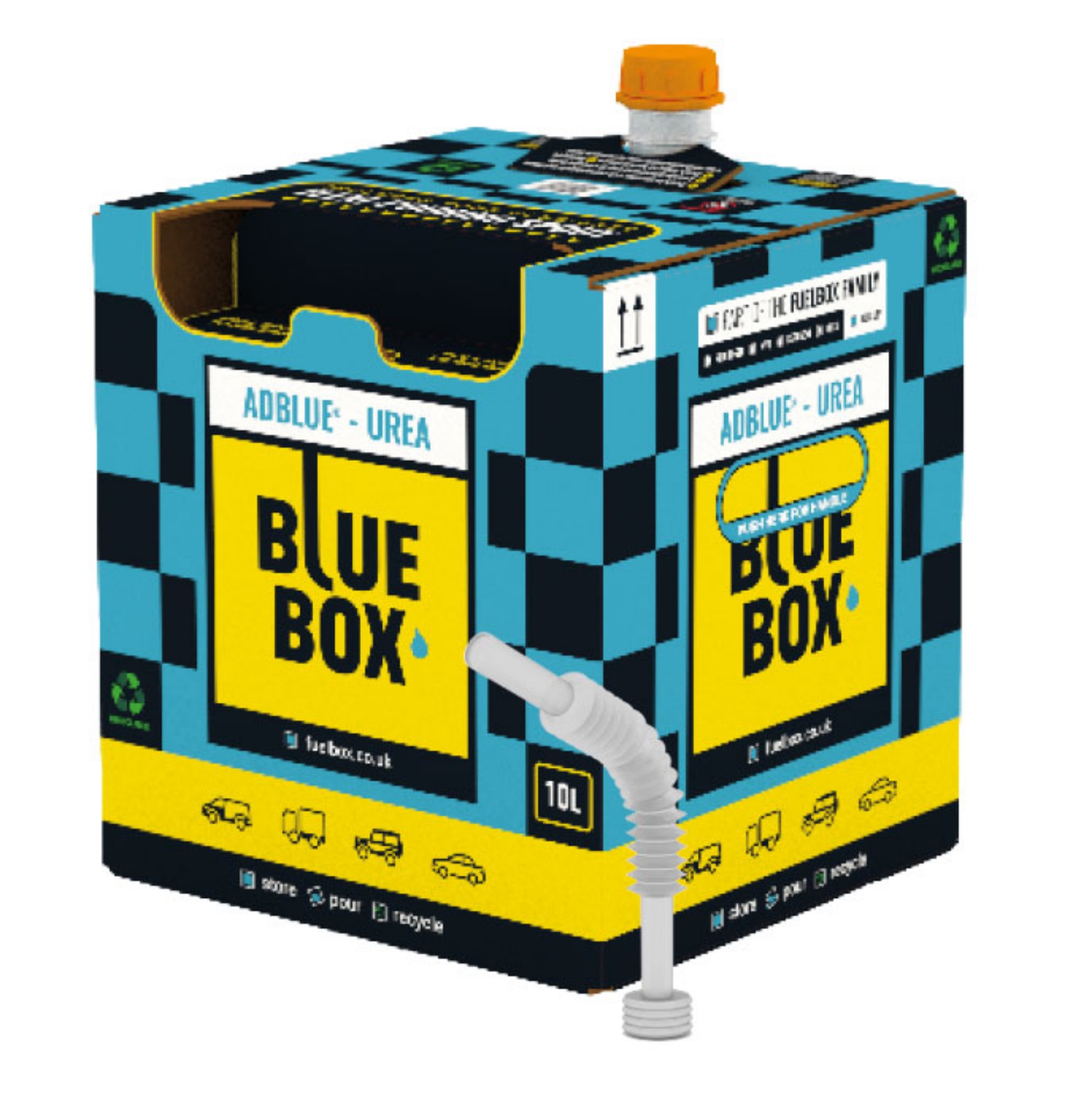 Fuel Box - AdBlue 10L
£24.17
Detailed Description

AdBlue 10L Box
The 10 litre pre-filled AdBlue box comes with our glug-free flexi-pouring spout to prevent spillages, giving you a fast, efficient and easy solution to refuelling on-site.
Complete with our weatherproof packaging and its stackable shape, it is the easy store solution. The BlueBox leads the way in the industry, whilst reducing plastic waste consumption by up to 90% compared to other 10 litre
rigid packaging
Following the strict recommendations of the ISO 22241-3, our AdBlue® has a shelf life of at least 18 months from date of manufacture, according to ISO 22241 storage conditions.
WHAT IS FUELBOX?

FuelBox has a double-skinned UN approved bag that contains the 20 litres of fuel.
IS THE PACKAGING ENVIRONMENTALLY FRIENDLY?

YES! The FuelBox reduces packaging waste in landfills by 86% and reduces plastic consumption by up to 90%.

HOW DO I STORE THE FUELBOX?

Our FuelBox is UN approved and therefore meets the design standard. For secondary containment, on your first order you will receive a storage bund free of charge. This will fit the pallet size of your order.
WHAT IS EXOCET FASTFLAME?
This multi-component product guards against fuel degradation, the corrosion of metal storage tanks and associated pipework, the adverse effects of fuel interaction with fittings and pipework containing copper and serves to inhibit the build-up of deposits in storage tanks.

Features & Benefits
The FuelBox holds many benefits that contribute to its success:
A fast, efficient, and easy to handle
Zero risk of contamination
Glug-free pouring system prevents
unnecessary spillages
Reduces downtime
Perfect for emergency back-up
Our AdBlue® conforms to ISO 22241 standards and prevents damage to your exhaust components.
Maximises system efficiency
Safe-guards against rust
Reduces deposit build-up around nozzles and on heat exchanger surfaces
Inhibits sludge formation
Reduces service problems
Stabilises fuel – increases its shelf life
What's In The Box
- 10L AdBlue
- Dispenser hose
Need some help?