JetMister JMSF35 Dust Suppression Unit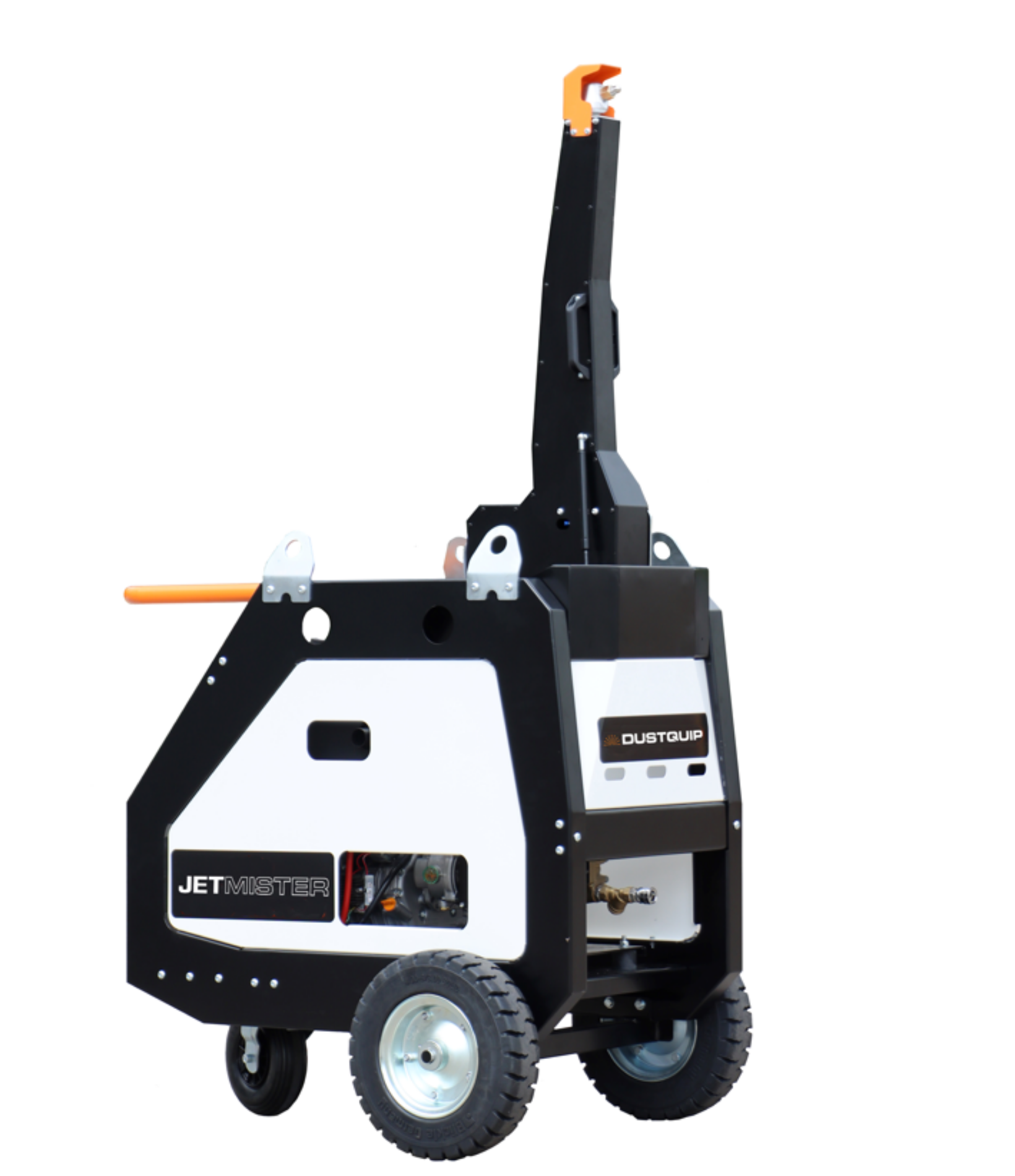 JetMister JMSF35 Dust Suppression Unit
£13010.40
Detailed Description
Adjustable from 10-35 meter throw from a diesel engine pump with a 90° swinging jet nozzle on a tilting mast. Machines can be deployed in minutes thanks to an simple and innovative design.
Heavy duty wheeled frame that can easily be positioned to tackle the dust.
10 to 35 metre throw powered by either a diesel engine or an electric pressure pump with a 45° or 90° auto oscillating jet nozzle on a tilting mast.
Features & Benefits
JET NOZZLE - Push button positioning or auto 45° and 90° swinging nozzle.
MANOEUVRABILITY - Lifting eyes get the JetMister into difficult areas. Frame can be mounted to a water bowser (JMSK) or heavy duty puncture-proof wheels for site mobility (JM).
EASY CONTROLS - Simple control operation to start/stop pump and move jet automatically from left to right. Emergency stop and warning signals.
TILTING MAST - Heavy duty mast with 0-30° tilt positioning for reaching high areas. Can be folded flat for easy trasportation.
JUST ADD WATER! - 1" Quick release connector for suction hose. Just connect bowser/water supply and feed with clean potable water.
DIESEL POWER - Yanmar diesel engine with electric start & dry run protection.
MOBILITY - Locking brake swivel wheel at the back to battle uneven ground and heavy duty wheels at the front to stabilise.
VERSATILITY - The JetMister has heavy-duty puncture-proof tyres and braked swivel wheel enabling it to be easily positioned on site.
DUST SUPPRESSED - High-pressure mist can be adjusted with engine speed and pressure regulator to perfect the right amount of mist for the job.
WATER AND SPACE SAVING - The JetMister is designed to control the dust issues with just the right amount of water to avoid unnecessary flooding and saving water. The foldable mast allows easy transportation and storage, taking up minimal room.
SAFETY - The JetMister can be positioned in danger zones where you don't want your workers. Replaces the need of operating a fire hose or pressure washers for suppressing dust.
• Mobile heavy duty frame with 400mm puncture proof wheels
• Electric control panel with electric motor overload protection
• Dry run protection
• 6 metre supply lead and plug (JM35-E)
• Quick release coupler for option pressure wash hose and lance fitment.
• 0°, 45° and 90° auto oscillation
• Inlet filter
• Electric start (JM35-D)

OPTIONAL EQUIPMENT
• JM35-PW 10 m pressure wash hose c/w 2 ft lance and trigger gun.
Transport delivery is not included, Price On Application.
Technical Specification
Operating Temperatures (degrees centigrade)
2 - 50
Need some help?