Ecor Pro DH1211 DryFan 12L 110V Desiccant Dehumidifier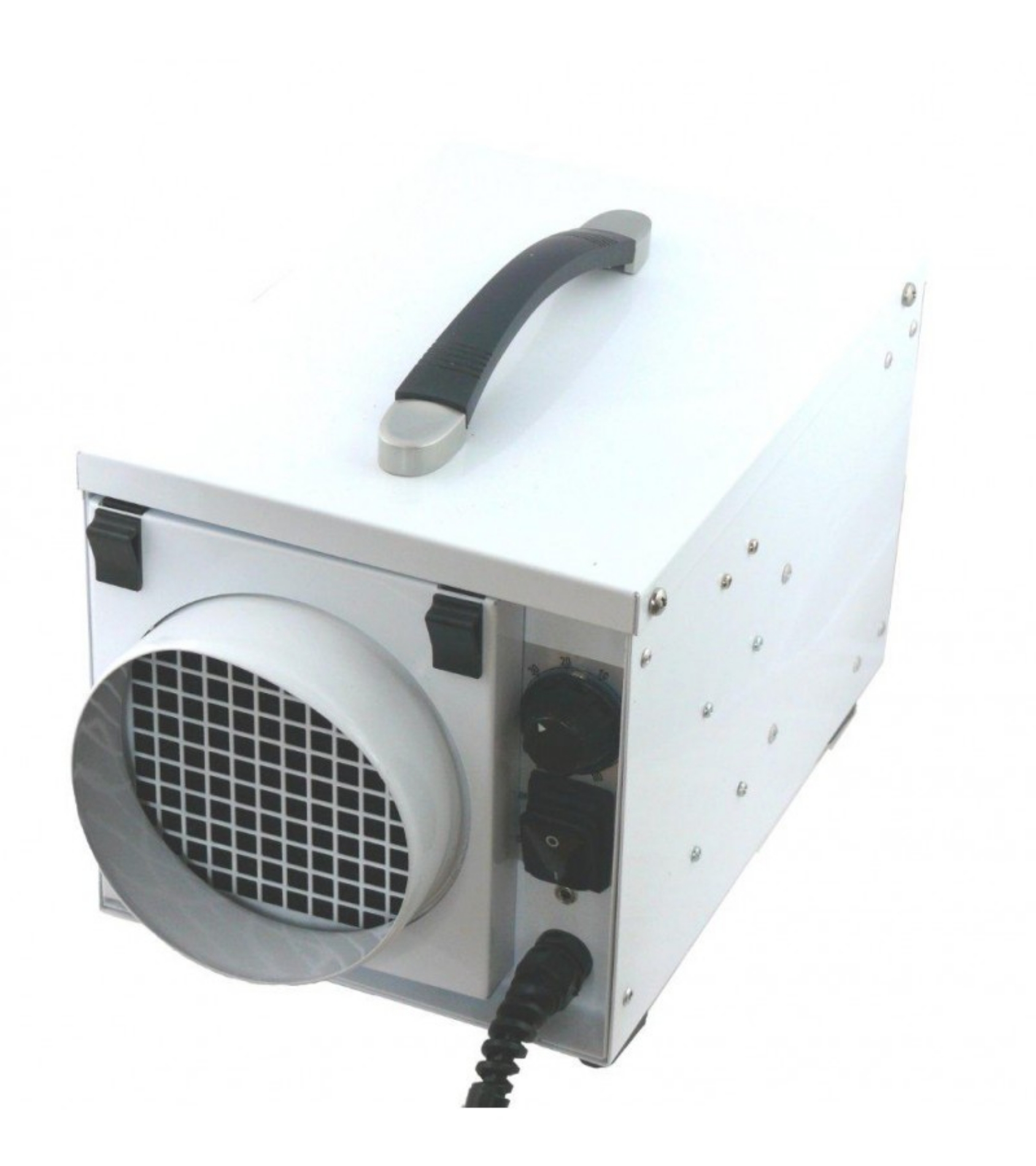 Ecor Pro DH1211 DryFan 12L 110V Desiccant Dehumidifier
£639.00
Detailed Description
Ecor Pro DH1211 DryFan 12L 110V Desiccant Dehumidifier
The Ecor Pro DH1211 DryFan dehumidifier can remove up to 12 litres of moisture per day and is one of the smallest 110v desiccant dehumidifiers available. It has a 124m3/h air volume capacity, operating temperature range of -20℃ to 40℃ and can be left to run continuously 24/7. The DH1211 is also suitable for many different drying applications, such as drying an area following a flood, drying paint and plaster in construction trades, and keeping storage areas free from moisture. The Ecor Pro DryFan features a unique, ductable three vent system with 1 inlet and 2 outlets. The inlet draws the ambient air in so that it can be dust filtered and dried. One of the outlets expels this processed air back out into the space and the second wet air exhaust outlet ensures that the moisture is vented away and out of the room. Optional flexible industrial ducting is available which attaches to these vents.
The DH1211 DryFan can be used as a free-standing dehumidifier or it can be installed at any angle. The four anti-scratch plastic feet swivel out to act as anchor points. The Ecor Pro DH1211 desiccant dehumidifier has an all-steel construction with a durable epoxy paint finish. All of the components are heat-treated to provide longevity. Maintenance is easy and the reticulated dust filter can be easily cleaned or replaced.
The Ecor Pro DH1211 DryFan desiccant dehumidifier has an in-built humidistat, which allows you to set a desired relative humidity level and automatically turns on or off to maintain that level continuously. Available extras include a remote humidistat and various ducting sizes.
If you need assistance, please contact our team on 0330 175 9558 or email orders@sunbeltsales.co.uk. Alternatively, you can use our live chat option.
Features & Benefits
Highly Compact – Small 12 Litre dehumidifier in the market.
Dust Filter – Simple reticulated dust filter in metal frame. Shakened clean or easily replaced. Prevents dust particles entering the unit and impeding performance.
Easy Repair – Maintenance and eventual repair have been thought through with an easy to remove cover that gives easy access to replace cord sets or warn parts by a qualified persons quickly. Prolonging the lifetime of the dehumidifier.
On Four Feet – Design patented anti scratch plastic feet. Swivel out. Provide anchor points for the dehumidifier.
Carrying Handle – Easy to carry by one person. Removable handle when product is being installed. Replaced by a top lid without a handle.
Humidistat Connection – There is both and internal humidistat fitted & the possibility to put on an external humidistat but one can also be added very simply. A jack plug connector is on the on the humidistat EPHUM24DF. This will turn the dehumidifier on an off automatically remotely if the dehumidifier is concealed or ducted in position.
Duct Air-In & Out – The dehumidifier has all ducts fitted with flanges to allow ducting to be added with 125mm / 5″ hard or flexible ducting.
Wet Air Exhaust – The has one internal fan. Works in colder temperatures via vented away moisture. The moisture is purged from the system by 15% of the process air. Dries with a slight negative pressure.
"Three Hole System" – One inlet and two outlets.
Note that the DH12XX dehumidifiers have a process air outlet flange. The DH8XX models do not. Thus, dry air ducts into a space.
Power Supply – 110V supply 50Hz
Auto Reset – If there is an interruption to the power supply, the dehumidifier will continue to operate as soon as the power has been returned. Perfect in locations where the there is a "dirty" power supply that can affect other electronically controlled products.
All Metal Construction – All metal with epoxy paint finish heat treated for strength inside & outside. Designed for longevity.
5m / 15′ Power Cord – No need to join cables when placed for instance in crawl spaces or lofts in the home for example.
Technical Specification
Extraction Method
Extraction Hose
Installation Type
Universal
Extraction Rate (L/24hr)
12
Document Download
Documentation File Format Size
What's In The Box
1 x Ecor Pro DH1211 DryFan 12L 110V Desiccant Dehumidifier
1 x 5m Power cable
Related products
NEXT DAY DELIVERY!*
Metal construction
5 Metre Power Cord
Anti scratch plastic feet
Easy carrying in one hand

In stock
Need some help?