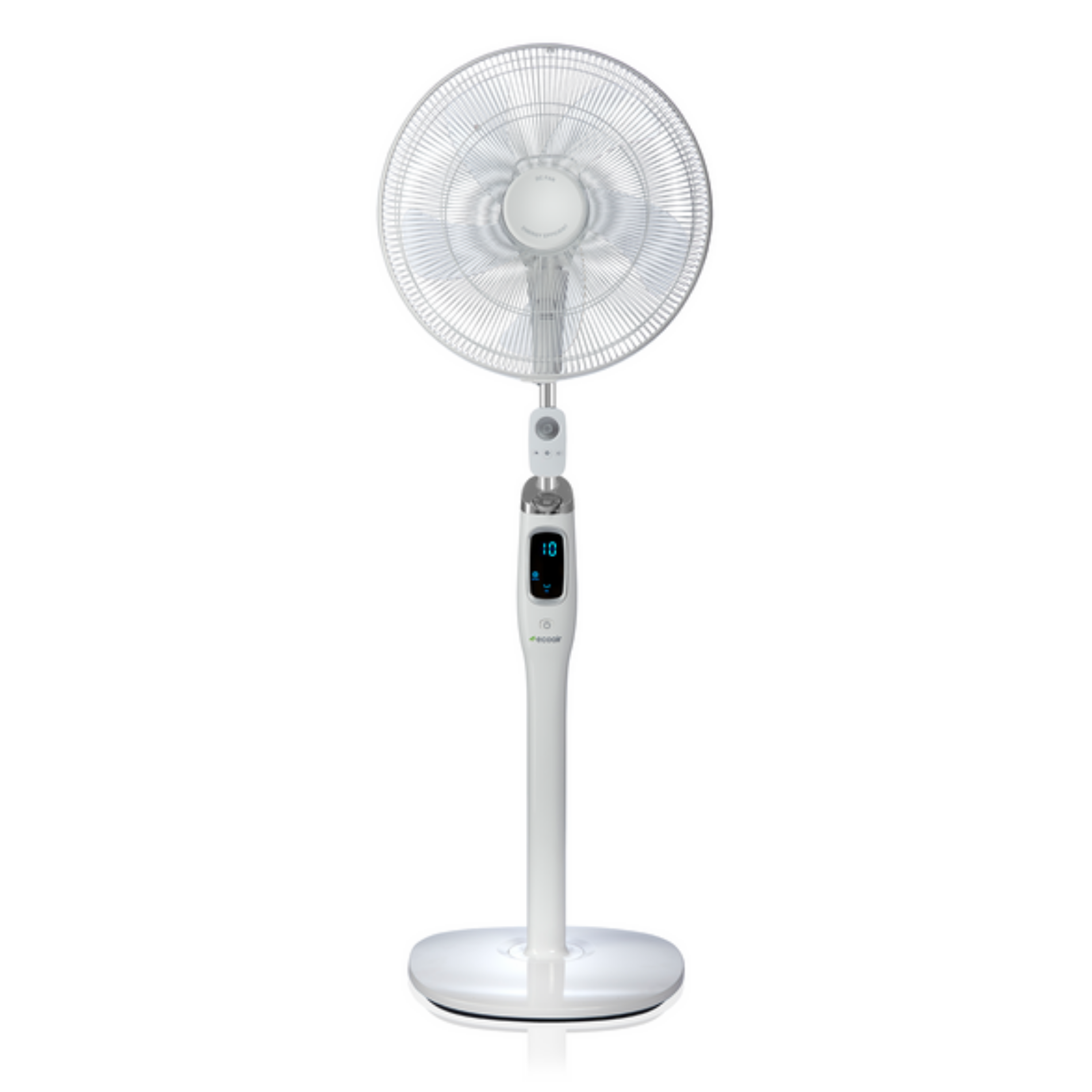 Eco Air Zephyr 16" Low Energy DC Fan
£125.00
Detailed Description
EcoAir Zephyr DC fan is so a high performance low energy fan, not to be confused with cheap fans found in a supermarket forecourt. Powered by an energy efficient DC motor, it delivers high velocity and an amazingly ultra quite performance.
The powerful fan blade is designed in such a way that they give an unprecedented low noise volume from as low as 27 dBa, (which in real world terms is silent). can also be use to promote healthy air circulation.
As if that's not enough you can even select a mode that mimics nature's rhythmic breeze.
Typically fans only come with 2 or 3 speed settings. The Zephyr delivers up to 26 speed settings, with 9 special speed settings dedicated for Chilling or Sleeping using only 0.35 watts to maximum of 27 watts.
Features & Benefits
Extra-Large LED Display.
Powered by 24V Low Voltage DC Motor.
8 Hours Programmed Timer.
Oscillation Function.
Energy Saving up to 70%.
Silent Care, 27dB(A).
Auto Shut Off After 12 Hours' Idle.
Auto Mode, Sleep Mode, Nature Mode.
Hydraulic Adjustable (Zephyr Only).
Starting from 3.5 Watts per hour - Energy efficient up to a max of only 26 Watts per hour.
35 Speeds available powered by DC Motor - 26 Normal plus 9 Ultra Quiet Mode.
5 Modes - Quiet, Sleep, Nature, Timer Mode and Intelligent Modes.
Multi-Function Remote Control and LED Rotating Control Panel.
Unibody Easy-Install, Hydraulic Adjustable Stand, 8 Hours Programmed Timer.
1 Year Warranty.
Please contact us if you require further information or advice.
Technical Specification
Controls
Electronic control
Noise Level (low - high) dB(A)
27-67
Plug
13amp 3 pin with a 1.8m cord
Power Consumption (W)
0.35 - 27
Document Download
Documentation File Format Size
Ecoair ZEPHYR User Manual
PDF
1.2 MB
What's In The Box
Fan Unit.
Remote Control (Batteries is not included for the Remote Control).
User Manual.

Need some help?