Ebac K100E 36L Industrial Dehumidifier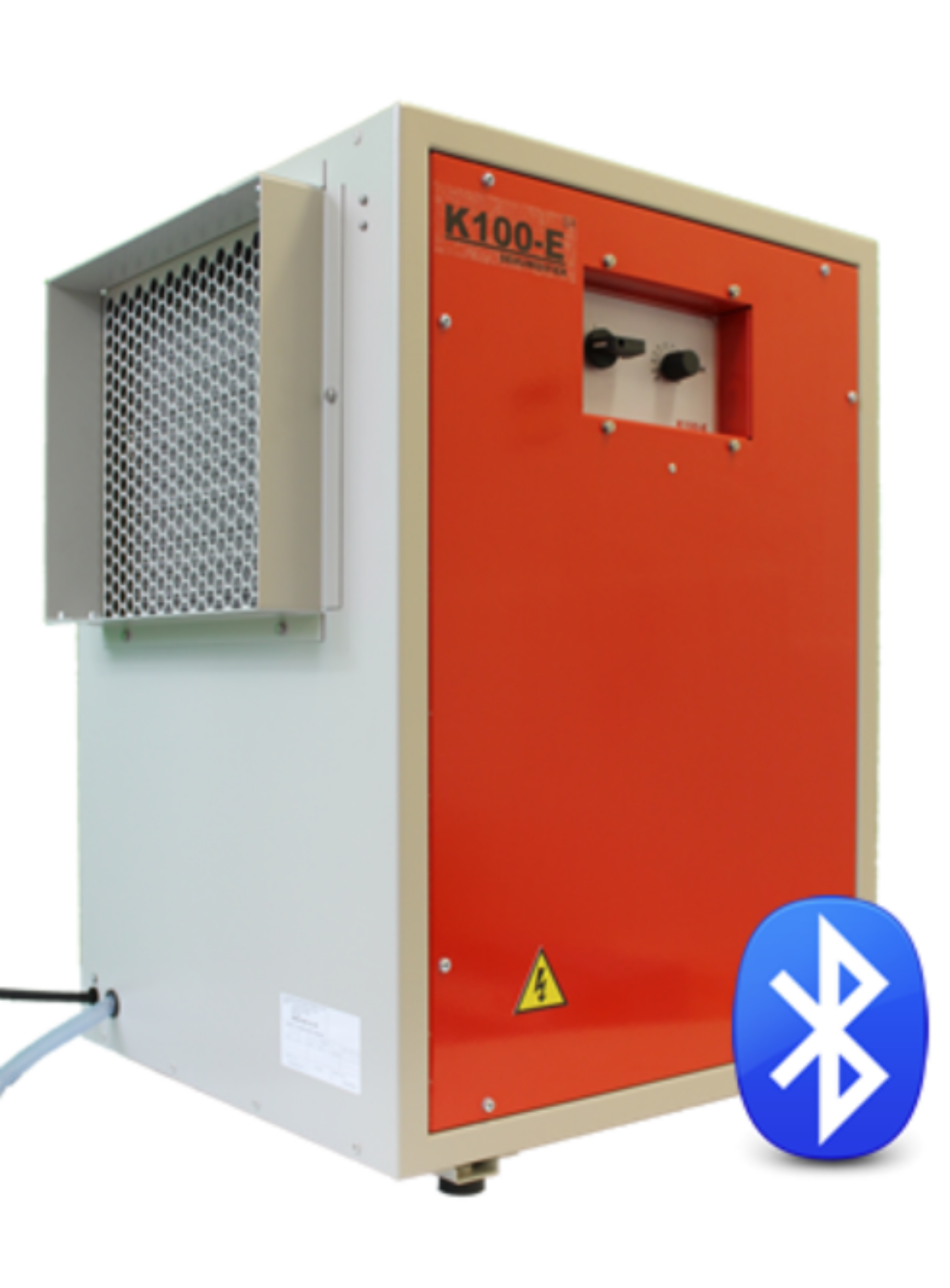 Ebac K100E 36L Industrial Dehumidifier
£1199.00
Detailed Description
Installation is quick and easy, simply position the unit, connect to the mains supply, connect the drain outlet to a suitable drainage point, and switch On. The K100H is a free standing unit, however a wall mounting bracket is available which will allow the unit to be wall mounted. The K100E range of dehumidifiers all incorporate a high lift condensate pump, allowing the condensate to be pump to heights in excess of 4m.
Versatile Commercial Refrigerant Dehumidifier: Ideal for controlling the moisture levels of commercial and industrial areas, protecting buildings, tools, machinery, and equipment.
Removes Up To 36L Per Day: Excellent moisture extraction performance, ideal for garages, basements, warehouses, factories, rigs, labs, kitchens, flood restoration, and more.
Smart Interface: The EBAC K100E as Bluetooth capabilities, allowing for remote monitoring via a smartpone interface. There is also a datalogging facility.
Robust Construction: The all steel construction and epoxy powder coating offer incredible robustness and durability in demanding environments.
Integrated Humidistat: The elecontronic humidity control allows you to set a desired humidity level for a space. When the relative humidity varies from the set level, the machine will automatically turn on or shut down.
Reverse Cycle Defrost: Automatically melts frost and ice build-up on the refrigerated coils for efficient and reliable operation even in cold conditions, and also features electronic defrost control.
High Lift Condensate Pump: The EBAC K100E can pump condensate to a drainage point at heights in excess of four metres, making the dehumidifier ideal for installation in basements and lower level areas.
Excellent Safety Features: You can ensure the safety of your customers and employees, as this dehumdifier features a high level safety cut-out switch and an internal safety float switch.
Features & Benefits
Extracts Up To 36 Litres Per Day
Bluetooth Smartphone Interface & Datalogging
All Steel Construction & Epoxy Powder Coating
High Lift Condensate Pump
High Level Safety Cut-Out Switch
Internal Safety Float Switch
Reverse Cycle Defrost With Electronic Control
Ideal For Commercial & Public Areas
Max OperatingTemp (°C) 35
Electronic Humidity Control
On/Off Control
Reverse Cycle Defrost
Electronic Defrost Timer
High Lift Condensate Pump
Power On Indicator
Refrigerant Type - R407c
Free Standing
Wall Mounting Bracket
Internal Saftey Float Switch
Stoved Epoxy Finish
Please contact us if you require further information or advice.
Technical Specification
Extraction Method
Built in pump
Humidistat
Built in with remote option
Extraction Rate (L/24hr)
36
Installation Type
Universal
Document Download
Documentation File Format Size
Related products
NEXT DAY DELIVERY!*
Removes Up To 33 (L/24hr)
Max Airflow 350 mᶟ/h
Silent Operation: 43 db(A)
Operating Temp Range 7-35°C

In stock
Need some help?