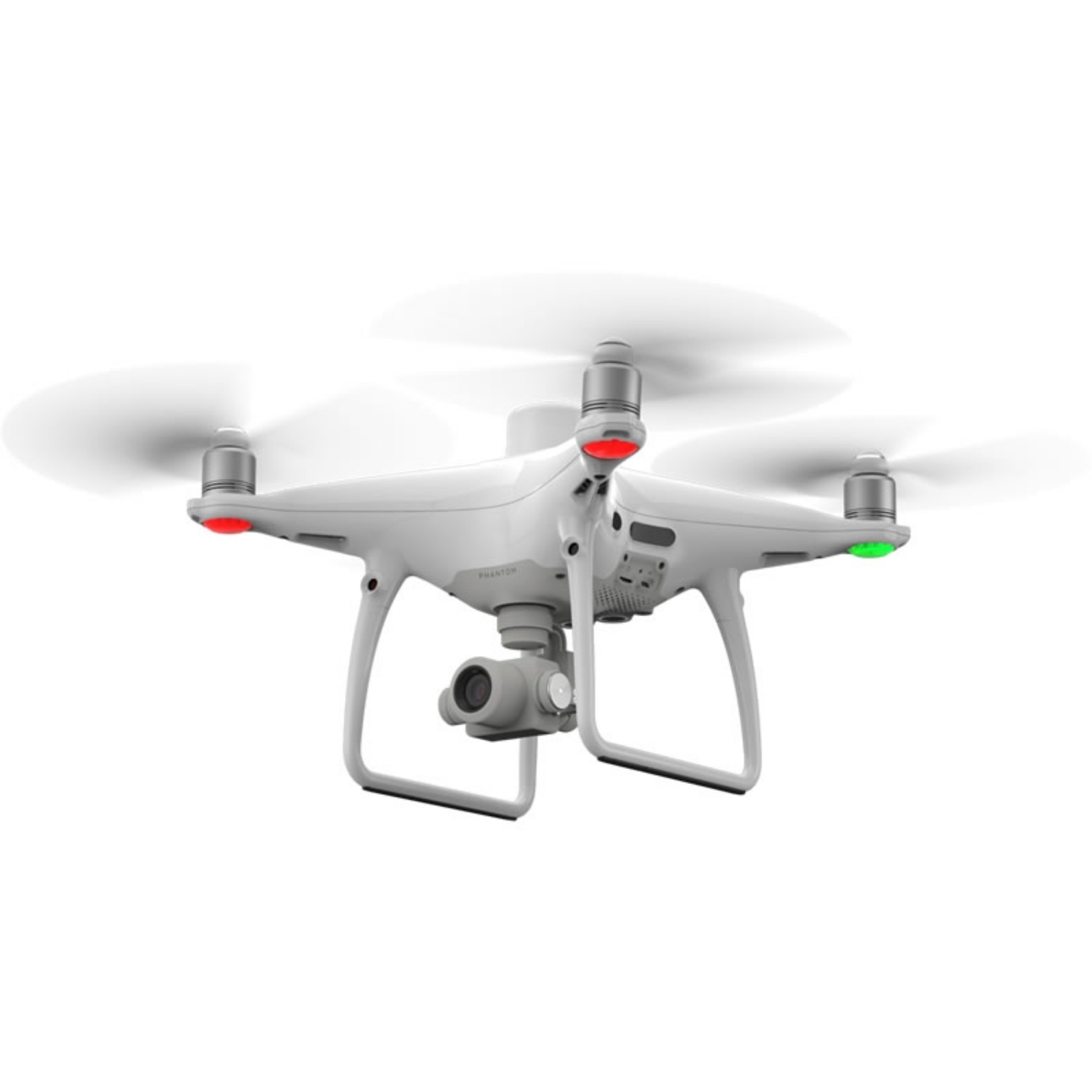 DJI Phantom 4 RTK UAV
£6337.50
Detailed Description
The Phantom 4 is DJI's most compact and accurate low altitude mapping solution offering centimetre-accurate data while requiring fewer ground points.

A new RTK module is integrated directly into the Phantom 4RTK, providing real-time, centimetre-level positioning data for improved absolute accuracy on image metadata. Sitting just beneath the RTK receiver is a redundant GNSS module, installed to maintain flight stability in signal-poor regions such as dense cites. Combining both modules, the Phantom 4RTK is able to optimise flight safety while ensuring the most precise data is captured for complex surveying, mapping and inspection workflows.

Fit the Phantom 4 RTK to any workflow, with the ability to connect this positioning system to the D-RTK 2 Mobile Station, NTRIP (Network Transport of RTCM via Internet Protocol) using a 4G dongle or WiFi hotspot, to store the satellite observation data to be used for Post Processed Kinematics (PPK).

To take full advantage of the Phantom 4RTK's positioning modules, the new TimeSync system was created to continually align the flight controller, camera and RTK module. Additionally, TimeSync ensures each photo uses the most accurate metadata and fixes the positioning data to the centre of the CMOS – optimising the results from photogrammetric methods and letting the image achieve centimetre-level positioning data.

To legally fly a small unmanned aerial system in the UK the Operator is legally required to hold a Permission for Commercial Operations (PfCO) from the UK Civil Aviation Authority (CAA). Before a PfCO is issued the Operator must write and have approved an Operations Manual. Also any pilots who are to fly for that Operator must hold a CAA approved NQE issued qualification demonstrating their operating competence and flying capability.
Features & Benefits
Aircraft
Weight (Battery & Propellers Included): 1391 g
Diagonal Size (Propellers Excluded): 350 mm
Max Ascent Speed: 6 m/s
Max Descent Speed: 3 m/s
Max Speed: A-mode: 36 mph (58 kph) / P-mode: 31 mph (50 kph)
Max Service Ceiling Above Sea Level: 19685 feet (6000 m)
Max Wind Speed Resistance: 10 m/s
Max Flight Time: Approx. 30 minutes
Operating Temperature Range: 32° to 104°F (0° to 40°C)
Satellite Positioning Systems: GPS/GLONASS
Transmission Power: 2.4 GHz
Mapping Functions
Mapping Accuracy: Mapping accuracy meets the requirements of the ASPRS Accuracy Standards for Digital Orthophotos Class

Ⅲ


** The actual accuracy depends on surrounding lighting and patterns, aircraft altitude, mapping software used, and other factors when shooting.

Ground Sample Distance (GSD): (H/36.5) cm/pixel

,


H means the aircraft altitude relative to shooting scene (unit: m)

Data Acquisition Efficiency: Max operating area of approx. 1 km² for a single flight(at an altitude of 182 m, i.e., GSD is approx. 5 cm/pixel, meeting the requirements of the ASPRS Accuracy Standards for Digital Orthophotos Class

Ⅲ
Vision System
Velocity Range: ≤31 mph (50 kph) at 6.6 ft (2 m) above ground
Altitude Range: 0 – 33 feet (0 – 10 m)
Operating Range: 0 – 33 feet (0 – 10 m)
Obstacle Sensory Range: 2 – 98 feet (0.7 – 30 m)
FOV: Forward: 60°(Horizontal), ±27°(Vertical) / Backward: 60°(Horizontal), ±27°(Vertical) / Downward: 70°(Front and Rear), 50°(Left and Right)
Measuring Frequency Forward: 10 Hz /Backward: 10 Hz / Downward: 20 Hz
Operating Environment: Surface with clear pattern and adequate lighting (lux>15)
Camera
Sensor: 1″ CMOS; Effective pixels: 20M

Lens: FOV 84°

;

8.8 mm / 24 mm(35 mm format equivalent:24 mm)

;

f/2.8 – f/11, autofocus at 1 m – ∞

ISO Range: Video:100-3200(Auto) / 100-6400(Manual) Photo:100-3200(Auto) / 100-12800(Manual)
Mechanical Shutter Speed: 8 – 1/2000 s
Electronic Shutter Speed: 8 – 1/8000 s

Max Image Size: 4864×3648

(

4:3

)

/ 5472×3648

(

3:2

)

Video Recording Modes: H.264

,

4K

:

3840×2160 30p

Photo Format: JPEG
Video Format: MOV

Supported File Systems: FAT32

(

≤ 32 GB

);

exFAT

(

> 32 GB

)

Support SD Cards: MicroSD, Max Capacity: 128 GB. Class 10 or UHS-1 rating required Write speed≥15 MB/s

Operating Temperature Range: 32° to 104° F

(

0° to 40

℃

)
Intelligent Flight Battery
Capacity: 5870mAh
Voltage: 15.2V
Battery Type: LiPo 4S
Energy: 89.2 Wh
Net Weight: 468g

Charging Temperature Range: 14° to 104

℉

(-10° to 40

℃

)

Max Charging Power: 160W
Capacity: 4920mAh
Voltage: 7.6V
Battery Type: LiPo 2S
Energy: 37.39Wh

Operating Temperature: -4° to 104

℉

(-20° to 40

℃

)
GNSS
Single-Frequency, High-Sensitivity GNSS Module: GPS+BeiDou+Galileo*(Asia);
GPS+GLONASS+Galileo*(other regions
Frequency Used:
GPS:L1/L2;
GLONASS:L1/L2;
BeiDou:B1/B2;
Galileo*:E1/E5a
First-Fixed Time

:

< 50 s

Positioning Accuracy: Vertical 1.5 cm + 1 ppm

(

RMS

);


Horizontal 1 cm + 1 ppm

(

RMS)

1 ppm means the error has a 1mm increase for every 1 km of movement from the aircraft.
*Available soon
Gimbal
Stabilization: 3-axis (tilt, roll, yaw)
Pitch: –90° to +30°
Max Controllable Angular Speed: 90°/s
Angular Vibration Range: ±0.02°
AC Power Adapter
Voltage: 17.4V
Rated Power: 160W
Technical Specification
Max Flight Time (minutes)
30
Document Download
Call our Support Team on 0330 1759558 if you require more information on this product.
What's In The Box
Aircraft body
Remote controller
Propellers (pair)
2 x Phantom 4 High Capacity Batteries
1 x DJI Cendence Battery
1 x Phantom 4 RTK Charging Hub

Need some help?