Clarke Devil 370PD 2.8kW 230V Infrared Heater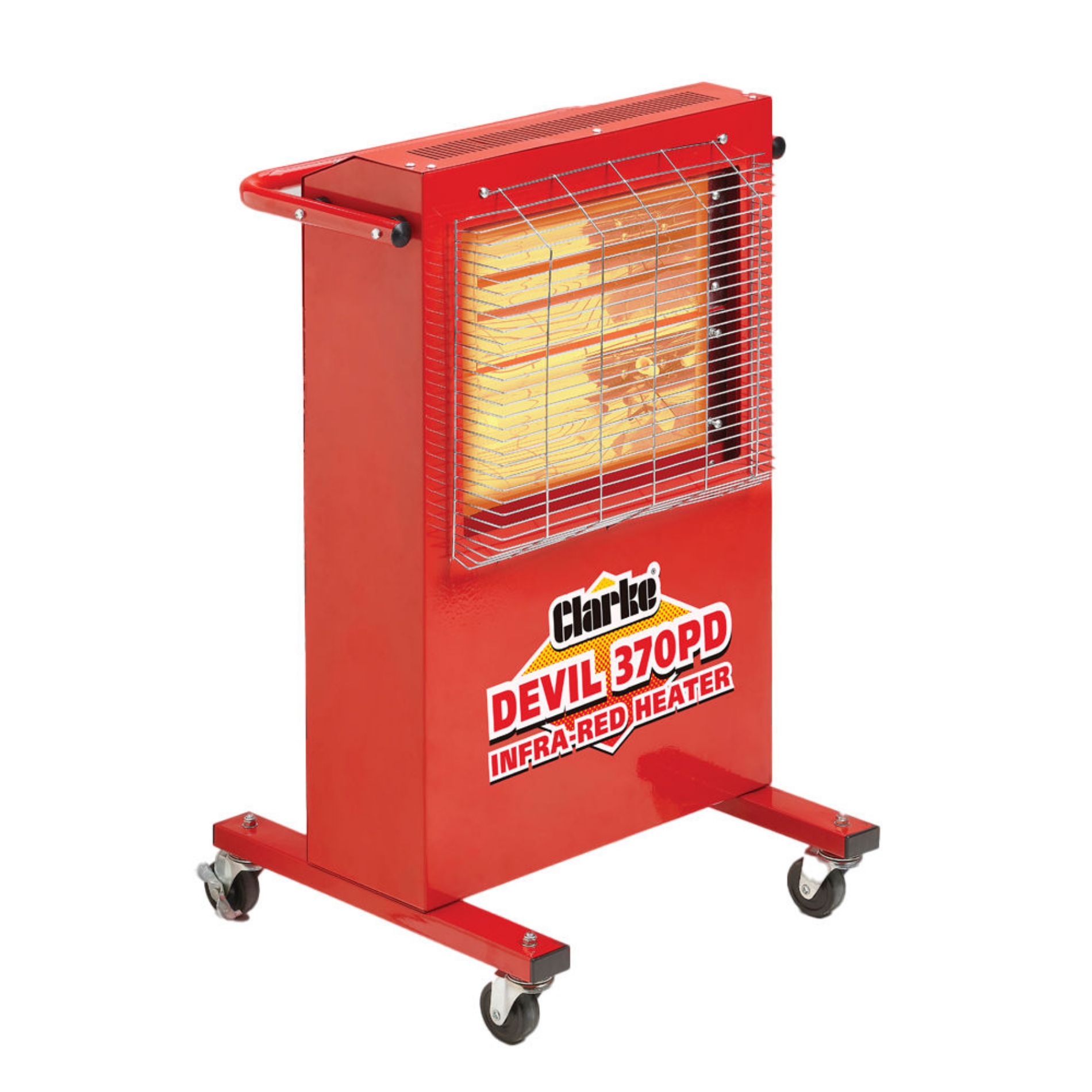 Clarke Devil 370PD 2.8kW 230V Infrared Heater
£258.00
Detailed Description
Clarke Devil 370PD 2.8kW 230V Infrared Heater
The Clarke Devil 370PD 2.8kW 230V Infrared Heater is ideal for when spot heating of objects or persons is required. It will provide instant, clean, oudour-free infrared heat. The elements are extremely efficient as 95% of input energy gets converted into heat output.
This heater features an eco-mode, remote control, a 24-hour programmable timer and a LCD panel to show the ambient temperature. For added safety, this heater aslo features a tilt switch to ensure automatic switch off if tipped over. It can be easily moved around as it benefits from 4 swivel wheels and a metal handle.
Please note: This product is only suitable for well insulated areas and is not designed to be the primary heat source.
If you need assistance, please contact our experts on 0330 175 9558 or email orders@sunbeltsales.co.uk. Alternatively, you can use our live chat option.
Features & Benefits
Highly polished aluminum reflector for optimum heating & safety
Stylish appearance in a rugged all steel industrial casing
4 x swivel wheels (2 with brakes) for easy manoeuvrability
24 hour programmable timer, remote control and eco mode
230V with 2 heating output settings: 1400W & 2800W
Colour LCD panel shows ambient room temperature
Adjustable thermostat control: 15 – 45°C
Includes tilt switch for added safety
Technical Specification
Thermostat
Built-in Built-in Remote Control
Type
Convector Fan Heater Convector Fan Heater Spot Heater Space Heater
Remote control
Included Built-in Control Built-in Control
Document Download
Documentation File Format Size
Operating and Maintenance
PDF
3.3 MB
What's In The Box
1 x Clarke Devil 370PD 2.8kW 230V Infrared Heater
2 x Support frames with castors (2 with brakes)
1 x Handle
1 x Fixings pack
1 x Remote control unit
Related products
Silent operation
Programmable 24 hour timer
Includes tilt switch
Colour LCD panel

In stock

Carbon filament
Remote control
Four power settings
Vertical & horizontal usage

In stock
Need some help?