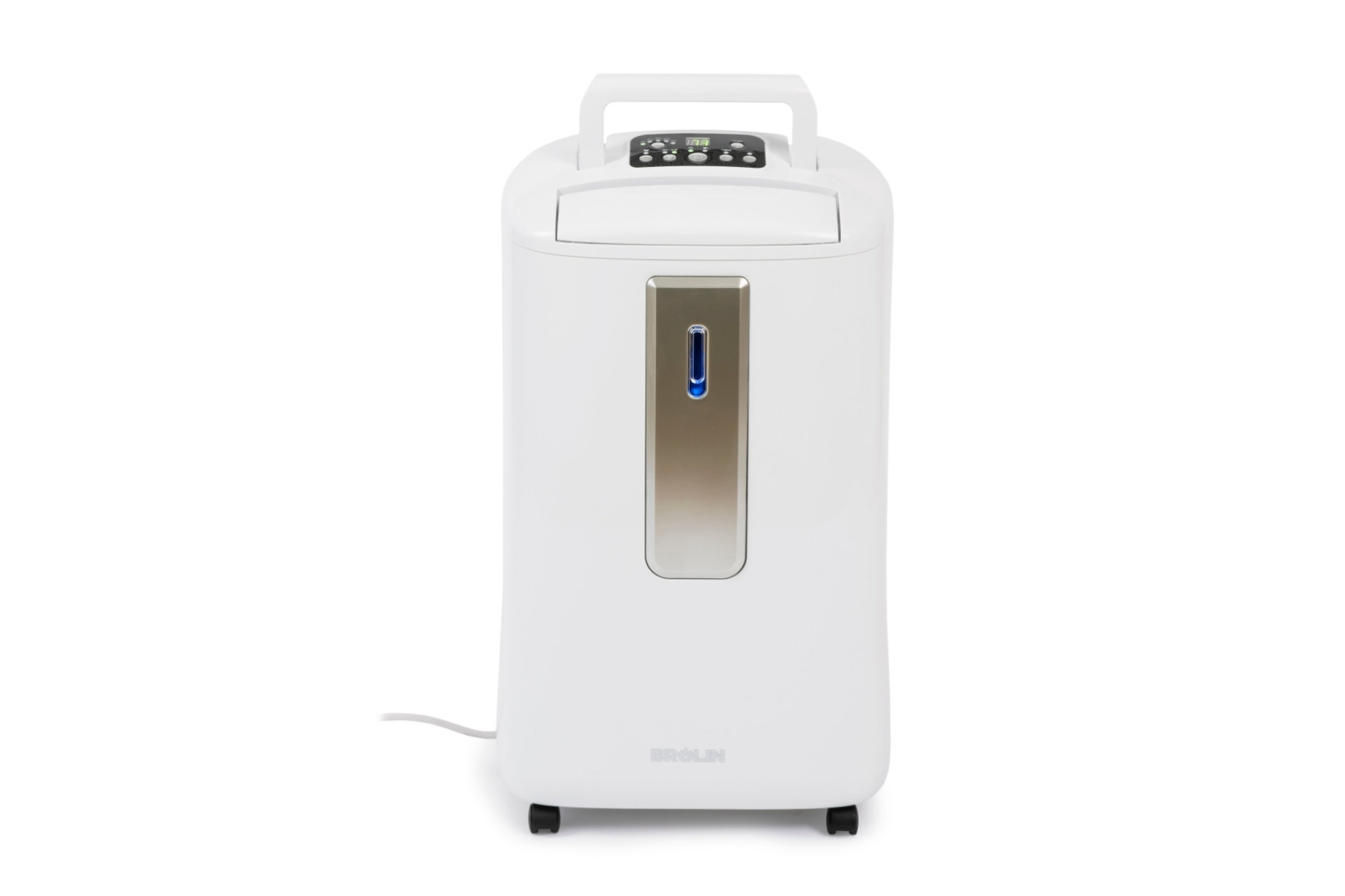 Brolin BR20C 20L Portable Home Dehumidifier
£132.50
Detailed Description
A handy unit that displays the the relative humidity and temperature in your home or work place so that you can take measures to adjust them for your health and comfort whilst using a dehumidifier.
With a simple, easy to use design the Weather Station is an essential and effective accessory to use alongside a dehumidifier so you can monitor the humidity and temperature in your home to ensure they are within an acceptable range. It has an easy to read digital display and it can also be used as an alarm clock. For indoor use only.
It controls relative humidity by passing the air through the unit, forcing the excess moisture to condensate over the cooling elements. Contact with this cold surface causes the moisture in the air to condense. This condensed water then drains safely into the water tank. The dried air then passes through the condenser where it is slightly warmed and re-enters the room at a slightly elevated temperature.
It has an advanced colour change humidistat (see below for details).
Very low running costs.
Simple to operate.
Lightweight.
Powerful.
Auto re-start after power failure.
Works in temperatures as low as 5C
Large capture tank.
Very good out of the box quality feel.
Superb warranty and back up service.
Compressor Technology.
This item qualifies for the FREE The LCD Weather Station worth £19.99 - The LCD Weather Station (sunbeltsales.co.uk)
Features & Benefits
High quality design, specification and finish.
Energy saving adjustable electronic digital humidistat to control humidity with five different settings: the unit automatically switches on and off only when required.
Special colour change humidity indicator on the front of the unit lights up in three different colours to provide a simple indication as to the unit's current level of humidity.
Laundry mode.
Two fan speeds.
Fan shuts off after five minutes once desired humidity has been achieved (automatically switches back on when humidity rises).
Digital display shows humidity as a percentage and temperature as Degrees Celsius.
24 hour countdown timer with one hour increments.
Large easy to empty 5 litre water tank with anti-bacterial lining holds the collected condensate.
Auto shut off: the dehumidifier automatically shuts down when the water tank is full.
Supplied with a 1m long continuous drain hose which enables the tank to be bypassed and allows the unit to drain away continuously.
Auto re-start after power failure: ideal for remote area use - i.e. leaving the unit unattended for extended periods.
Practical flip up carry handle that stows flush when not in use.
Supplied with castors fitted as standard so the unit can be wheeled easily.
Rotary compressor.
CFC free.
12 Months warranty.
Please contact us if you require further information or advice.
Technical Specification
Moisture Removal (L/Day)
20
Document Download
Call our Support Team on 0330 1759558 if you require more information on this product.
What's In The Box
Call our Support Team on 0330 1759558 if you require more information on this product.

Need some help?