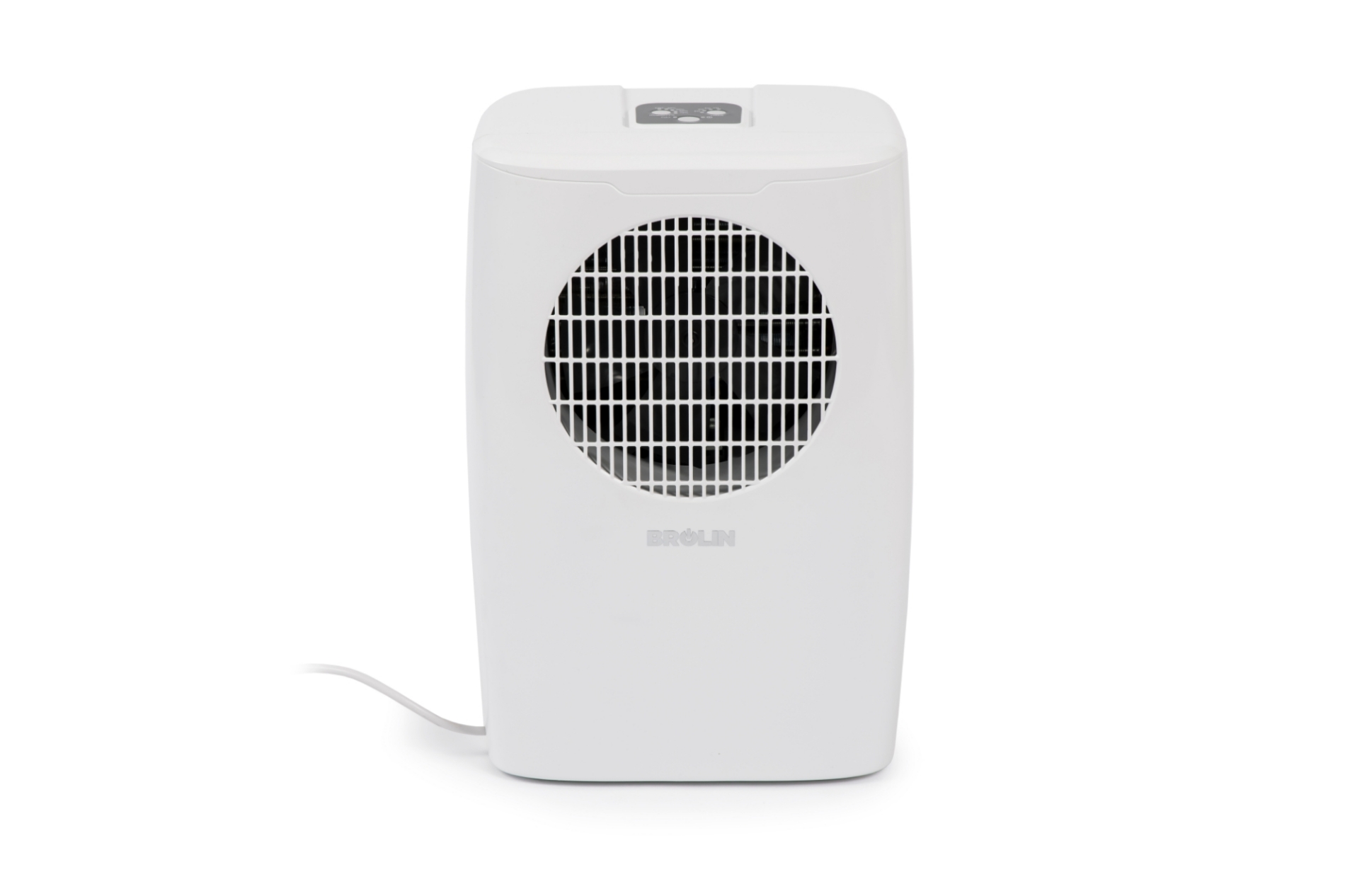 Brolin BR10C 10L Portable Home Dehumidifier
£79.17
Detailed Description
With its built in air purifier the BROLIN BR10C dries and purifies damp air, stops condensation forming, prevents mould and mildew growing and is great for drying laundry.
A single BROLIN BR10C dehumidifier is ideal for smaller houses, flats, cellars, conservatories etc. Two BROLIN BR10C dehumidifiers, one positioned upstairs and one downstairs, are ideal for larger 5+ bedroom houses as well as houses over three floors where air flow is less easy to achieve with a single unit.
The simple to use humidistat enables you to accurately choose the exact humidity level you want to achieve and the unit will switch on and off automatically to maintain this humidity level, meaning that you don't have to keep switching the unit on and off manually and, critically, saving you electricity and money in the process.
When the 1.5 litre reservoir tank is full the unit automatically switches off. The front loading tank is easy to remove and is lighter when full than many other units. It also comes as standard with the continuous drain hose which enables you to bypass the tank and have the unit draining away continuously into a sink, separate container or other method which is ideal if the unit is being left unattended for longer periods.
The BROLIN BR10C is a compressor dehumidifier. It controls relative humidity by passing the air through the unit, forcing the excess moisture to condensate over the cooling elements. Contact with this cold surface causes the moisture in the air to condense. This condensed water then drains safely into the water tank. The dried air then passes through the condenser where it is slightly warmed and re-enters the room at a slightly elevated temperature.
With a simple, easy to use design the Prem-I-Air EH1396 Weather Station Clock is an essential and effective accessory to use alongside a dehumidifier so you can monitor the temperature and humidity in your home to ensure they are within an acceptable range. It has an easy to read digital display and it can also be used as an alarm clock. For indoor use only.
*Buy two units for the further discounted price of £189 in total including VAT and delivery*
This item qualifies for the FREE The LCD Weather Station worth £19.99 - The LCD Weather Station (sunbeltsales.co.uk)
Features & Benefits
It is simple to operate.
It works in temperatures from 5C upwards.
Low running costs.
Auto restart after a power cut.
Lightweight.
Very quiet when in operation.
Warranty and back up support are superb- It is simple to operate.
12 Months warranty.
Please contact us if you require further information or advice.
Technical Specification
Moisture Removal (L/Day)
10
Document Download
Call our Support Team on 0330 1759558 if you require more information on this product.
What's In The Box
Call our Support Team on 0330 1759558 if you require more information on this product.

Need some help?