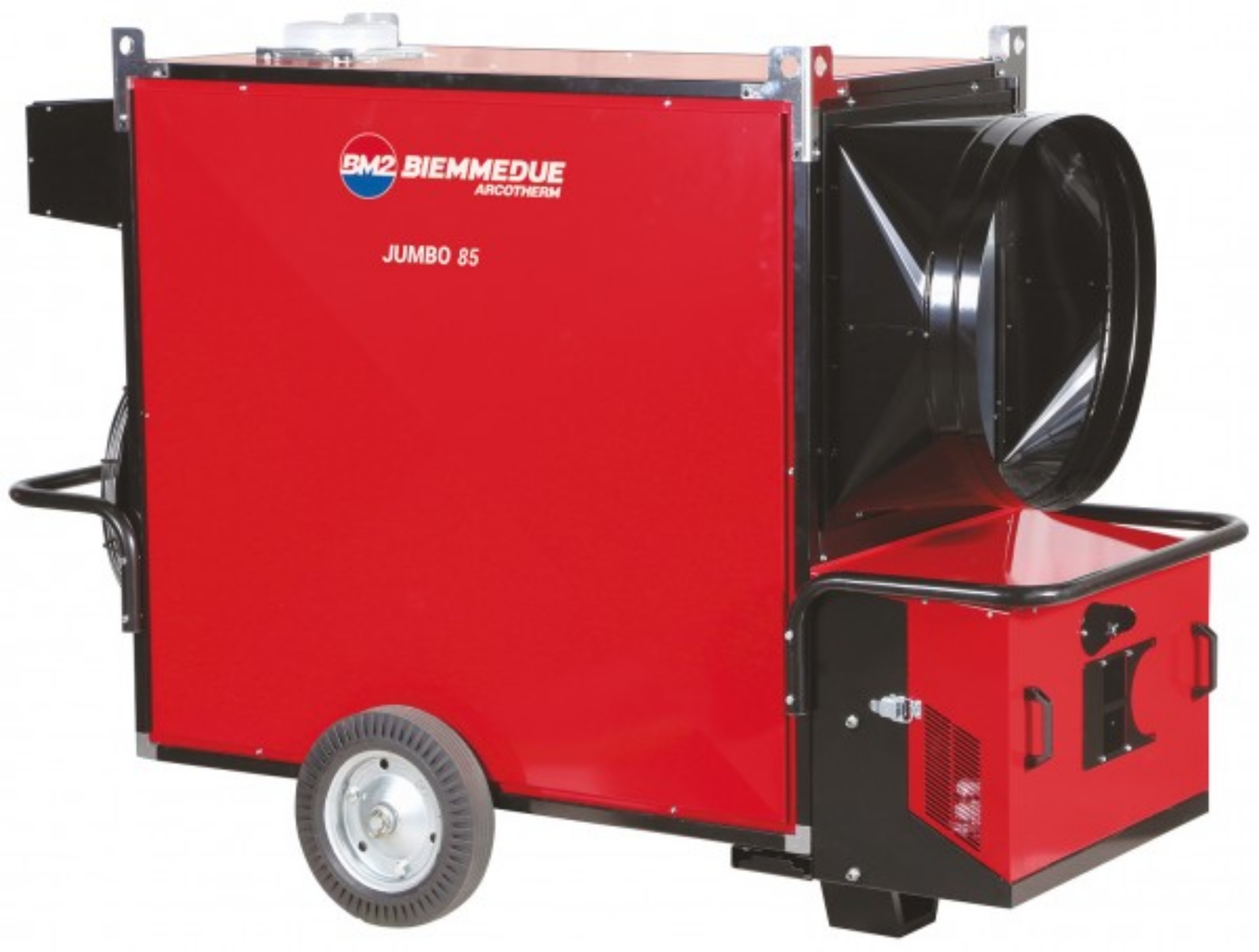 Arcotherm Jumbo 85M 79kW Indirect Oil Fired Space Heater - 240V
£3800.00
Detailed Description
Arcotherm Jumbo 85M 79kW Indirect Oil Fired Space Heater - 240V
The Arcotherm Jumbo 85M is an incredibly powerful and practical indirect space heater. Featuring a new high-performance 7-blade fan assembly and redesigned combustion chamber, the Jumbo 85M indirect space heater delivers a huge heating capability that is ideal for large spaces like warehouses, factories, garages, and more.
With a heating efficiency of 92 - 93%, massive airflow of 7200m³/hr, and heat output power of 79kW, this heavy-duty space heater creates warm and more tolerable working conditions for anyone in challenging environments. The Arcotherm Jumbo 85M can also be used for large scale drying on construction sites, in buildings following heavy downpours or flooding, or for agricultural applications like crop drying, and more.
100% Clean Hot Air | Tough & Robust Construction | Thermostat Connectivity | Portable Design
If you need assistance, please contact our team on 0330 175 9558 or email orders@sunbeltsales.co.uk. Alternatively, you can use our live chat option.
Features & Benefits
100% Clean Hot Air: The heater blows out 100% clean, fume-free warm air from its warm air outlet. This makes it ideal for heating enclosed areas safely, such as marquees and tents, workshops, warehouses, areas on construction sites and much more.
Ducting Connection: Sections of ducting can be attached to this heater, in order to direct the clean warm air into the space that you need to heat.
Flue Gas Exhaust: Combustion by-products are exhausted out of the top of the heater. Sections of flue pipe are available separately, allowing you to safely vent exhaust fumes away from the space.
High Quality Components: High-performance 7-blade fan assembly and redesigned combustion chamber, Jumbo Tiger Loop, 450mm One Way Adaptor, Jumbo Ecoflam Diesel Burner, 300mm Crush Proof Fuel Hose, 6000 Series ISO Male Tip Pro and BSPP Male x BSPP Male adapter.
Tough & Robust: Built to perform in challenging areas, including construction sites, workshops, warehouses, agriculture, events and more.
Portable Design: Large wheels and a handle make the heater very portable. It is easy to transport, position and re-position when required on site. Lifting eyes on top of the unit allow it to be lifted on and off transport.
Thermostat Connectivity: An optional heavy duty thermostat can be connected to this heater, allowing you to set a required temperature within the space. The thermostat will switch the heater on and off as required in order to maintain the set temperature. This saves fuel and adds extra convenience.
Tigerloop Included: This heater features no internal fuel tank. It is designed to be connected to an external fuel tank of your choice. The tigerloop removes any air from the fuel as it enters the heater.
Technical Specification
Remote control
Built-in Control
Thermostat
Optional Remote Thermostat
What's In The Box
Arcotherm Jumbo 85M 79kW Indirect Oil Fired Space Heater - 240V
Need some help?