Arcotherm GP45A 46kW Dual Voltage LPG Heater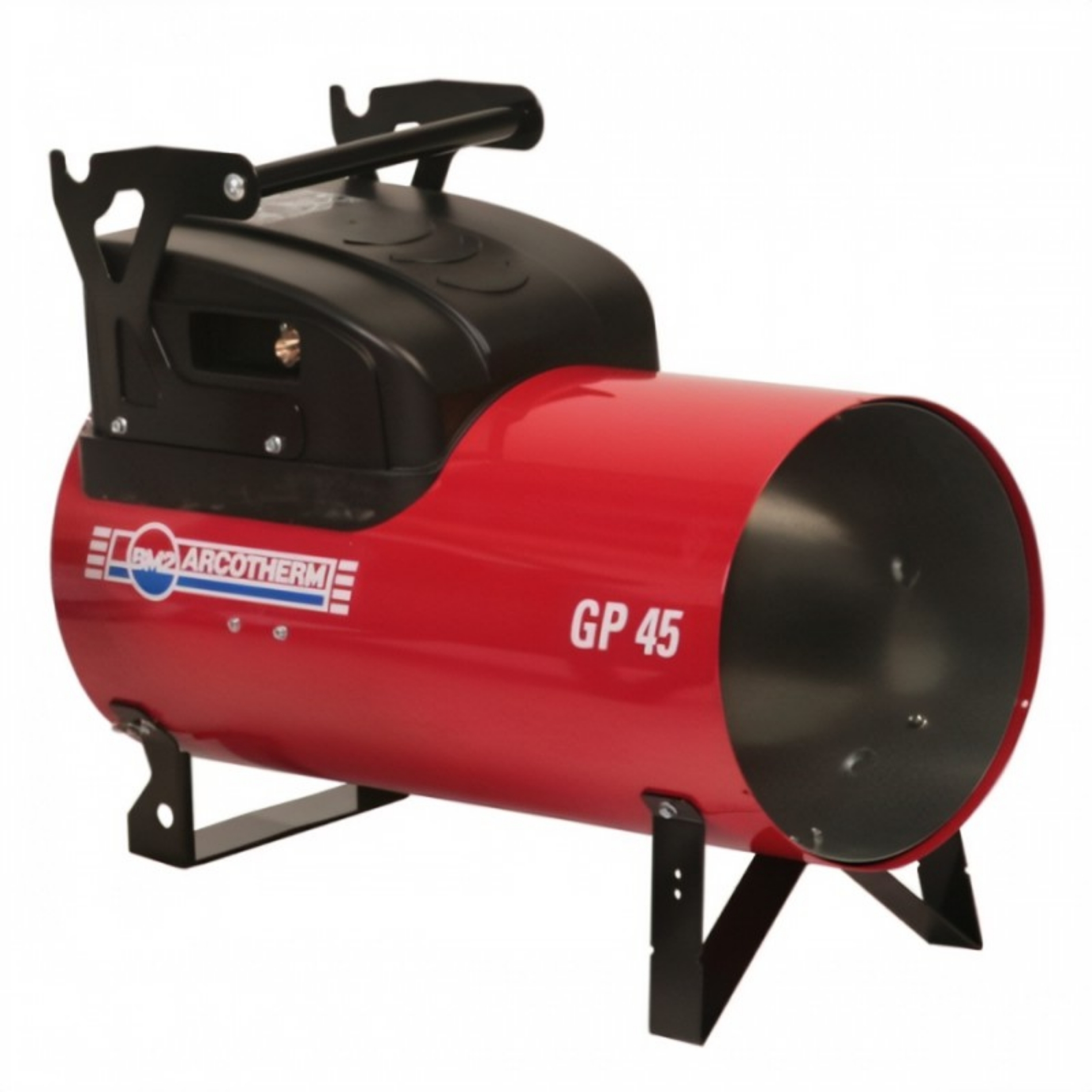 Arcotherm GP45A 46kW Dual Voltage LPG Heater
£395.40
Detailed Description
Arcotherm GP45A 46kW Dual Voltage LPG Heater
The Arcotherm GP45A is a 46kW large capacity direct fired LPG heater with an airflow rate of 1250m³ / hr. Ideal for a diverse range of industrial and commercial heating applications, the GP45A gas heater has all of the heating power needed to be a highly effective heater in a range of industrial and commercial spaces.
Features including a built-in LPG burner, Piezo electric igniter, thermal flame detector and a safety thermostat, make this a reliable and robust heater.
At just 13kg, the GP45A can be picked up and moved around easily, to wherever it is needed on site. The compact size makes it ideal for use on small work sites, as well as in industrial and commercial spaces such as rooms in warehouses, factories, workshops and more, to keep the workforce warm and comfortable and assist in the drying of paint work, plastering etc.
Tough & Robust Construction | Safety Thermostat | Portable Design | Highly Effective
If you need assistance, please contact our team on 0330 175 9558 or email orders@sunbeltsales.co.uk. Alternatively, you can use our live chat option.
Features & Benefits
Automatic built-in LPG burner
Safety thermostat
Thermal flame detector (M)
Electronic flame-control by an ionisation electrode (A)
Power cord with plug (0,3 m GP10 - GP18; 1,5 m GP30 - GP45 - GP65 - GP85 - GP105)
Piezoelectric ignition (M)
Set to be connected to a thermostat or a humidostat or a timer (A)
Low supply voltage control (GP105A)
Conforms to norms UNI EN 1596:2008
Document Download
Documentation File Format Size
Arcotherm GP Range - Specification Sheet
PDF
1.1 MB
What's In The Box
Arcotherm GP45A 46kW Dual Voltage LPG Heater
Need some help?