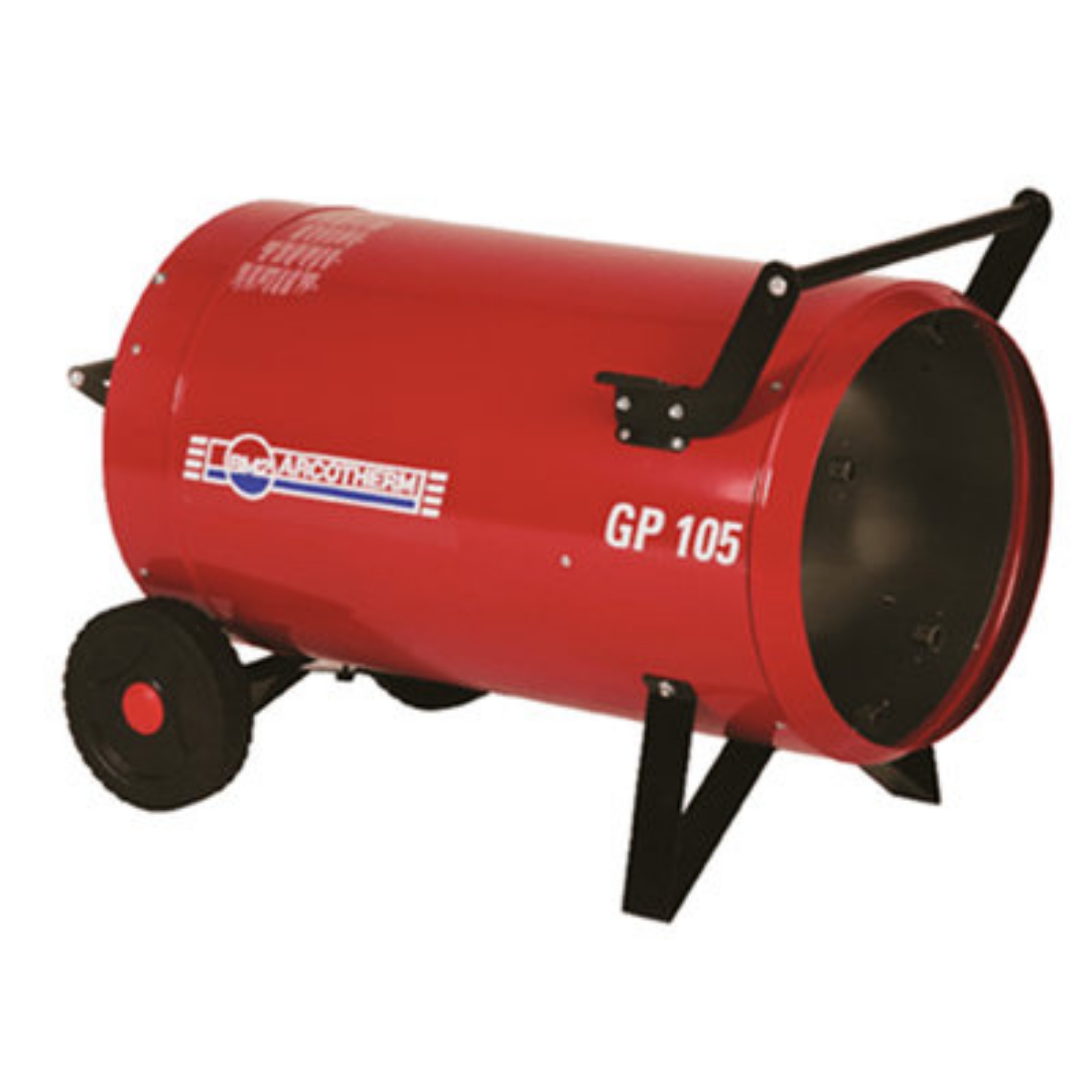 Arcotherm GP105A 108kW Dual Voltage LPG heater
£829.00
Detailed Description
The Arcotherm GP105A is the automatic version of the 108kW direct fired dual voltage LPG space heater. The new A version can be connected up to a thermostat and it will automatically turn on and off as required to reach the desired temperature. It can heat up to 4200 cubic meters of space. This large capacity direct fired LPG heater is ideal for a diverse range of industrial and commercial heating applications. With a tough hydrocarbon resistant, polythene fuel tank, it is ideal for use in workshops, industrial premises, warehouses, etc.

As with all direct fired heaters, the GP105 LPG gas heater should only be used in spaces with adequate ventilation, rather than in confined rooms and spaces with no ventilation.
Features & Benefits
Provides simple, convenient and effective heat for a range of outdoor and well-ventilated spaces. Please note, direct fired gas space heaters must not be used in indoor / poorly ventilated spaces.
Built to perform in challenging areas, including construction sites, yards, workshops, warehouses, agriculture and more.
Robust steel outer casing, inbuilt LPG burner, Piezo electric igniter, thermal flame detector and safety thermostat ensure safe, reliable and effective performance.
The Automatic version can be connected up to a thermostat.
Its compact size makes this heater easy to transport and move around as required on site.
Compatible with both 110v and 230v electrical supplies, this heater can be used in a wide range of premises.
Shuts down the heaters automatically if it overheats, to prevent accidents.
Document Download
Documentation File Format Size
What's In The Box
Call our Support Team on 0330 1759558 if you require more information on this product.

Need some help?