Arcotherm EC85 81kW Indirect Diesel Space Heater DV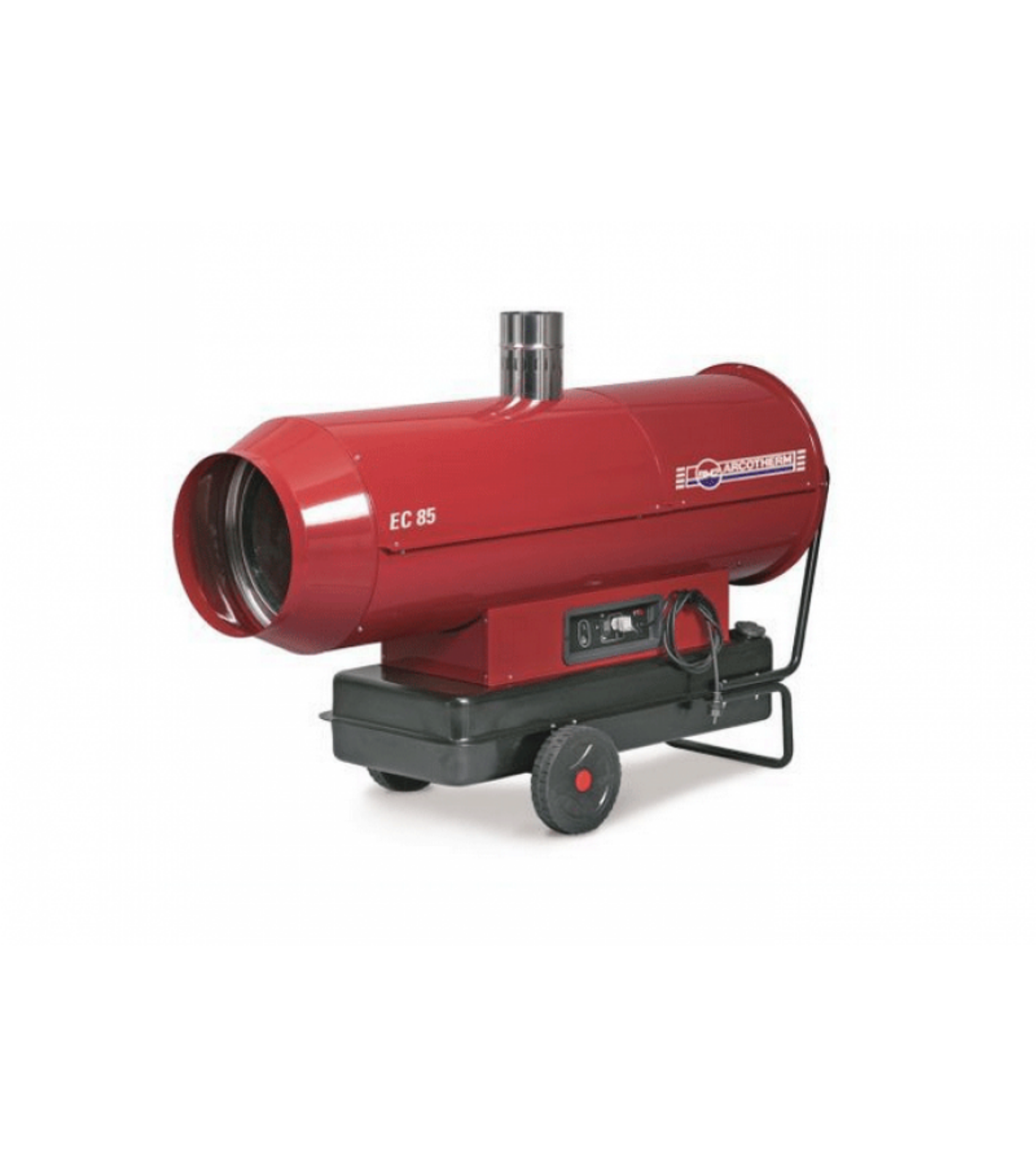 Arcotherm EC85 81kW Indirect Diesel Space Heater DV
£1895.00
Detailed Description
Arcotherm EC85 81kW Indirect Diesel Space Heater DV
The Arcotherm EC85 industrial, indirect diesel heater has an 81kW heating capacity and an airflow rate of 4300m³ / hr. It has a range of high quality components, including an automatic built in oil burner and a Danfoss pump, robust 105L fuel tank, AISI 430 stainless steel combustion chamber, electronic flame control, safety thermostat and electronic control panel. The EC85 indirect diesel space heater is mounted on a set of strong wheels with a handle bar, which allow it to be moved around and placed into position easily.
This industrial heater can be used with up to 7.6m of ducting, to duct the warm air into the space, and provide heat to specific areas further away from the heater. You can also fit a 2-way splitter to the Arcotherm EC85 heater, which allows you to connect two sections of ducting to the one heater - so you can heat two separate areas at once! It can be used with an optional thermostat on a 10m cable, to control the temperature within the space you wish to heat.
100% Clean Warm Air | Overheat Thermostat | Tough & Robust | Portable Design
Ideal for use in warehouses, horticulture and floriculture, livestock rearing and the building sector. For use in closed environments the installation of a small flue connected to the outside ensures that fumes are removed.
This item qualifies for the Free Maintenance Kit worth £93.99 containing...
1 x Filter
1 x Nozzle
2 x Electrodes
1 x Seal Kit
If you need assistance, please contact our team on 0330 175 9558 or email orders@sunbeltsales.co.uk. Alternatively, you can use our live chat option.
Features & Benefits
Clean, immediate and economical heat for all uses.
Heat exchanger with flue union to expel fumes.
Thermal efficiency of 88.5%.
Easily portable: light and compact and come with a handle, trolley and wheels.
Simple to use control panel.
Practical fuel filler.
Automatic built-in oil burner.
2m power cord with plug.
Automatic post ventilation unit.
Electronic flame control.
Bayonet-type fuel tank cap.
Robust hydrocarbon resistant polythere fuel tank.
Fuel tank drain plug.
Electronic control panel.
Electronic flame control device.
Safety thermostat.
Thermostatically controlled.
Dual Voltage Appliance
Technical Specification
Remote control
Built-in Control
Thermostat
Optional Remote Thermostat
Document Download
Documentation File Format Size
Acrotherm EC85 81kW - Product Manual
PDF
1.3 MB
What's In The Box
Arcotherm EC85 81kW Indirect Diesel Space Heater DV
Need some help?