Arcotherm Confort 35 32kW Oil Cabinet Heater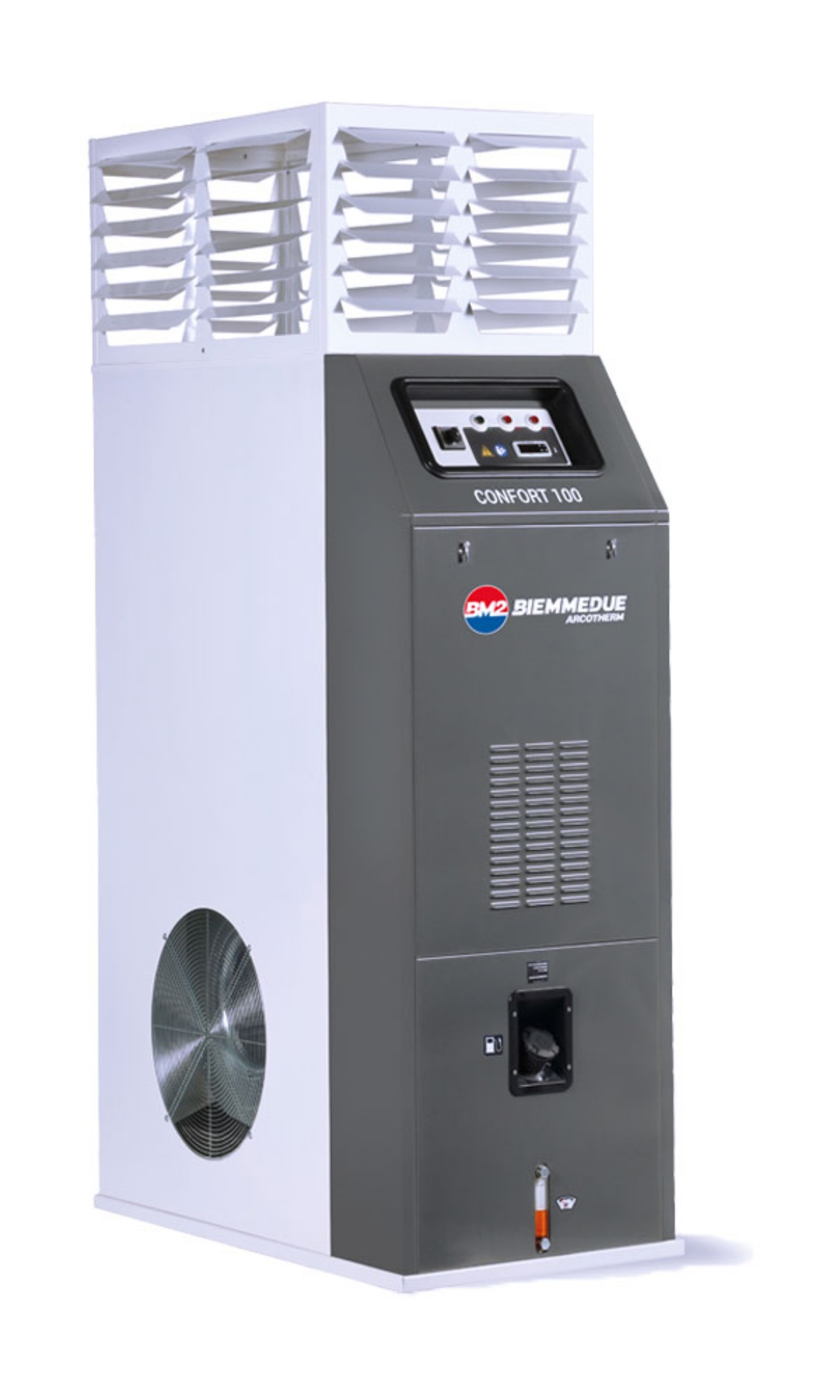 Arcotherm Confort 35 32kW Oil Cabinet Heater
£2840.83
Detailed Description
Arcotherm Confort 35 32kW Oil Cabinet Heater
The Acrotherm Confort 35 Cabinet Heater has a 32kW heating capacity and an airflow rate of 2700m³ / hr. It features a double-skinned body for thermo-acoustic insulation, safe low surface temperature, and a robust stainless steel combustion chamber. The combustion chamber is pre-heated and post-ventilated for maximum efficiency and reliability.
These heaters also have a manual reset safety overheat thermostat which shuts the unit off instantly if there is an issue, as well as an integrated 80 litre fuel tank, with a fuel consumption of 2.84 litres per hour.
The Confort 35 also has an electronic flame control, built-in thermostat and a centrifugal fan to send the warm air out into the space. The hot air produced by the these cabinet heaters is absolutely clean, as the exhaust fumes are removed from the premises via an exhaust pipe.
100% Clean Warm Air | Overheat Thermostat | Tough & Robust | Integrated Thermostat
If you need assistance, please contact our team on 0330 175 9558 or email orders@sunbeltsales.co.uk. Alternatively, you can use our live chat option.
Features & Benefits
Any anomoly detected by the control device shuts off the space heater immediately. A manual reset is then required.
The hot air from the space heater is completely clean, the exhaust gases are transferred outside the building by an exhaust pipe.
The combustion chamber and heat exchanger are both engineered and built to guarantee a high thermal performance, thus ensuring considerable savings on running costs.
Built-in room thermostat (+5°C / +40°C).
Centrifugal fan.
Fan/limit thermostat with manual reset.
Air outlet plenum with adjustable louvres.
Double skinned body for thermo-acoustic insulation.
Safe low surface temperature.
Summer/Winter switch for use as "fan only".
Noise circa 65 d(B)A.
Technical Specification
Remote control
Built-in Control
Document Download
Documentation File Format Size
Acrotherm Confort 35 - Product Manual
PDF
1.3 MB
What's In The Box
Arcotherm Confort 35 32kW Oil Cabinet Heater
Related products
IP Rating IPX4
Fitted Thermostat
Overtemp protection
Mains Cables Supplied

In stock

Two heat settings
Lightweight
Over Temperature Protection
Inline filter fitted

In stock
Need some help?