Aerial ASE 400 Absorption Dehumidifier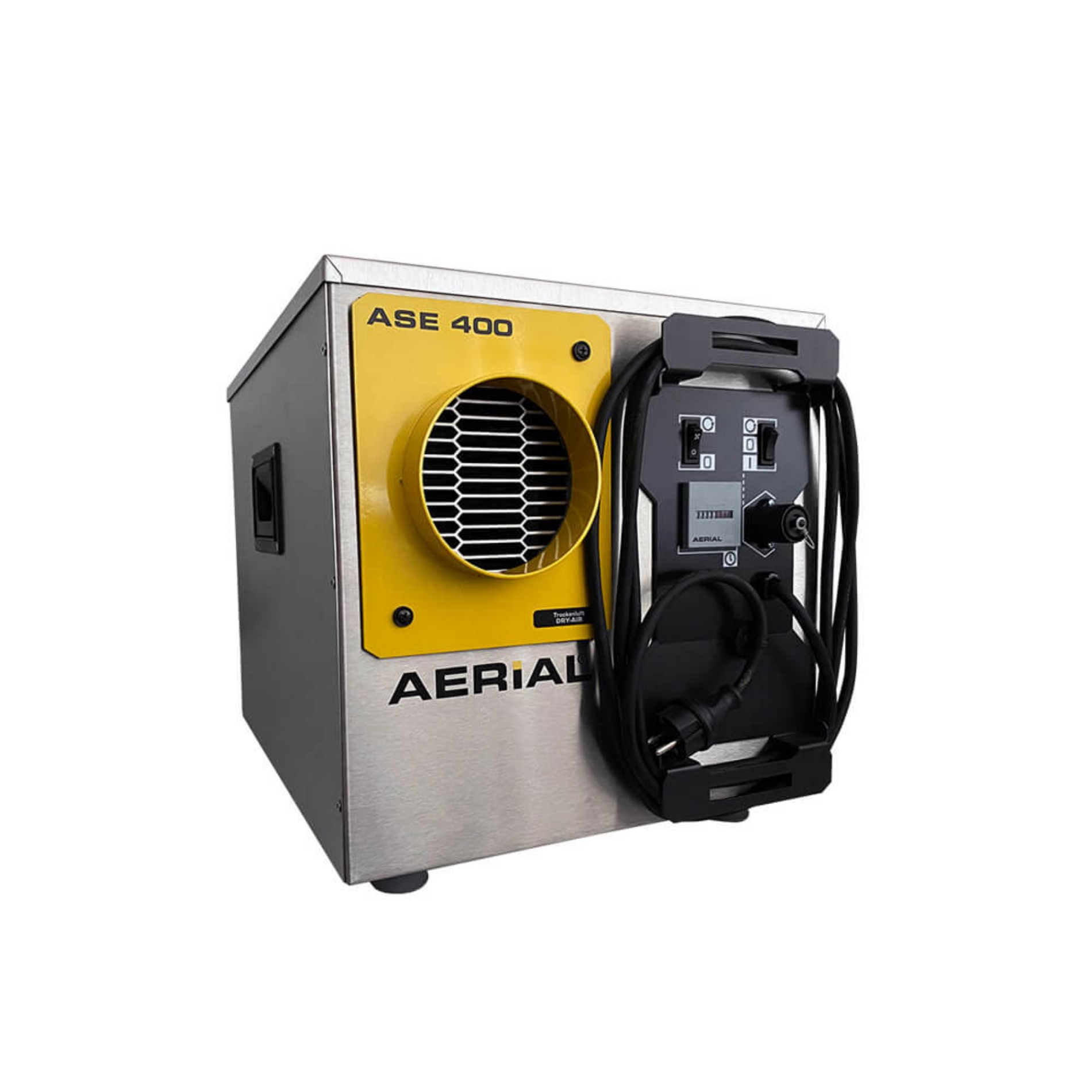 Aerial ASE 400 Absorption Dehumidifier
£2537.00
Detailed Description
Due to its high-performance at low temperatures, the easily installed ASE 400 will deliver fast results in drying out all kinds of construction and emergency situations, thereby minimising the risk of long-term damage caused by for instance flooding.
Despite weighing out at just 25 kilos, the ASE 400 is the right choice for applications that require an air change of up to 480 m³/h (environments of up to around 450m³).
That's 20% more than other units of comparable size that are currently on the market.
With its integrated lifting handle and stackable design, the unit has been designed for easy handling and transportation.
It comes with a built-in hour counter and can also be fitted with an optional MID-approved energy counter.
The portable adsorption dehumidifiers can run continuously, or they can be controlled by an external hygrostat.
Features & Benefits
20% higher air capacity than similar units on the market
Air capacity of 480m³/h
Suitable for environments of 450m³
Low temperature operation -10 to +35°C
Low humidity operation down to 10% relative humidity
Ventilation only mode available – if preset humidity level is exceeded, normal dehumidification mode starts (only with optional external hygrostat)
Sturdy unit made of stainless steel and powder coated sheet steel, supported by four rubber non-marking feet
Integrated lifting handle and stackable design for easy use
The rotor unit is easy to remove for cleaning purpose
Dynamic, safe and self-regulating PTC heating element
Energy-efficient radial fan
High-performance ECODRY G3-MH rotor for maximum water absorption
Air filter on the process air inlet
Noise reduced via integrated silencer: 60 dB
Connection for external hygrostat
Non-resettable hour counter
Optional MID approved kWh meter
Please contact us if you require further information or advice.
Technical Specification
Moisture Removal (L/Day)
36
Extraction Method
Extraction Hose
Installation Type
Free Standing
Document Download
Documentation File Format Size
Aerial ASE 400 Instruction Manual
PDF
1.4 MB
Need some help?